Oh my goodness – I do not know what is happening here in Florida- it was 29° this morning in Orlando! I know it is most likely a lot colder where ever you may be right now, but 29° in Florida??!!??  I am thinking an island in the middle of Caribbean may be our next destination. However, the cold weather has made last week's resolution easy to uphold. See how I tied this all together?
Last week I challenged myself to drink a cup of hot tea once a day, a way to take a little time for myself just to sit and enjoy the moment. The cold weather was perfect with my tea. So far, I have made very easy one week resolutions for myself. Week one I challenged myself to read at least one chapter in the book I am currently reading, and last week I did the hot tea thing. All super easy, right? Well now I am going to start being a bit more adventurous and challenging.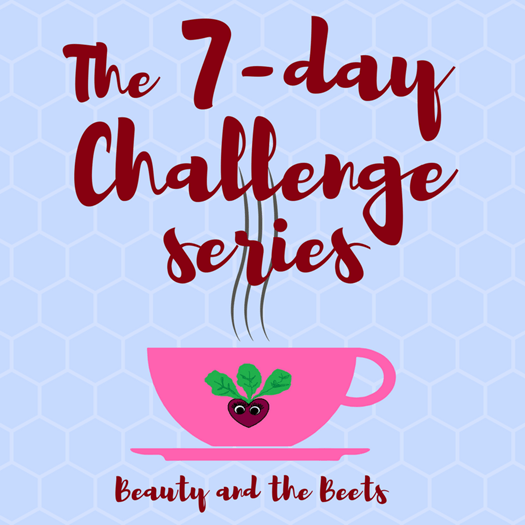 This next week, I am going to challenge myself to eat Vegan. Those of you who read the blog fairly frequently know that I do eat a mostly  Vegetarian diet. I do love cheese – except that most cheese is not Vegetarian. So while you may think this will be an easy challenge for me, it won't be. Did I mention how much I love cheese?
However, I will disclose one thing- when I attend events I usually will eat meat and cheese- ALL the cheese. I do have a really cool event coming up next week so that will be my own cheat meal. It's a really cool event and I cannot wait to share more details soon, but I will be eating cheese, and lots of it.
And if you are interested in a 7-day Vegan challenge – here are a few Vegan recipe ideas from Beauty and the Beets:
Cashew Vegan French Toast <– my favorite!
Raspberry Chia Seed Pudding
Cauliflower Walnut "Meat" Crumbles
Vegan Sloppy Joes
Chickpea Mash <– only three ingredients!
Buffalo Chickpea Pita Sandwiches
Carrot-Ginger Soup
Zucchini Sage Soup
Vegan Cheesecake
Horchata Frappuccino <– it's Vegan!
So what's your challenge for the next 7 days? I have a list of ideas here (there is also a permanent link to the ideas page under the header of this page) but of course feel free to invent your own to fit your own life. I suggest you write your challenge down, then tape it to the bathroom mirror, or the fridge, where ever you can remind yourself of your challenge.
Then come back next Thursday and let's talk about the ups and the downs. I have made a downloadable and printable PDF file here –> The 7-day challenge recap so you can record your progress. I plan on saving all of my follow up checklists so I can see my progress at the end of the year- what worked, what didn't.
[bctt tweet="I am joining the 7-day challenge with Beauty and the Beets. Will you change your life in 7 days? " username="BeautyandBeets"]
So pick something fun, pick something realistic (don't try to lost ten pounds in a week!) and enjoy your progress to becoming a better being. See you next week!
Resource Links:
A list of 7-day challenge ideas
See you next week and good luck!!