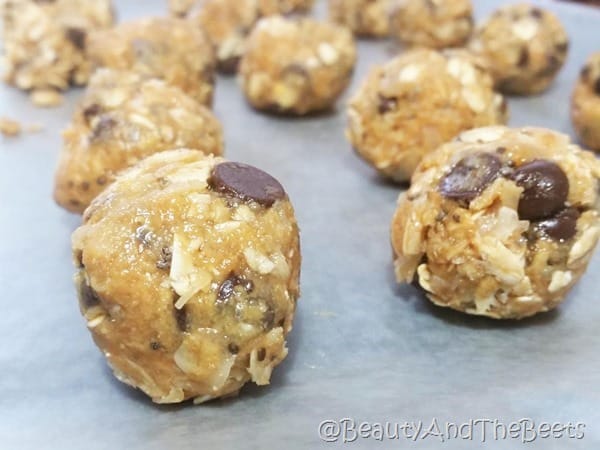 With my new cooking class I am taking with the Forks Over Knives people, one of the things we have had to focus on is using whole food plant-based ingredients. My first assignment of my course was to clean out the pantry and fridge. Lucky for us, many of the foods we eat now are not all processed and filled with fake chemicals so we didn't really have anything to toss out. However, a few of our foods did contain some ingredients we would find questionable.
In reorganizing the pantry, I have one shelf reserved for these kind of ingredients that may or may not be desirable. I can tell you that if anything had an ingredient that I either could not pronounce, contained MSG, sucralose, aspartame or anything used to preserve anything, it got tossed. By questionable ingredients, I am talking about things like extracts and oils. Now that is not to say that this will become our definitive way of eating and I will never dive into a case of cola but this is a big start to eating even healthier. (I have a very serious addiction to Coca Cola- I am slowly finding alternatives but I seriously buckle at the knees with soda. However, I may drink one can every three or four days so it's not like I am drinking 10 cans a day.)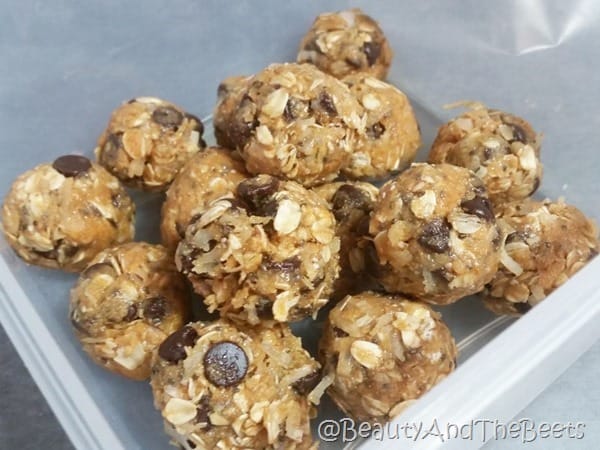 Anyway, one of our big issues is what to snack on. We are used to having boxes of protein bars on hand, something we can easily stash in our car or computer bag and be on our way.  I spent a little time looking around the internet for some interesting recipes that would use whole food, plant-based ingredients and be easily portable. I stumbled onto these No-Bake Energy Bites from Gimme Some Oven and was inspired. I made my own version of her energy snack, and made it 100% plant based.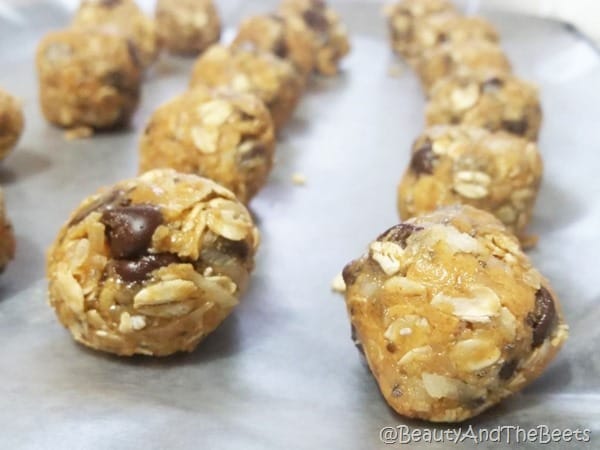 These are so easy to make and can be stored for up to week in the fridge. In my house, about 20 of them lasted three days. So I have to make more. And for us they are super easy to pop the container into a lunch cooler bag with an ice pack. That's how we roll.
Almond Butter Energy Bites
#Vegan
Ingredients
1/2

cup

almond butter

2/3

cup

unsweetened coconut flakes*

1

cup

dry old-fashioned oats

1/2

cup

non-dairy chocolate chips

1/3

cup

apple blossom honey or agave nectar

1/2

cup

ground flax seed

1

tablespoon

chia seeds

1

tablespoon

ground wheat germ,

optional

1

teaspoon

pure vanilla extract
Instructions
Mix all the ingredients together in a mixing bowl and cover with plastic wrap. Keep in the fridge for 30 minutes to let flavors meld.

Roll the chilled dough into bite-sized balls.

I keep mine in an airtight container and store in the fridge. They will keep for up to a week, unless you live in my house and they are lucky to last a few days!
Recipe Notes
*I had a hard time finding coconut flakes that were not sweetened in my regular grocery store.You could use sweetened, even toasted and they would work well. Whole Foods sells the unsweetend good stuff, and while it is expensive, it is also free of preservatives and chemicals.
[bctt tweet="Try these easy no bake almond butter energy balls!! " username="BeautyandBeets"]
Pin this for later: