---
An easy recipe for No Bake Almond Butter Energy Bites. Read on to learn how to make the many different varieties of this super easy no bake recipe.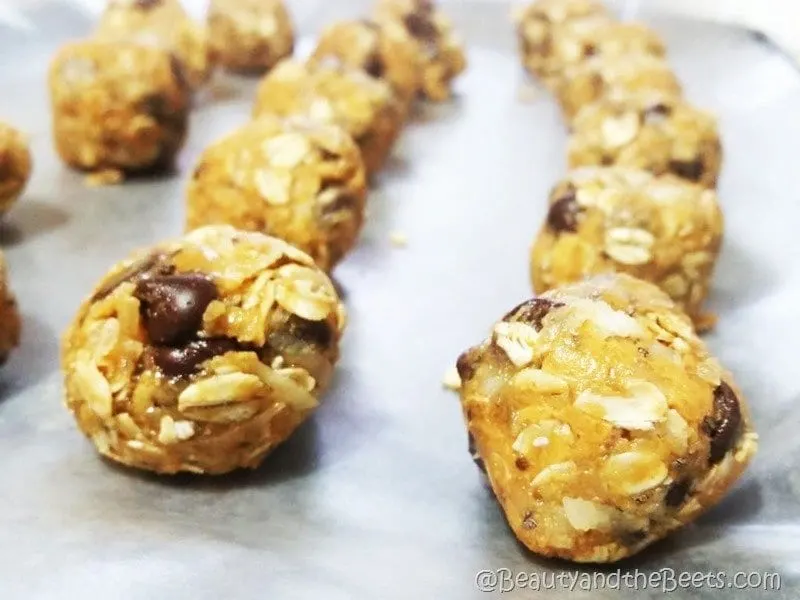 As we are all embarking on this life of quarantine, I know we are spending a lot more time in the kitchen trying to come up with creative and healthy treats to snack on. Something, anything that isn't going to have us emerge from our "jail cells" with an extra few (or many) pounds packed on.
These No Bake Almond Butter Energy Bites are delicious, portable, nutritious, and packed with protein. The best part is, in this crazy time of social distancing, all the ingredients can be ordered through Amazon and Amazon Prime (links are in the recipe)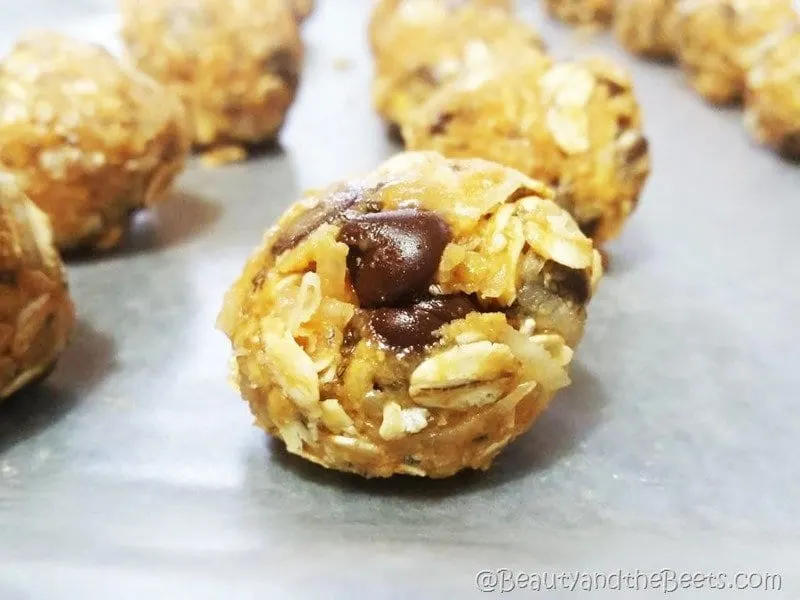 My Mom makes this super easy recipe for No Bake Almond Butter Energy Bites for my niece whenever she comes over to visit and they hardly last an entire day.
There are numerous substitutes you can make to tailor these Almond Butter Energy Bites to your liking or allergy needs. Scroll to the bottom of this post for a list of substitution ideas.
How these Almond Butter Energy Bites came to be
A few years ago I took a cooking course with the Forks Over Knives people. It was a real fun class where we learned to focus on using whole food plant-based ingredients. My first assignment of the course was to clean out the pantry and fridge. Lucky for us, many of the foods we were already eating were not processed and filled with fake chemicals. I can tell you that if anything had an ingredient that I either could not pronounce, contained MSG, sucrose, aspartame or anything used to preserve anything, it got tossed. Now that is not to say that this became our definitive way of eating but it was a big start to eating even healthier.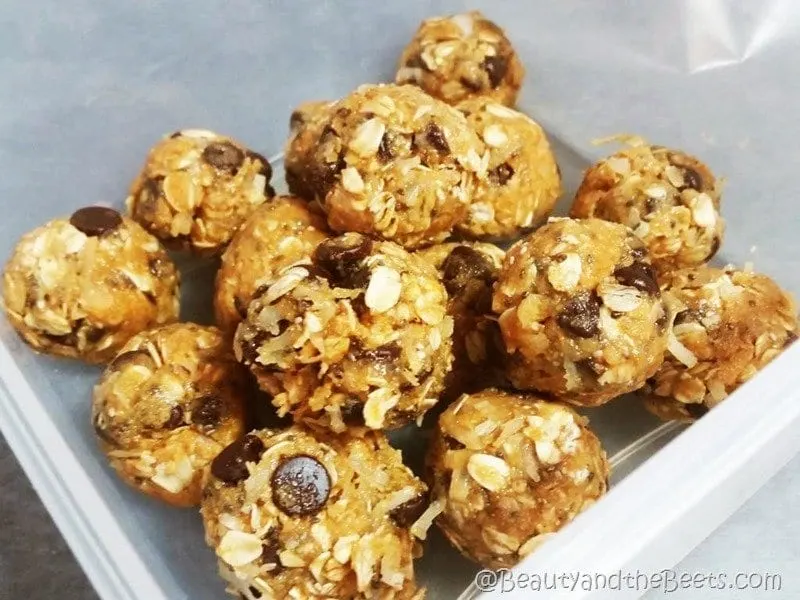 Anyway, one of our big issues has always been what to snack on. We are used to having boxes of protein bars on hand, something we can easily stash in our car or computer bag and be on our way. I spent a little time looking around the internet for some interesting recipes that would use whole food, plant-based ingredients and be easily portable. I stumbled onto these No-Bake Energy Bites from Gimme Some Oven and was inspired.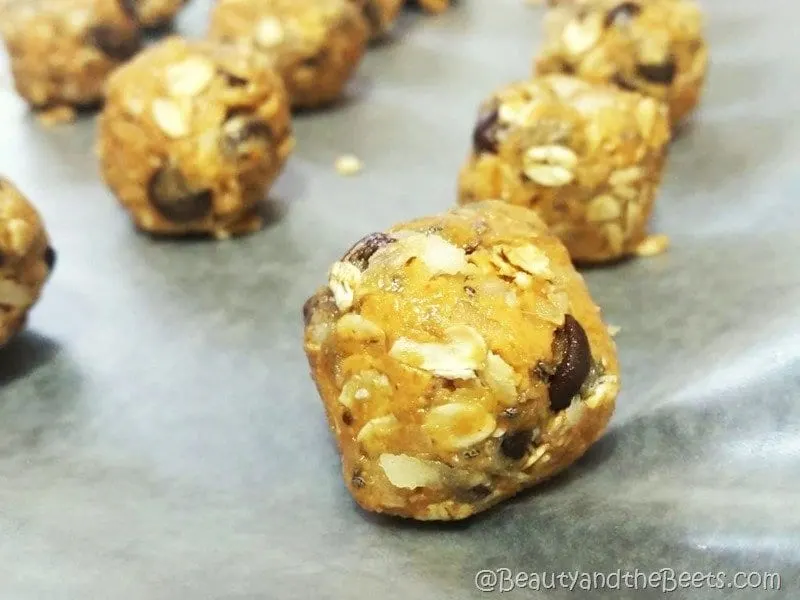 These are so easy to make and can be stored for up to week in the fridge. Below the recipe I made a list of ideas for substitutions for some of the ingredients.
And as I stated earlier, I was able to order all of the ingredients straight off Amazon Prime. No need for a social distancing trip to the grocery store.
The Recipe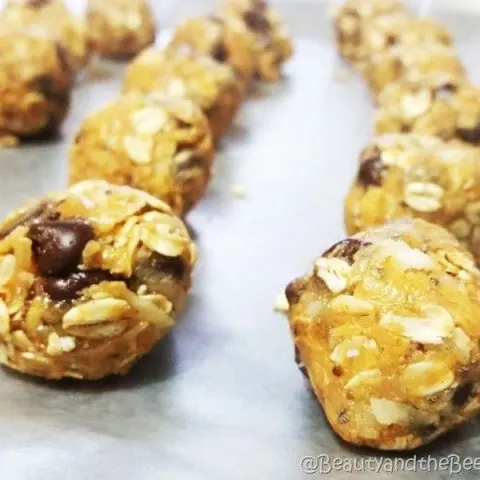 No Bake Almond Butter Energy Bites
An easy recipe for No Bake Almond Butter Energy Bites
Ingredients
Instructions
Mix all the ingredients together in a mixing bowl and cover with plastic wrap.
Cover bowl with plastic wrap.
Place in the fridge for 30 minutes.
Roll the chilled dough into bite-sized balls.
Serve!
Notes
I keep mine in an airtight container and store in the fridge. They will keep for up to a week, unless you live in my house and they are lucky to last a few days!
Let's talk substitutions
These No Bake Almond Butter Energy Bites are very versatile and the ingredients are interchangeable. Allergic to nuts? Try Sunflower Butter. Hate coconut? Omit the unsweetened coconut flakes. Vegan? Swap the chocolate chips for a non-dairy version. No maple syrup? Try an apple blossom honey.
| | | | | |
| --- | --- | --- | --- | --- |
| Recipe Ingredient | Substitution Suggestions | | | |
| Almond Butter | Peanut Butter, Hazelnut Butter, Sunflower Butter | | | |
| Unsweetened Coconut Flakes | Crushed Seeds like Sunflower Seeds or Pepitas | | | |
| Rolled Oats | Crushed cereal such as Raisin Bran, Cornflakes | | | |
| Chocolate Chips | Non-Dairy Chocolate Chips, Caramel Chips, Crushed Walnuts, Crushed Almonds | | | |
| Pure Maple Syrup | Honey, Nectar Agave, Apple Blossom Honey | | | |
| Flax or Chia Seeds | Crushed Seeds like Sunflower Seeds or Pepitas | | | |
| Wheat Germ | Grape Nuts, Crushed Granola | | | |
Try these other easy to make Bites recipes: