*I am not a Medical Doctor, I do not offer medical advice or make medical recommendations. I only write about what I choose to do with my own health. As always, please consult with your doctor before adapting to a medical plan or diet.*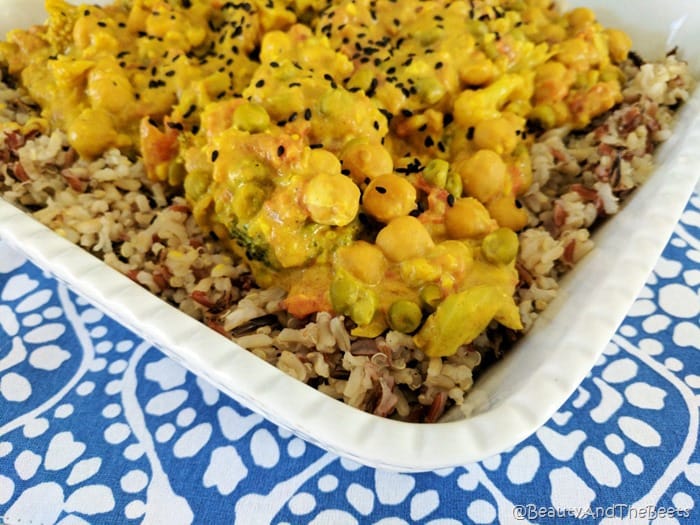 If you have been following along Beauty and the Beets, you have been listening to me whine about my neck problems. I don't get to see the neurosurgeon until August so I am trying to modify my diet to limit my inflammation in my neck, thus reducing the pain. I just don't want to rely on pain pills for the month leading up to my appointment. I have been a big component for taking turmeric pills ever since my foot surgery several years ago. I especially swear by it after I run a half marathon as it greatly reduces how sore my muscles are. Turmeric is often used for inflammation but I have to be very careful about taking it on an empty stomach as it can be very irritating. Another way I have adopted turmeric into my diet is to sprinkle a little on a salad, or as a vegetable topping. (It is important to chose a turmeric pill that also has a small amount of black pepper in it. There are numerous studies that support the effectiveness of turmeric absorbtion when paired with black pepper). 
One thing I have found with my neck pain is how greatly it increases when I have too much sugar or an overabundance of processed foods. So I am trying to adopt an anti-inflammatory diet. Hence this anti-inflammatory vegetable curry.
[bctt tweet="Try this recipe for easy anti-inflammatory Vegetable Curry #MeatlessMonday #antiinflammatory " username="BeautyandBeets"]
I am avoiding bread, baked goods, cake, cookies, most cereals, doughnuts, French fries, flour, fried foods, most hard cheeses, ice cream, white pasta, popcorn, potatoes, white rice, soda, sugar, tortillas, and waffles. There's a lot of tasty stuff on that list. No doughnuts? No ice cream?
Well, on the bright side, there are a lot of things on the list that I can have and I love: fruits, vegetables, fish, extra virgin olive oil, coconut oil, cocoa, nuts, grains like quinoa and brown rice, legumes, and green tea.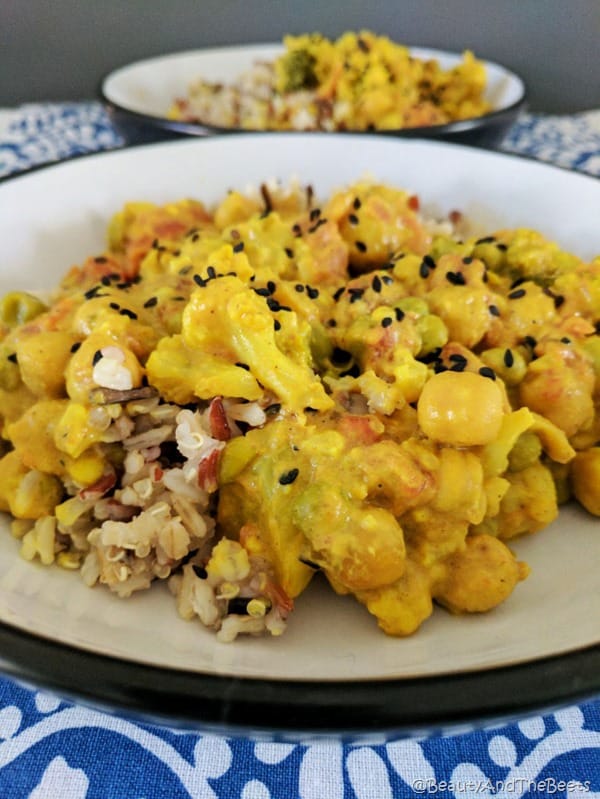 So with that being said, I decided to try my hand at throwing together an anti-inflammatory vegetable curry. I used cauliflower, broccoli, garbanzo beans, and peas from a list of my allowed foods; then added tomatoes for a little more anti-oxidant power. Garlic, turmeric, and garam masala added to the flavoring. Garam masala is traditionally a blend of black pepper, cumin, cinnamon and cardamom and added a slight sweetness to the dish. I simmered everything in coconut milk to add a little creaminess and cut down on the spiciness a bit.
I thought the use of coconut milk was going to completely turn away Mr. Beet. He is not a fan of anything with coconut flavors, but the milk's flavoring was very minimal when mixed with the spices. He wouldn't have even known there was coconut milk in this dish if I had not told him.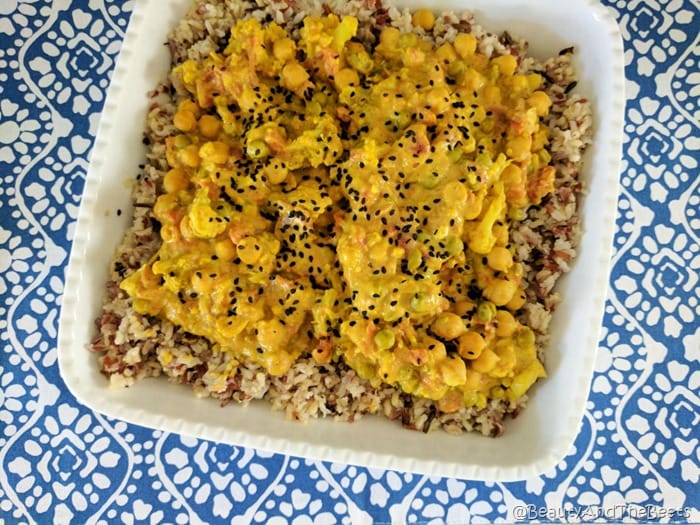 And just when you thought it couldn't get any easier, I used canned tomatoes, peas and garbanzo beans. All without salt mind you. You are welcome to add salt if you'd like, but I rarely add salt to any of my cooking. I feel like the spices add enough flavor to satisfy me.
I also didn't use any oil. I sautéed my broccoli and cauliflower in a dry pan, only adding a few tablespoons of water or vegetable broth when I needed to deglaze the pan. I have been trying to cook with less oil ever since I finished my Forks Over Knives certification. Most cooking oils, even some extra virgin olive oils, are highly processed.
So, this anti-inflammatory Vegetable Curry is incredibly healthy and hearty. Hope you enjoy!!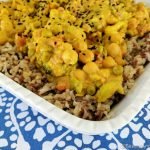 Anti-Inflammatory Vegetable Curry
This super creamy vegetable curry is filled with anti-inflammatory veggies and spices. Served over whole grain or borwn rice, this dish is sure to please everyone at your table.
Ingredients
2

cups

whole grain or brown rice.

1

cup

broccoli florets,

chopped into bite-size pieces

1

cup

cauliflower,

chopped into bite-size pieces

1-2

cloves

minced garlic

1/4

cup

water or vegetable broth,

use one tablespoon at a time to deglaze pan

1 1/2

cup

canned garbanzo beans,

roughly one regular-sized can, rinsed and drained

1/2

cup

canned green sweet peas,

rinsed and drained

1

tablespoon

fresh ginger,

peeled and minced (or use 1/8 teaspoon ground ginger)

1

teaspoon

ground garam masala

2

teaspoons

ground turmeric

1/2

teaspoon

ground black pepper

2-

14oz. cans

whole peeled tomatoes,

drained

1

cup

coconut milk

black sesame seeds,

for garnish
Instructions
Cook the rice according to package directions.

Heat a deep sided skillet over medium heat.

Add chopped broccoli and cauliflower.

Add water or vegetable broth, one tablespoon at a time, to deglaze the pan and prevent the vegetables from sticking to the pan.

Continue to cook the broccoli and cauliflower for about 3 minutes. Continue to add water, if needed.

Add the minced garlic and stir with the broccoli and cauliflower for about two minutes, until the garlic becomes slightly fragrant.

Add the garbanzo beans and peas.

Add the ginger, garam masala, turmeric, and black pepper.

Stir the vegetable mixture and spices until well blended.

Continue to cook another 2 minutes.

Reduce heat to simmer.

Using kitchen shears, cut the whole peeled and drained tomatoes into smaller pieces, adding the smaller pieces to the simmering pan.

Cover the pan and simmer for 10-15 minutes, stirring occassionally, until the veggies are softened.

Remove the cover, add the coconut milk to the pan and mix well into the vegetables.

Place the cover back onto the pan and let vegetables simmer for another 5 minutes while the sauce thickens up.

Add a scoop of rice onto each of the serving dishes (about one cup each).

Top the rice with a large scoop of the curried vegetables.

Sprinkle with black sesame seeds for garnish, if desired.

Serve immediately.
Pin this recipe for later:

For another anti-inflammatory boost, try this recipe for Golden Milk: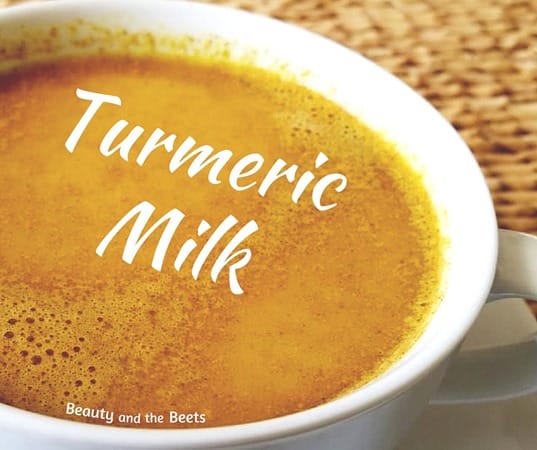 *This post includes affiliate links. As always, I never recommend products that I do not use myself and your support is greatly appreciated.*