Welcome to another edition of Vegan Monday! Every week I am experimenting with Vegan recipes- some are quite simple, some require little more effort. Today's recipe is fairly easy, simple and delicious.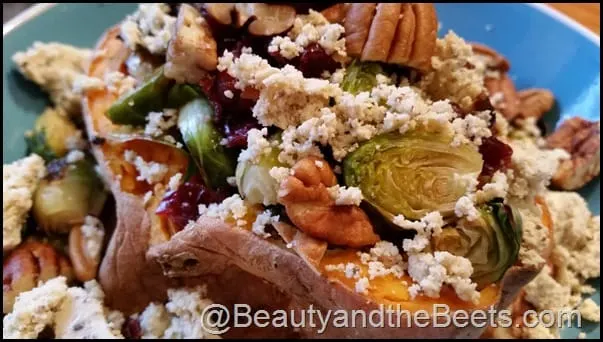 I was searching Pinterest for recipes with brussel sprouts (our favorite!) and found this interesting one from So Hungry I Could Blog (love the name!)- Baked Sweet Potatoes with Brussel Sprouts, Cranberries and Pecans. My concern was the lack of any type of dressing or liquid and I was worried that the end result may be a bit dry. I was pleasantly surprised that it was not only tasty, the moisture from the baked sweet potato made it moist and almost creamy.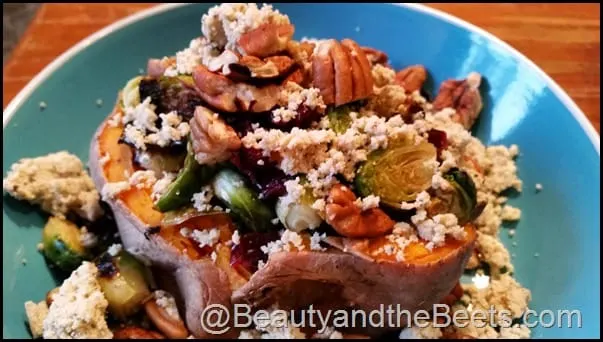 As you can see from the pictures and the recipe itself, blue cheese is added. I found a Vegan Blue Cheese at Whole Foods we decided to try to make it Vegan. While it lacked the punginess and bite of real blue cheese, it was a decent substitute.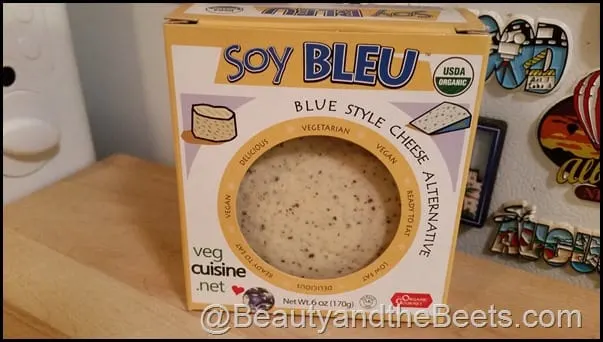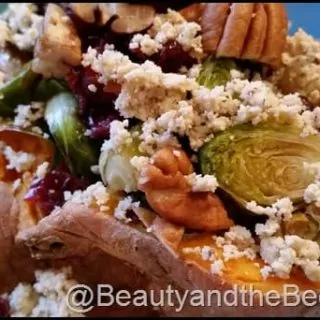 Baked Sweet Potato with Brussel Sprouts, Cranberries and Pecans
Recipe from So Hungry I Could Blog -
Ingredients
2 medium-sized sweet potatoes
10 Brussels sprouts, rinsed and quartered
handful of pecans
handful of dried cranberries
3 tablespoons blue cheese
olive oil
salt and pepper
Instructions
Wash the sweet potatoes and pierce the skin all over with a fork. Bake the potatoes at 400 degrees for 45 minutes to an hour, or until a knife can be easily inserted into the potatoes.
When the potatoes have about 15 minutes left in the oven, toss the Brussels sprouts in olive oil, salt and pepper and place in a metal or glass pan. Roast for about 15 minutes or until the leaves begin to brown and crisp.
Once the potatoes have cooled to where you can touch them, slice lengthwise and apply pressure to open. Top with the roasted Brussels sprouts, cranberries, pecans and cheese.
Makes two servings.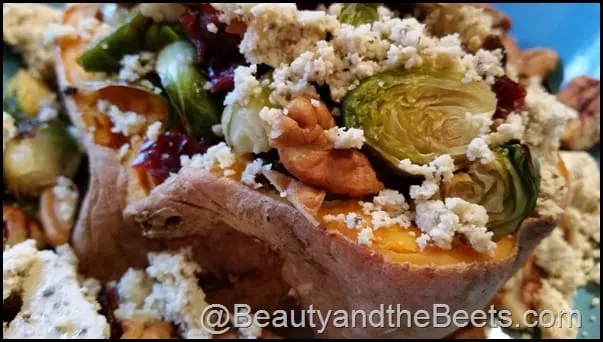 I served my potatoes alongside this Kale Salad with Peanut Dressing recipe that has been a huge hit on both my website and at my house. Can it get healthier than that?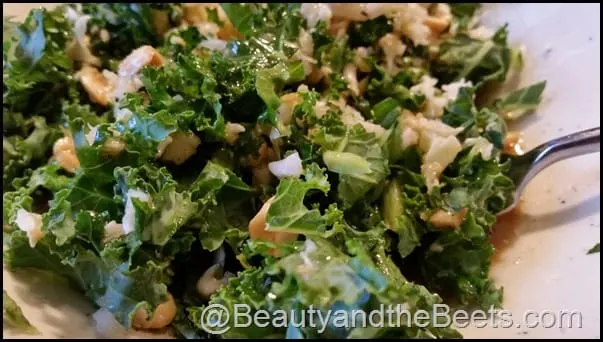 Tell me in the comments below- what are you making for Vegan and/or Meatless Monday?