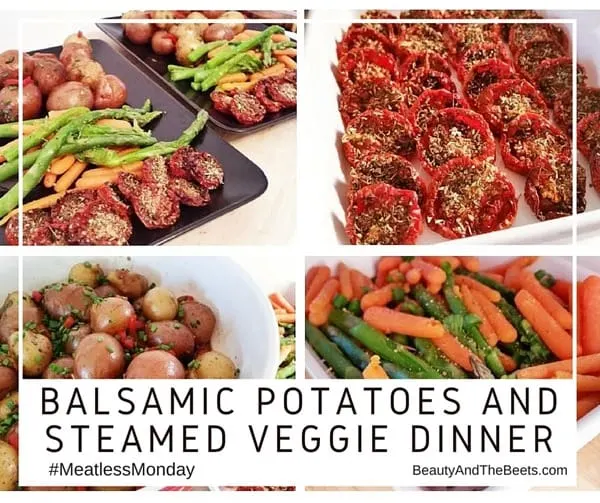 Welcome to Meatless Monday…one of my favorite posts of the week. Today is also the start of a new giveaway – a $25 gift card to Publix, courtesy of the fine folks over at the 2016 Publix Savannah Women's Half Marathon. The race is taking place on April 2 this year and I am one of the lucky ambassadors for the race! Registration is still open and you can save $10 off your entry fee with the code BEETS10.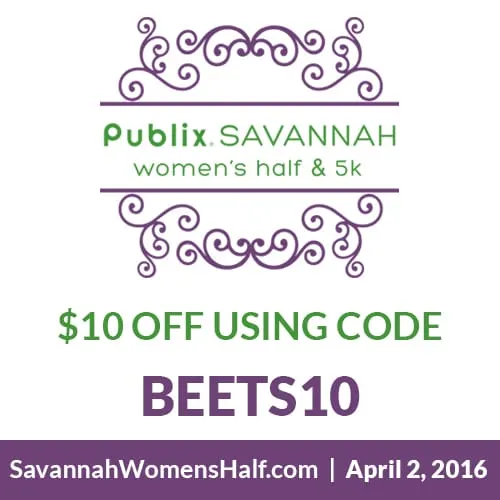 The race is going to be a lot of fun- I am preparing for the race by not only running , but also trying to eat better so I will be healthy and ready to set a new PR (personal record time) there. I've had a lot of help in the eating better part with recipes from my Forks Over Knives class.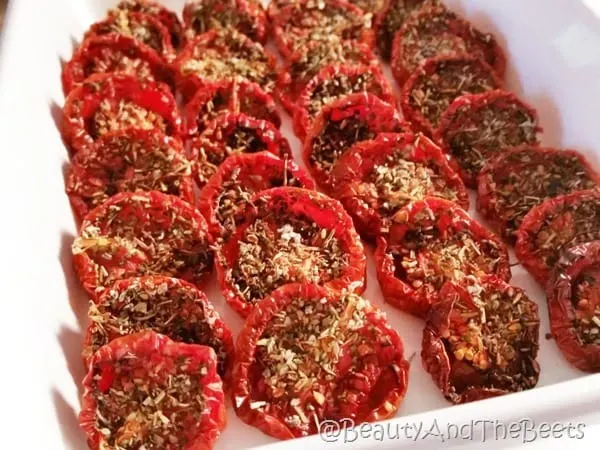 I used to roast our veggies with oil and we loved them that way. However, in the class I have been learning how to prepare veggies without oil – I have been using veggie broth instead of the oil and the difference is unbelievable. Roasting veggies is even better without oil. One of my favorite recipes was this one for Slow Roasted Herb Tomatoes. We made these one night as a side dish while preparing a healthy dinner with the best produce from Publix, of course. Publix provided me with a gift card to make this healthy meal and gave me an extra $25 gift card to send to one of you guys!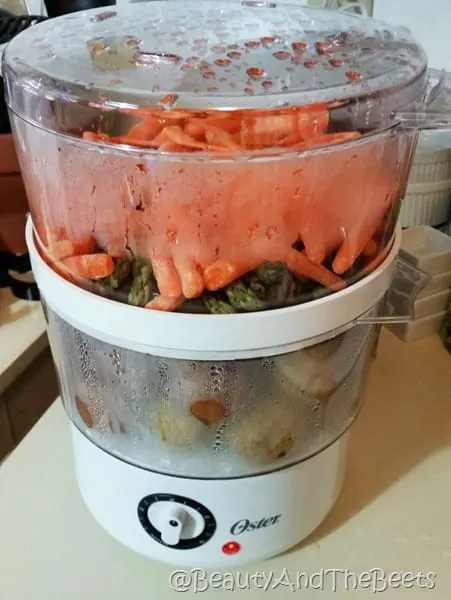 Another way I have been learning to prepare veggies is by steaming them. Mr. Beet and I invested in this steamer ($19 on Amazon) and we have been using it almost everyday since. Steaming is so easy and healthy.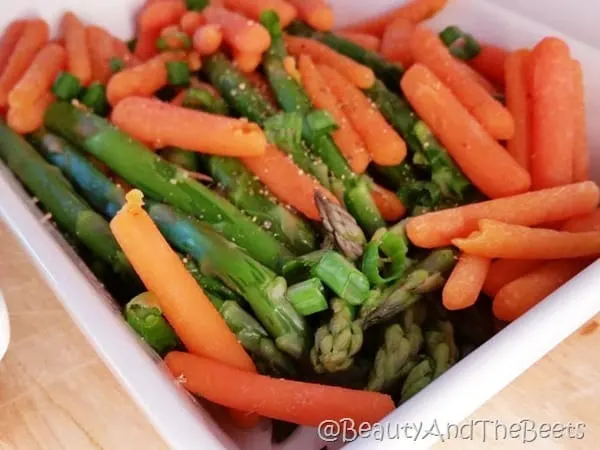 To go with our Slow Roasted Herb Tomatoes, I steamed some fresh asparagus and baby carrots.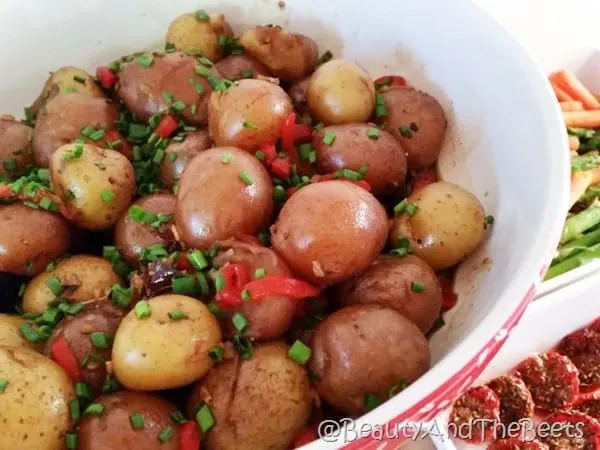 However, the main dish for our healthy Publix dinner were the Steamed Balsamic Potatoes. Only 30 minutes in the steamer, then tossed in a Balsamic Vinaigrette, these were by far the most delicious potatoes I have ever made.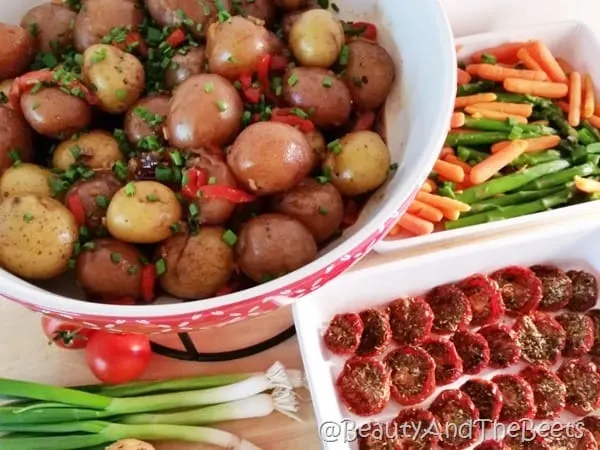 I think the most fun I have had with the steamer is making yummy sauces and dressings for the veggies. I will be posting many more easy recipes using steamed veggies in the very near future!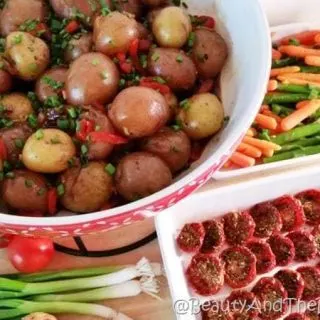 Balsamic Potatoes
Ingredients
For the Balsamic Vinaigrette:
1/2 cup balsamic vinegar
3 tbsp liquid aminos or low-sodium tamari
1/2 tbsp dried onion flakes
1 clove garlic,, finely minced
2 tbsp minced fresh parsley
For the potatoes:
4 cups baby potatoes,, steamed
1 cup roasted red peppers,, thinly sliced
3 tbsp minced fresh chives
Instructions
Prepare the balsamic vinaigrette:
In a small bowl, whisk together all of the ingredients for the vinaigrette.
Prepare the potatoes:
Place the steamed potatoes in a large bowl, add the peppers, minced chives and 1/2 cup of the balsamic vinaigrette. Place potatoes in a serving dish and serve immediately.
Publix provided me with a $25 gift card to give to one of my readers which I hope will inspire you to eat healthier! Enter via rafflecopter below and see you guys on April 2 in Savannah!! **Open to residents of the United States. Contest opens at midnight on 3/7/16 and ends at 11:59pm on 3/13/16. At the end of the contest, one winner will be randomly chosen by Rafflecopter from all the eligible entries. Good luck!**
THIS GIVEAWAY HAS ENDED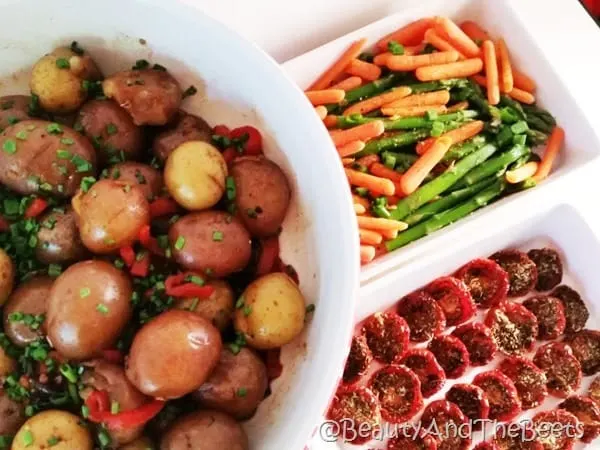 *This post contains an affiliate link. Your support is greatly appreciated to keep Beauty and the Beets up and running!*