Pulled squash is a tasty and healthy BBQ dish for Vegans and Vegetarians. Based off the sandwich from Butcher and Bee's in Charleston, South Carolina
It's no secret that my favorite restaurant is Butcher and Bee in Charleston, South Carolina. Located just north of the downtown historic city, Butcher and Bee used to post their daily menu on Facebook every morning. The menu was small but incredibly creative with lots of choices for carnivores, Vegetarians, and Vegans alike. A little something for everyone. I would squeeeee with delight whenever I saw the BBQ pulled squash on the menu. It is amazing.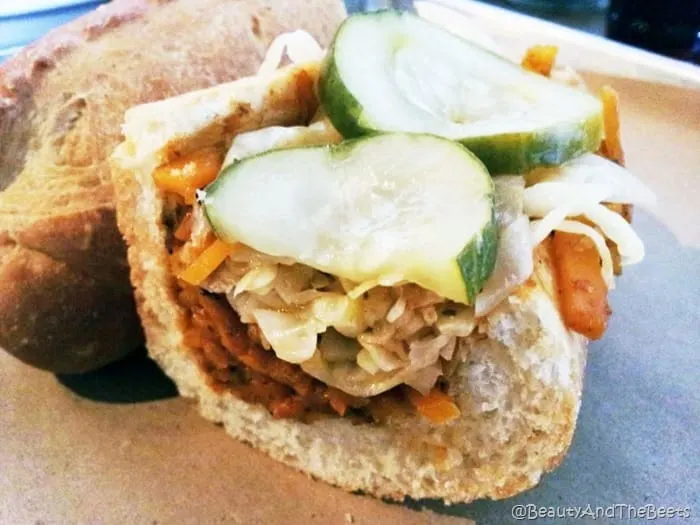 Pulled Squash versus Jackfruit
There is something so fascinating with a BBQ vegetable sandwich that can stand up to its meat counterparts. BBQ jack fruit is really the trend right now for Vegetarians. It's been quickly gaining popularity and is making its way to menus all over the United States. However, my favorite Vegetarian BBQ sandwich is this pulled squash version.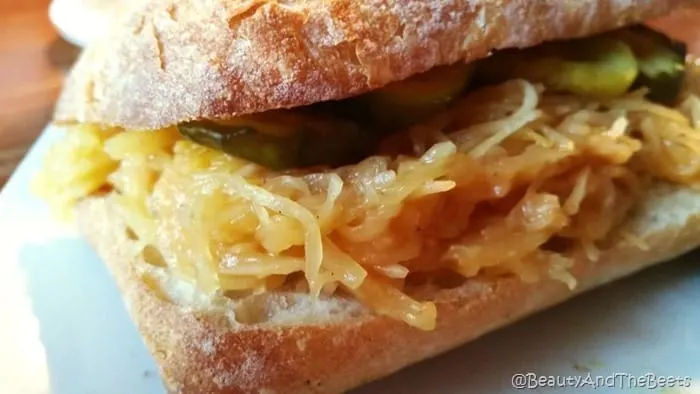 The dream came to an end
Every trip I made to Butcher and Bee I ordered the BBQ pulled squash. Life was good, I was happy, everything in my life was in perfect order. And then…..my entire existence came into question, my universe suddenly imploded into itself…..there was no more BBQ pulled squash.
Butcher and Bee moved into a new space and converted to full tableside service with a permanent menu. (They have also since opened a restaurant in Nashville, Tennessee as well). And pulled squash was not an option on the new menu.
After learning this, I allowed myself a few days to mourn. Then I decided I was going to recreate my favorite BBQ pulled squash in my own kitchen. I combed through countless recipes on Pinterest for BBQ sauces. I just had to try my hand at making my own beloved BBQ pulled squash sandwiches.
As someone who had never tried to cook spaghetti squash before, I kept the pizza man on speed dial just in case. Turns out, it's a really easy vegetable to prepare.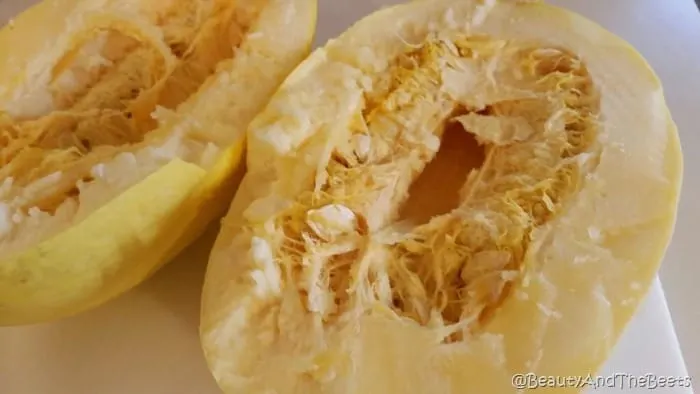 Cooking the squash
Squash is ugly, and can be hard to cut, so be gentle and cautious. After cutting the squash in half, I scooped out the seeds and guts, then sprinkled the remains with a little salt, smoked paprika and dark brown sugar. I roasted it in a 375° oven for 40 minutes.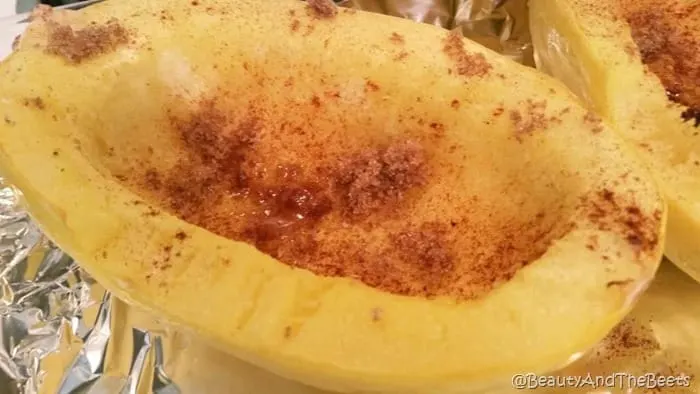 Putting the "pull" in pulled squash
The fun part was after the squash cooled down a little, I started to scoop the flesh and it magically turned stringy- like spaghetti. I mixed in a BBQ sauce, careful not to drown the squash. You only wanted to enhance the flavor of the vegetable, not mask it. I also chose a Carolina mustard-based BBQ sauce for a more authentic southern flavor.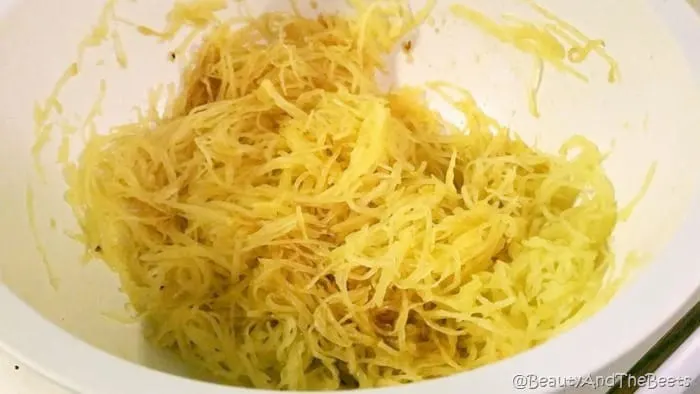 Once you master the art of roasting the squash, there are countless dishes you can make. It's popular right now to replace spaghetti squash with pasta.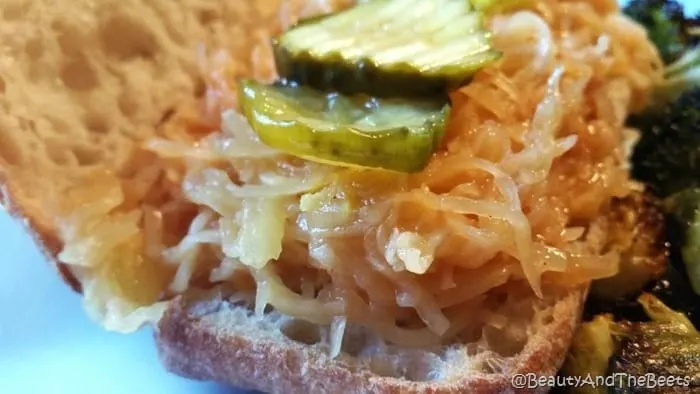 Pretty easy right? The Butcher and Bee version was also served with a smoked slaw on the sandwich. I did not make slaw but I did chop up some kale and toss it in a light dressing with some peanuts for a healthy side.
The pulled squash recipe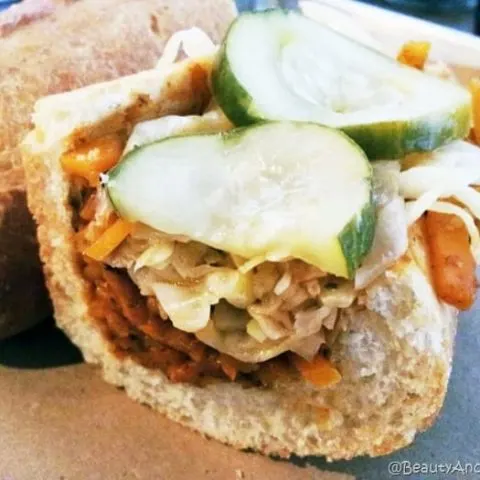 Pulled Squash Sandwiches Southern Style Mustard BBQ Sauce
Based on the sandwich from Butcher and Bee in Charleston.
Ingredients
1 medium to large size spaghetti squash
Olive oil, for brushing
salt
smoked paprika
dark brown sugar
1/2 cup mustard-based BBQ sauce, see recipe below
4 hoagie rolls
handful of bread and butter pickle chips
For the BBQ sauce: (makes 1 cup)
1 tablespoon canola or vegetable oil
1 small yellow onion, peeled and diced
2 garlic cloves, peeled and crushed
1 teaspoon hot sauce
1/4 cup cider vinegar
1/2 cup ketchup, (with no high fructose corn syrup or no sugar added)
3 tablespoons smoked mustard, (use Dijon if you cannot find smoked)
2 tablespoons dark brown sugar, (use only 3 tbsp if you want your sauce to be more sweet than tangy)
1/2 teaspoon turmeric
2-4 tbsp filtered water
Instructions
Preheat oven to 375°. Cut the squash in half and scoop out the seeds and the guts.
Place the halves in a baking dish, flesh side up. Brush the flesh with a little olive oil. Sprinkle the squash with the salt, smoked paprika and the dark brown sugar.
Bake the squash in the oven for 40 minutes.
While the squash cooks, make the BBQ sauce:
Heat the oil in a medium saucepan over medium high heat.
Add the onion and garlic and sauté until softened, about 3 minutes.
Add the vinegar and stir for 1 minute.
Stir in the hot sauce, ketchup, mustard, sugar and turmeric.
Simmer on low heat for 15 minutes. (The next 2 steps are optional if you want a thinner sauce)
(optional) Remove sauce from pan and add to a small food processor.
(optional) Add 2 tbsp water and pulse. If sauce is still too thick add 1 tbsp water and pulse until sauce is more liquefied. Repeat with 1 tbsp of water at a time. Don't add too much water so you do not dilute the sauce. The sauce will still be slightly thick, even with 3-4 tbsp water.
Remove squash from the oven and let it cool enough to handle. Using a spoon, gently scrape out the flesh of the squash into a medium sized bowl. The squash should separate into strings.
In the meantime, place the bread in the oven for 5 minutes until toasted.
Mix the BBQ sauce into the squash and gently toss. You can also add more spices if desired.
Fill the bread up with the squash. Place a row of bread and butter pickles across the top.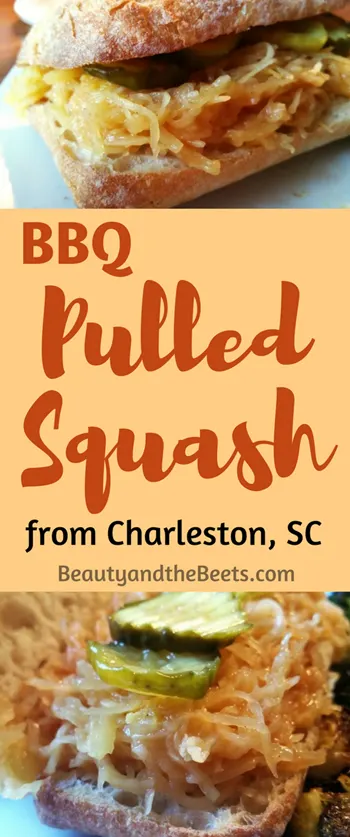 For another fabulous Vegan/Vegetarian BBQ recipe check out this hearty and delicious recipe for Sweet Potato Black Bean burgers.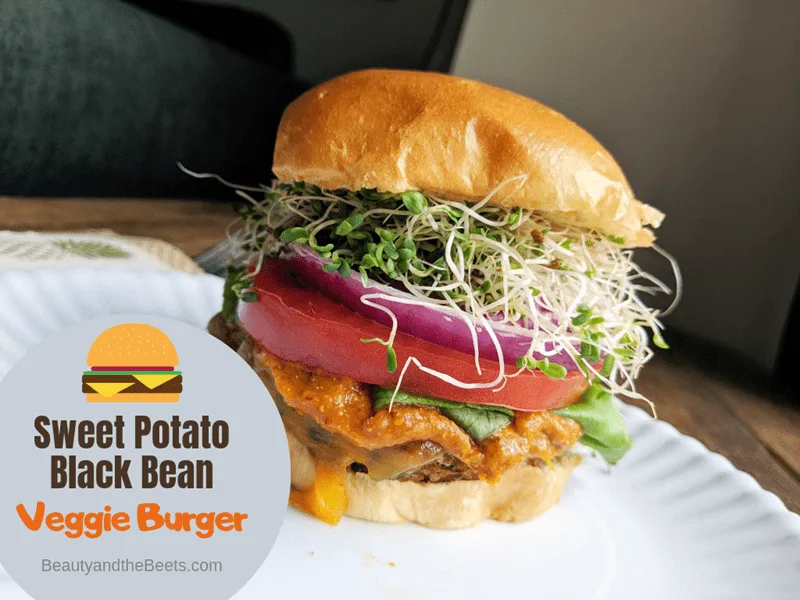 Visit Butcher and Bee
For more information on Butcher and Bee visit their website here –> Butcher and Bee Charleston and Nashville