My most favorite aspect of traveling is experiencing food in a new city. Sometimes a dish is unique to a certain region, like eating a buffalo burger in Park City; and sometimes you just find something not so unique, but maybe served in a new way. On my recent trip to Utah, I met some fellow Orlando bloggers at a little bakery just down the street from the venue where we were attending the Everything Food Conference. Eva's Bakery is adorable and the menu consisted of freshly baked scones and muffins, as well as a simple selection of breakfast plates and salads. My friend Wanda ordered the Beet Avocado Toast with Lisa ordered the same thing and added a poached egg.
As much as I love my beets, I have never thought to add it to avocado toast. And since my favorite hobby is recreating my travel eats, I naturally decided to make this Beet Avocado Toast at home. I love how simple and delicious yet nutritious it is. Avocado is a super healthy fat, and beets are full of fiber and potassium. Beets are also extremely beneficial to controlling blood pressure, lowering your risk for heart disease, and detoxing your liver. Add beets to avocado and super food just got super-er.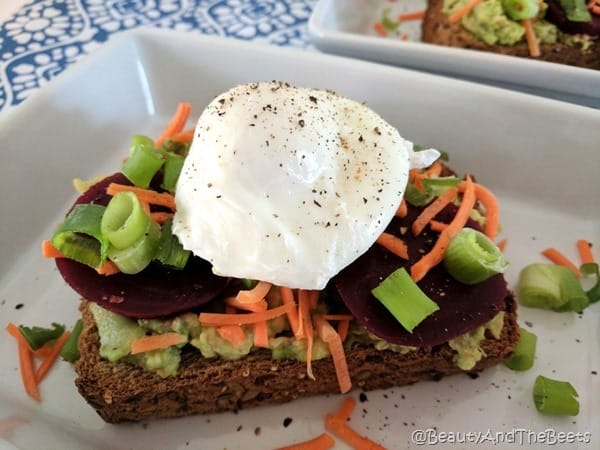 The trick to make this dish drool worth is the bread. I went to my local Publix and asked for a loaf of unsliced nine-grain loaf. Unless your local grocer has the machine to cut the bread thick, it is best to cut it yourself at home. After all, the bread must be husky enough to hold up to the avocado and the beets.
I added shredded carrots mainly for color, but we know that carrots are full of beta carotene and vitamin A – good for the eyes.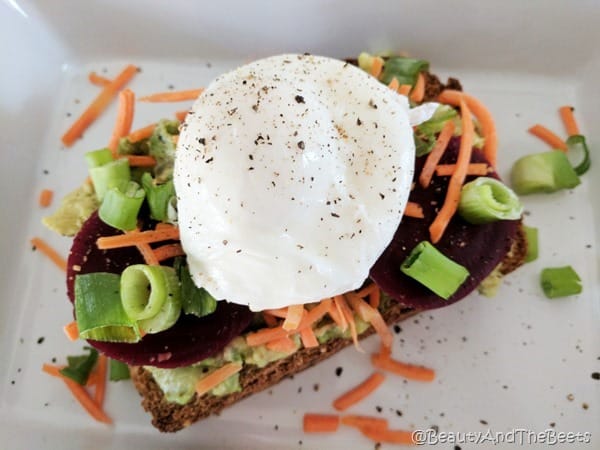 And a poached egg adds protein you need to start your day off right. Poaching the egg was super easy. We all received the OXO Good Grips Silicone Egg Poacher in our swag bags at the Everything Food Conference so I decided to use it for this. I thought it was easy, but the trick is to make sure the egg stays whole when you put it into the pot. Once I figured that out my egg poached nicely with this little gadget. In my recipe below I did not include instructions for poaching the egg. If you do not have an egg poacher like this one, you can follow directions on how to poach an egg here – Serious Eats How To Poach an Egg.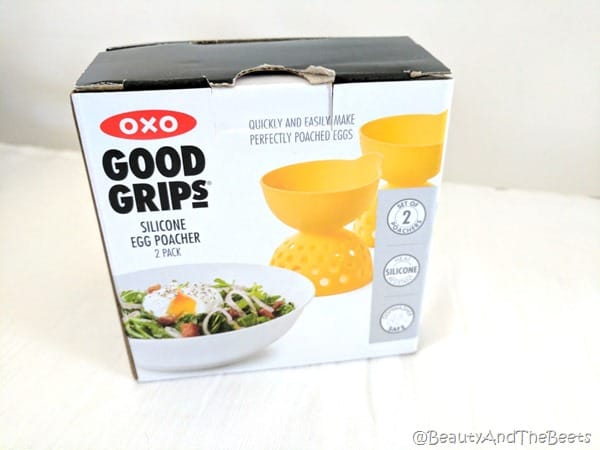 How do you dress up your avocado toast?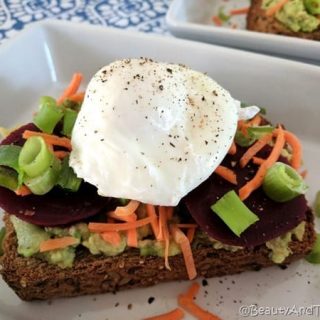 Beet Avocado Toast & Poached Egg
Yield:
2 slices of Beet Avocado Toast
Inspired by the Beet Avocado Toast from Eva's Bakery in Salt Lake City, Utah.
Ingredients
2 slices thick bread
1 avocado
1 tsp. lemon juice
1/4 cup canned sliced beets,, drained
1/4 cup grated carrots
2 tbsp. chopped green onion
2 eggs,, poached*
black pepper
Instructions
Preheat oven to 350° Place bread on a baking sheet.
Bake the bread about 8 minutes, until toasted.
Mash the avocado and lemon juice together in a bowl.
Divide and spread the mashed avocado mixture onto the bread.
Arrange the sliced beets onto the avocado.
Sprinkle with grated carrots and green onions.
Top toast with a poached egg (see notes).
Sprinkle with black pepper, if desired
Notes
*I use the *OXO Good Grips Egg Poacher* for poaching my eggs. If you are without an egg poacher, there is a link in the post above for poaching your own eggs.
Pin this recipe for later: