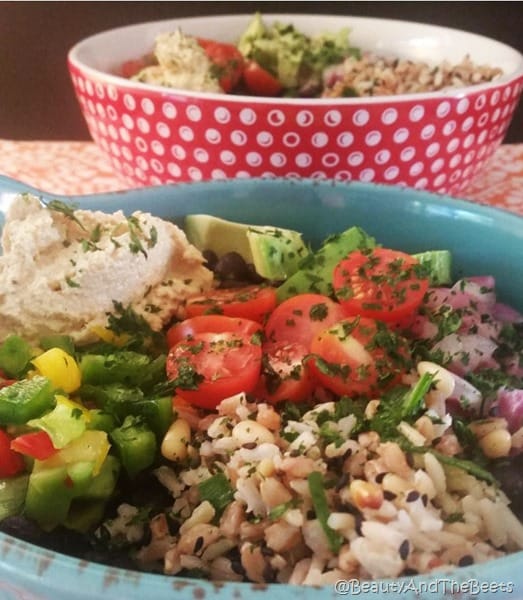 Mr. Beet had sent me a picture of a black bean bowl he had at a restaurant in Daytona Beach. He is not one to take pictures of his food so I know when he does, it is a subtle hint. Make me this. Normally I ignore him and fix whatever I want, but this time…this one time…I listened. (Don't get used to this my dear Mr. Beet)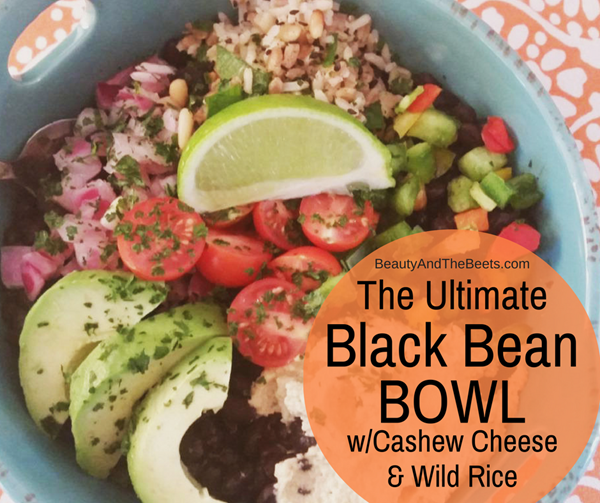 I wish I had saved the picture he had sent me- it was loaded with veggies like tomatoes, avocados and chopped onions. Super healthy. I decided to tackle this head on, adding Vegan cashew cheese and a wild rice mixture. My goal was to make this a full meal in a bowl. I think I nailed it. My bowl has protein, veggies, grain and FLAVOR!!! It's a great fill you up dish.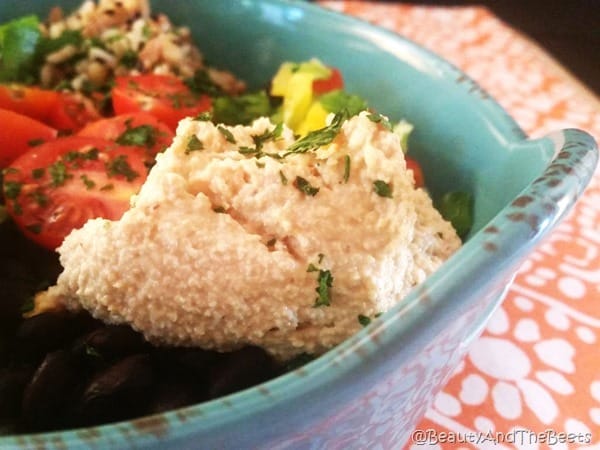 I really made it more difficult than it had to be. I spent two hours cooking and seasoning black beans on the stuff. Really, you can use a really good low-sodium can of black beans and get the same result (though that does suck the fun out of it, right?) However, you cannot buy the cashew cheese pre-made at the store. You have to make that at home. The longest time you will spend making the cheese is having to soak the cashews for an hour. No big deal.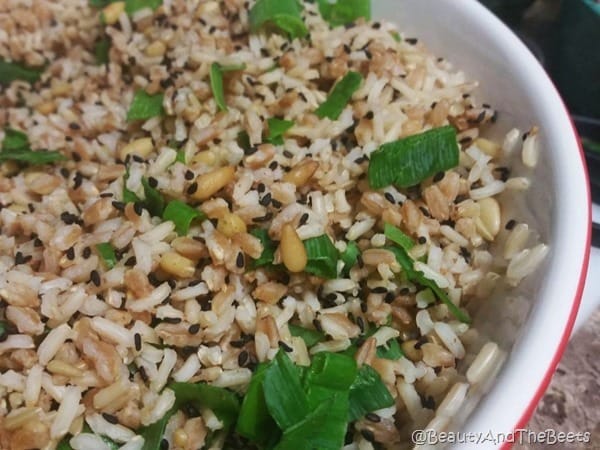 Making the wild rice was easy. I made a bowl of long grain brown rice and a pot of farro, threw the two together, added pine nuts and scallions. I made enough to use not only in my black bean bowl, I spent the rest of the week whipping up veggie tacos and soup using the rice. Farro is fairly easy to find in the stores nowadays as it is slowly entering into the mainstream acceptance of grains to cook with. It is similar to a bulgar wheat and certainly just as healthy.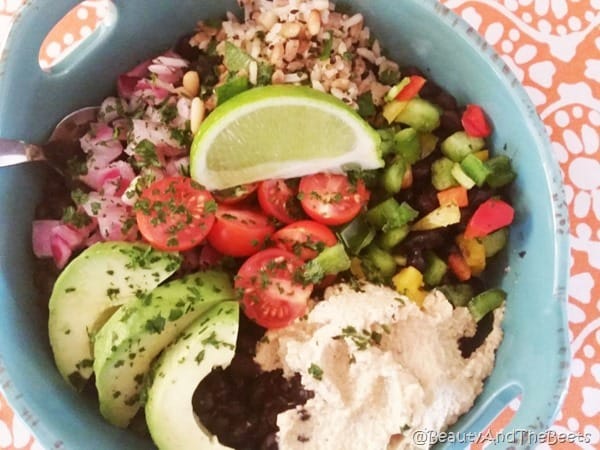 I also bought the peppers and onions pre-chopped. And if you really wanted to, it would be easy to buy pre-diced tomatoes instead of slicing them. I'm just saying. I am all about taking shortcuts when it will not compromise the flavor or healthiness of a dish. Who wants to chop vegetables all day?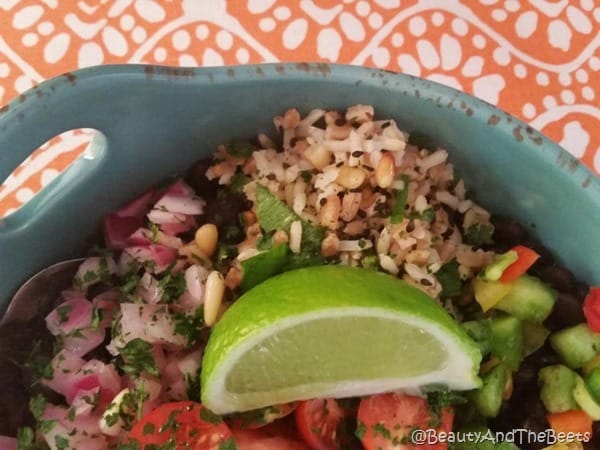 So anyway, here it is- the ultimate loaded Black Bean Bowl with Cashew Cheese and Wild Rice. Enjoy!!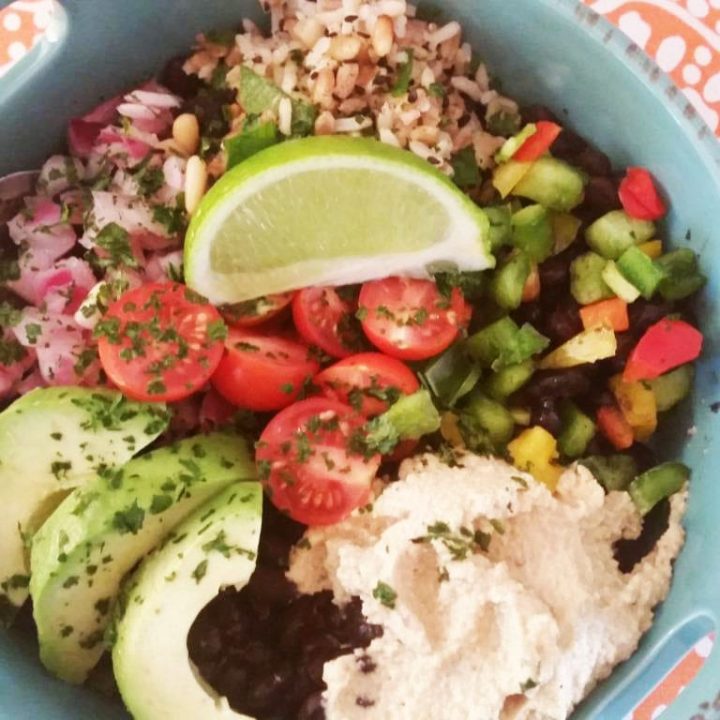 The Ultimate Black Bean Bowl with Cashew Cheese & Wild Rice
Total Time:
2 hours
30 minutes
A versatile one bowl meal.
Ingredients
For the black beans:
1 pound dried black beans,, rinsed and picked over
1 small to medium yellow onion,, diced
10 garlic cloves,, peeled and smashed
2 tbsp. onion powder
1 orange,, rinsed and cut in half
2 limes,, rinsed and cut in half
1/2 tsp. kosher salt
For the cashew cheese:
1 cup raw cashews,, soaked one hour
1/4 cup nutritional cheese
2 tbsp. lemon juice
2 cloves garlic,, peeled
2 tbsp. apple cider vinegar
1/4 cup water, at room temperature
For the Wild Rice:
1 cup cooked long grain wild rice
1 cup cooked farro
2 tbsp. black sesame seeds
1/4 cup pinenuts
1/4 cup chopped green onions
Garnish for the bowl:
Diced red onion
Diced red, green, and yellow peppers
Cherry tomatoes,, sliced in half
Sliced avocado
Chopped fresh parsley
Lime wedges
Instructions
For the black beans:
Place dried beans in a large pot and fill with water 3 inches over the beans. Add the diced onions, smashed garlic cloves, onion powder, and salt to the beans and stir. Squeeze the orange and lime halves, then toss the halves into the pot.
Cook the beans on high heat until water begins to boil. Turn heat down to a simmer and cook for 2-3 hours. Stir occasionally. (Cook for two hours for firmer beans, three hours for softer beans). Remove the orange and lime halves from the pot.
For the cashew cheese:
Add the soaked cashews, nutritional yeast, lemon juice, garlic, apple cider and water to the bowl of a food processor. Process until creamy. Store in an airtight container until ready to use.
For the wild rice:
Combine the rice, farro, sesame seeds and pinenuts in a large bowl and gently mix. Sprinkle the green onions over the rice mix and set aside until ready to use.
To prepare the bowl:
Layer the beans on the bottom of a soup bowl.
Add a dollop of cashew cheese and wild rice onto the beans.
Fill in the remaining space on the bowl with the red onions, peppers, tomatoes, and avocado. Sprinkle the chopped parsley over the bowl and serve with a lime wedge. Enjoy!
Pin this recipe for later: