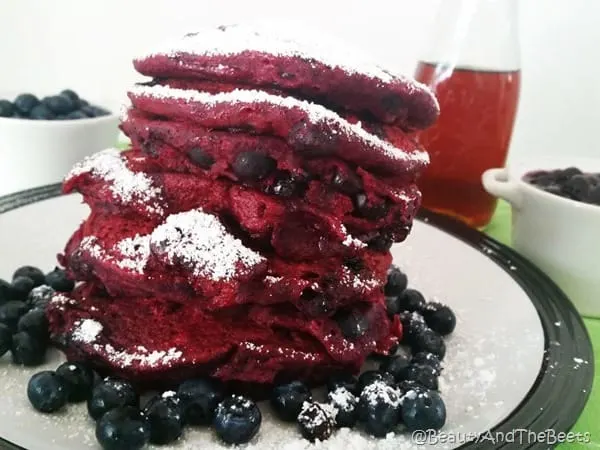 When someone hears my blog name for the first time, there is often a comment about how much they love beets. Sometimes followed by "wow- you must cook with beets all the time" which is not true. I really do not cook with beets that often. I feel like that needs to change. Maybe I need to up my beets game. Here is my number one problem in cooking with beets – they are extremely messy, stain EVERYTHING and make my kitchen look like a murder scene. I've gotten better the more I work with beets, but the real problem for me seems to be when I am trying to peel them after roasting. Lately I have just been using beets raw in my cooking. And they are just as delicious. Especially in these Blueberry Beet Pancakes.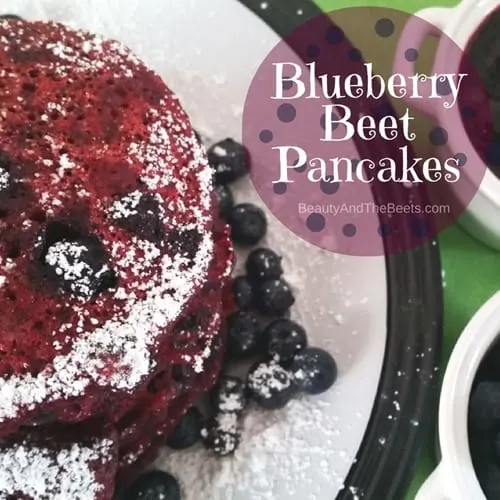 So let's talk about why you would want to add beets to pancakes in the first place. For starters, can you see the fun color the pancakes become? OK, secondly, beets are full of antioxidant, anti-inflammatory and detoxification components. And eating them raw has additional benefits. You will lose 25% of folate when cooking them. Folate is necessary for preventing birth defects, the growth of new tissue and retaining protein. Beets are an excellent source of manganese, potassium, fiber, vitamin C and iron.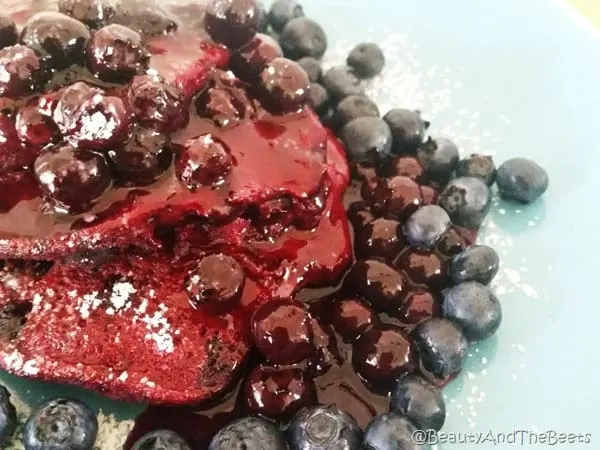 Add blueberries into the mix and these pancakes almost become a super food. Blueberries are also quite high in manganese, Vitamin C and fiber, in addition to Vitamin K. Blueberries are very good for your cardiovascular, cognitive and eye health as well as being chocked full of anti-cancer and antioxidants compounds. And they are just so tasty.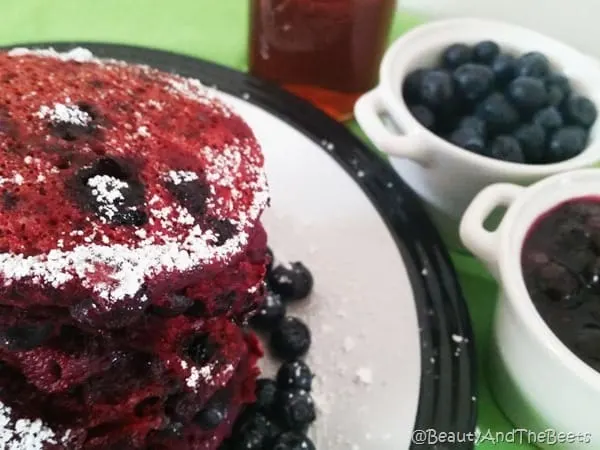 Pancakes are one of the easiest and tastiest foods to brighten up breakfast. Especially when they are bright red and blue like these. A small drizzle of maple syrup or a dollop of vanilla yogurt (or try this vanilla blueberry sauce) will surely bring your breakfast to new heights. Enjoy!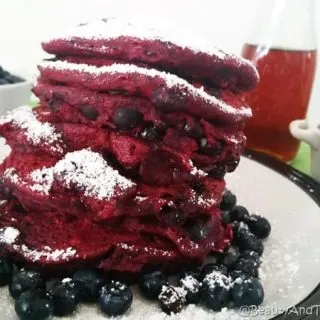 Blueberry Beet Pancakes
Blueberries and beets are the basis of these super healthy pancakes.
Ingredients
1 medium beet, peeled and grated
2 egg whites
1 cup coconut milk
1/4 cup sugar
3/4 cup rice flour, all-puporse will work as well
3/4 tsp. baking powder
2 tsp. cinnamon
1 tsp. nutmeg
1 pint blueberries, washed and stemmed
Instructions
Add the grated beets, egg whites, coconut milk, vanilla extract and sugar to the bowl of a food processor. Pulse until blended.
In a large bowl, combine the flour, baking powder, cinnamon and nutmeg.
Add the beet mixture to the dry ingredients and stir until well combined.
Gently fold in the blueberries.
Pour a scoop of batter onto a preheated griddle or pan. Cook 4-5 minutes on each side.
Remove from heat and keep warm (on a plate covered in aluminum foil)
Continue steps 5-6 until all the batter is used and you have a giant stack of pancakes!! Enjoy.
Pin this recipe for later: