This blueberry skillet cake is a fan favorite and is requested in my house once or twice a month. It's a super easy prepare and go dish and versatile enough to add strawberries or raspberries to the bueberries.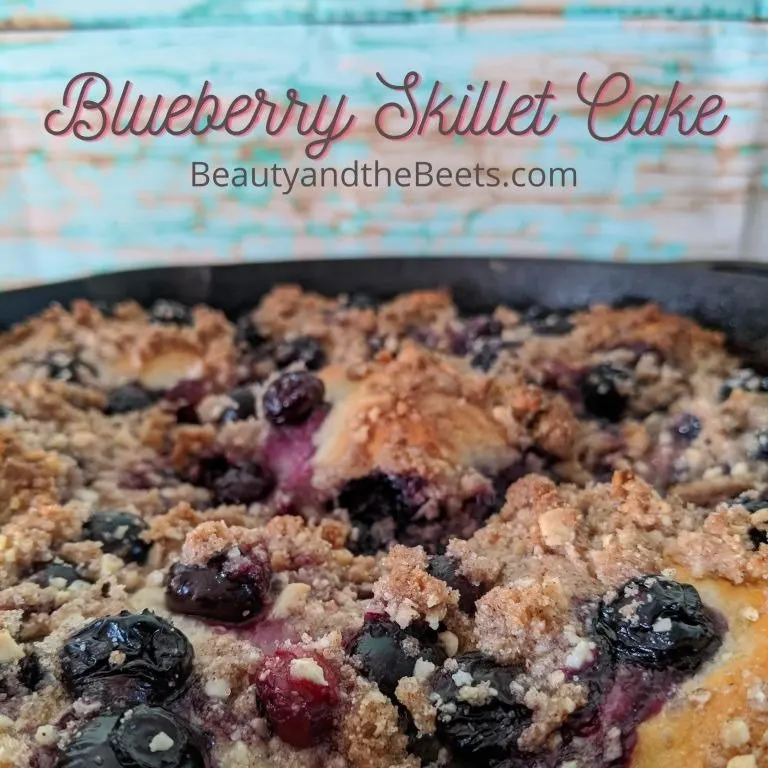 Sunday is the best day of the week in Beetsland. I get to sleep in, go for a run, and enjoy a nice hot cup of tea. Even the animals seem to sense it's a day of leisure and laziness. Sunday also usually means I have a little bit more time to savor a warm breakfast. But as much as I love cooking, in the morning I generally want to fix something more quickly than maybe at dinner. Especially after a long run, I just don't have the patience for a ton of ingredients, lots of steps, and most importantly, a large amount of time.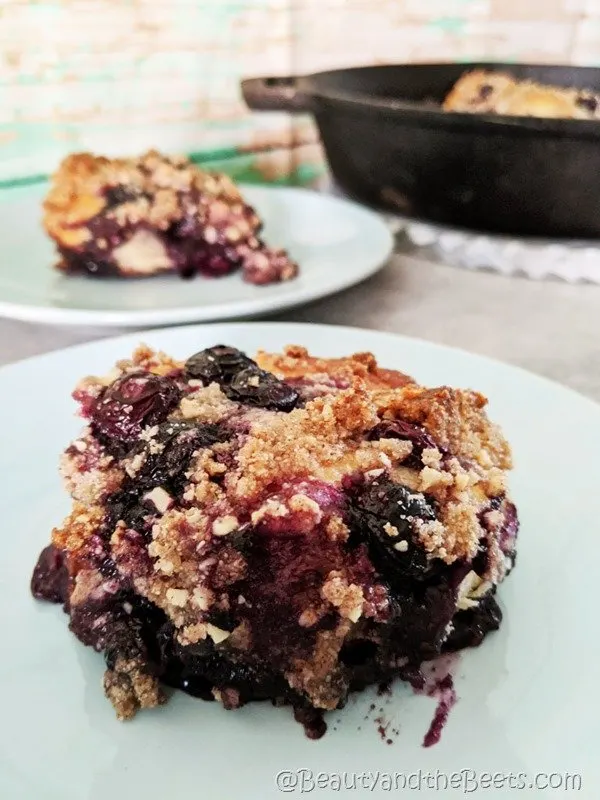 This Blueberry Biscuit Skillet Cake is a fan favorite
I have been making this skillet cake for over six years now, and it's probably my number one most requested breakfast among the troops. I can't resist fresh blueberries with a buttery sugary crumble topping. I've yet to get a complaint on this recipe in my house.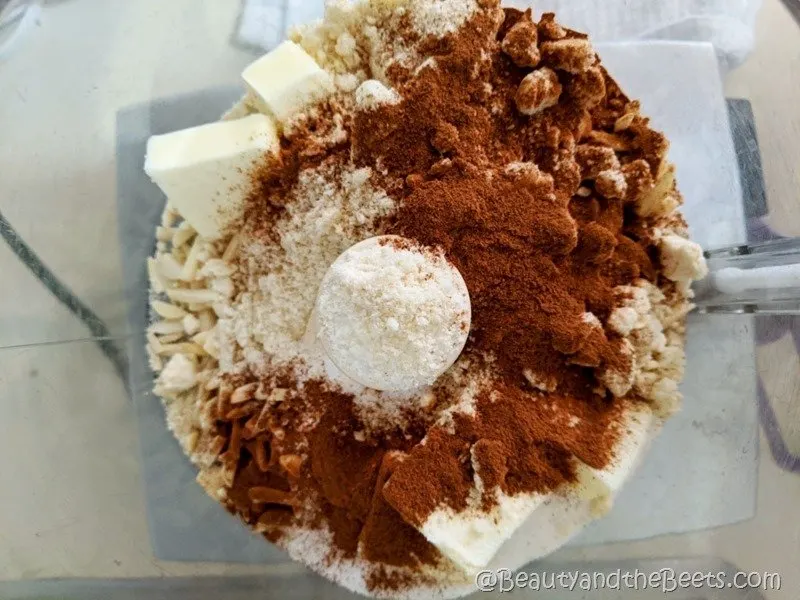 A delicious buttery sugary crumble topping
The buttery sugary crumble topping to me is what makes this cake. Super easy, 5 ingredients in the food processor, done. I buy the almonds already slivered and biscuits in a tube. I use raw cane sugar and almond flour for the granulated sugar and all-purpose flour in the recipe. This isn't such a precise recipe that you can't substitute other types of sugar and flour respectfully.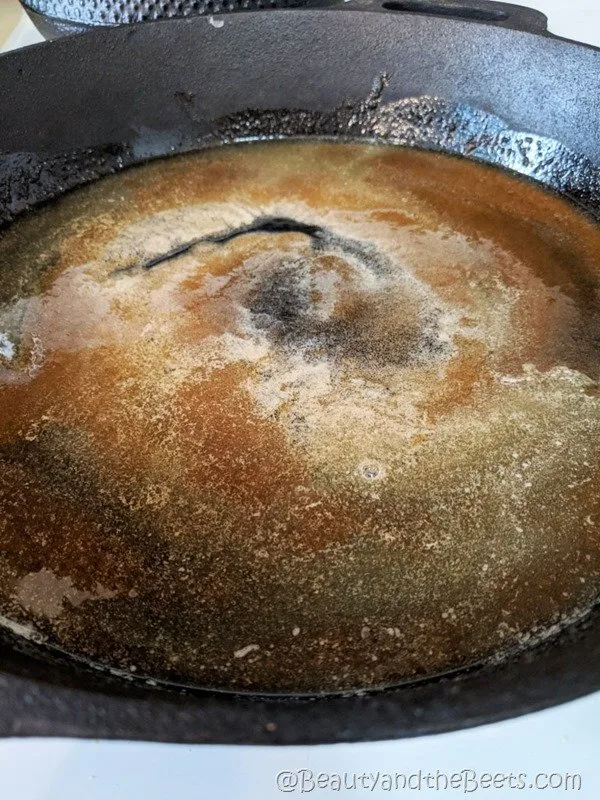 The butter sugar base
I also use coconut sugar in place of the light brown sugar for the cake base (as indicated in the recipe). The coconut sugar adds a light sweetness similar to that of regular light brown sugar. It's important not to let the butter and sugar burn, just let the butter melt and then place the biscuits in the skillet.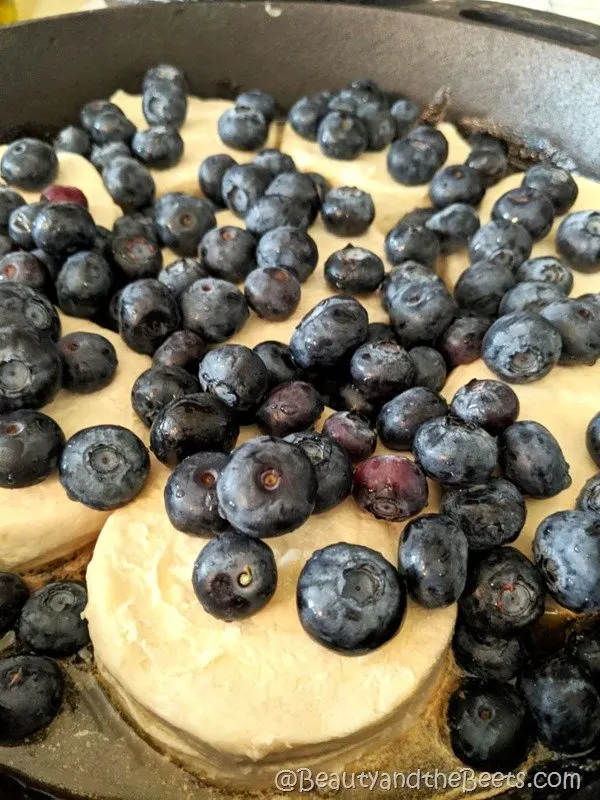 Buy fresh blueberries and store bought tube biscuits
And unless you have time to whip up your own scratch made biscuits, then just buy them in a tube. You know that tube you have to pop to open? I am always afraid to pop the tube for fear of being covered in sticky gluten-y wet dough (don't judge me, I fear things that pop).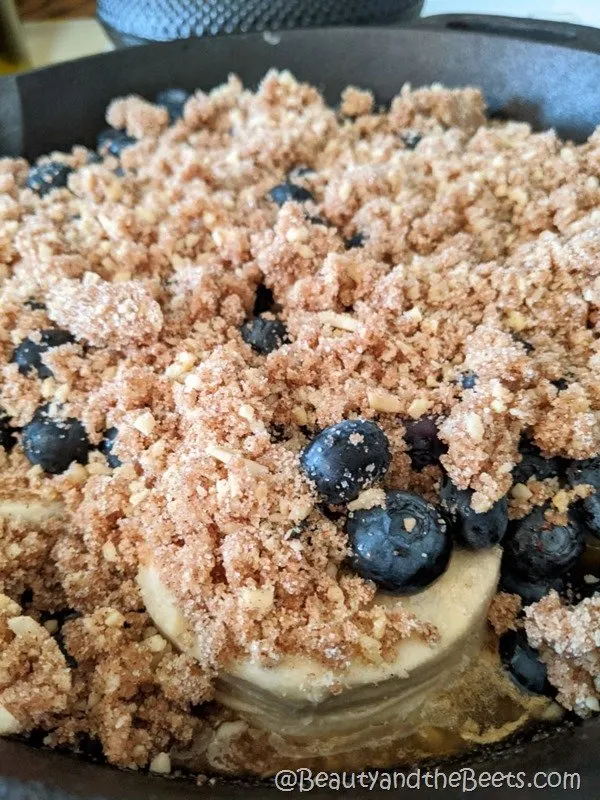 Next comes that buttery sugary crumbly topping. It's ok to let some of it fall into the pan and drown in the butter and brown sugar. You'll see.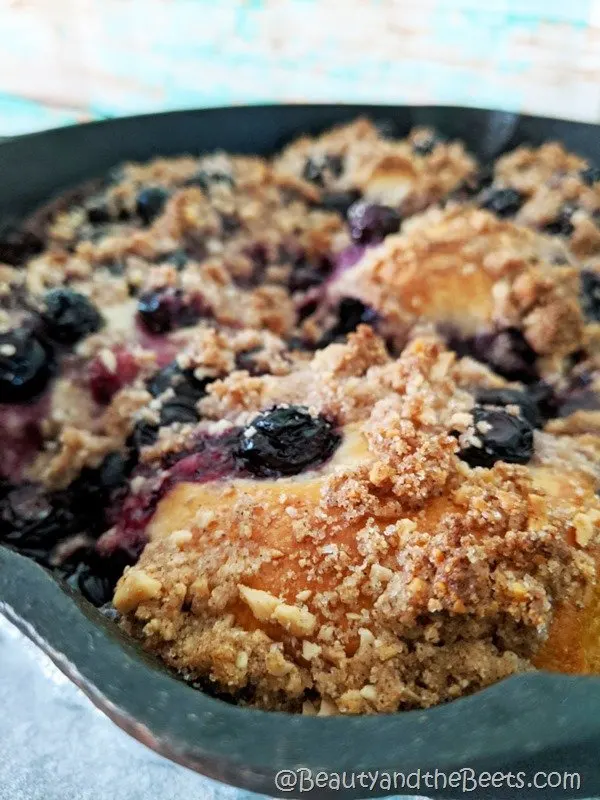 Don't let your Blueberry Biscuit Skillet Cake burn. Don't let that crumble topping burn and don't let your biscuits burn. You'll ruin everything.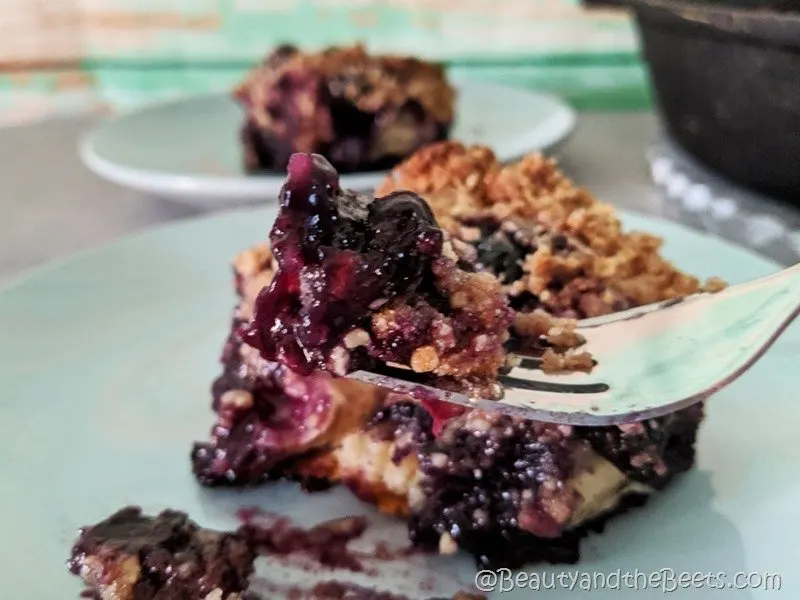 This skillet cake will speak for itself. The blueberries will ooze and the sugary topping and base will be crunchy. Hands on is barely five minutes so you could whip together some other easy dishes to complete a beautiful brunch spread if desired. Check out my recipes for Pumpkin Spice Latte Bites, Avocado Toast with Pickled Radish, and Brussels Sprouts Hash with Poached Eggs (yes, you can do Brussels sprouts for breakfast. My recipe was inspired by a trip to Biscuit Love in Nashville, Tennessee).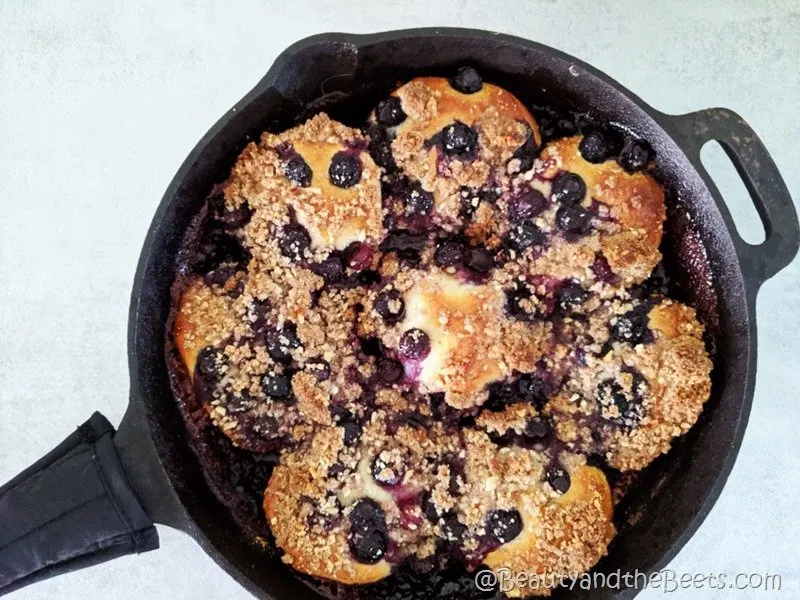 The Blueberry Biscuit Skillet Cake recipe
Bon appetit!!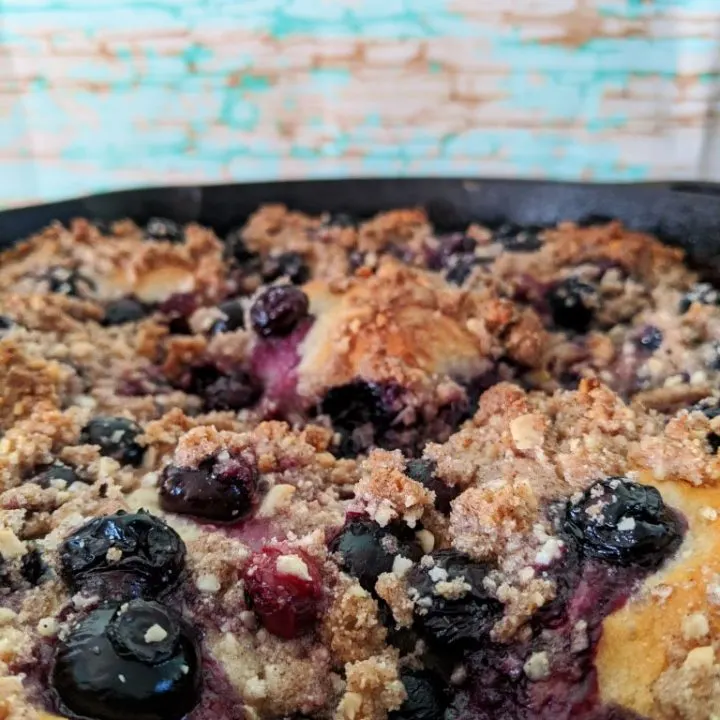 Blueberry Biscuit Skillet Cake
How to please your family in 40 minutes or less. Make this quick and easy delicious Blueberry Biscuit Skillet Cake. This is especially good with a scoop of vanilla ice cream on the side.
Ingredients
Crumble topping:
1/2 cup unsalted butter, (1/2 stick)
2 teaspoons ground cinnamon
Coffee Cake:
4 tablespoons unsalted butter, (1/2 stick)
1 12-oz. tube buttermilk biscuits
1 cup fresh blueberries, (or thawed frozen)
Instructions
Preheat the oven to 375° F
Place the almonds, granulated sugar, ½ cup butter, flour, and cinnamon in a food processor
Pulse until large crumbles form
Heat 1/2 cup butter and light brown sugar in a cast iron skillet over medium heat
Stir until butter melts
Arrange the biscuits in a single layer over melted butter and sugar (the biscuits can touch and it's ok to have extra room in the skillet)
Scatter the blueberries over the biscuits
Add the butter sugar crumble over the biscuits and blueberries (it's ok to let some of the crumbles fall into the pan)
Bake until the biscuits are lightly golden, about 30 minutes (do not let burn)
Allow to cool slightly then serve right out of the skillet

Pin this recipe for later: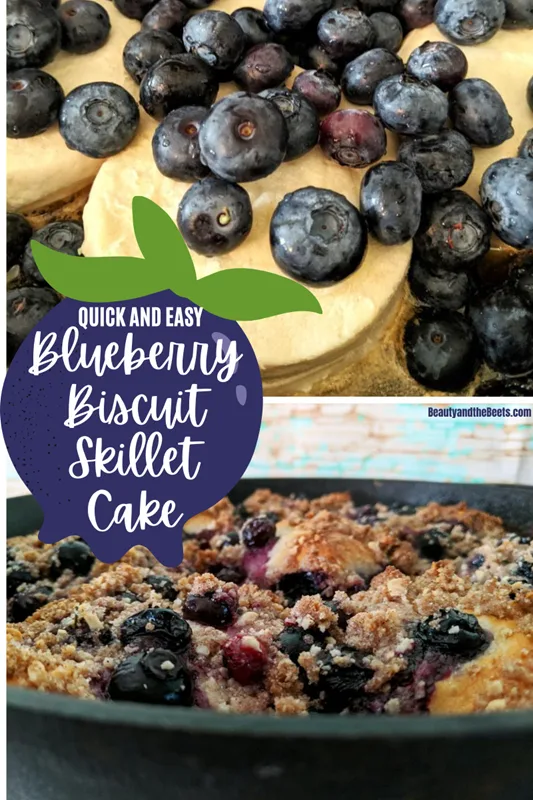 **This post contains affiliate links. I only link to products that I use myself and believe in. Your support is greatly appreciated.**