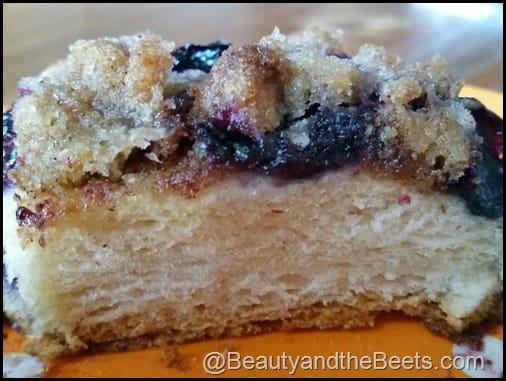 Sundays are such wonderful days in Beetsland.  Nobody gets up at 4am to go to work, nobody gets up at 4am to go for a run, nobody scratches on the door at 4am to let us know it's time for kibbles.  We ALL sleep in.  Well, until about 6 or 6:30 if we are lucky.  But for us, that's late.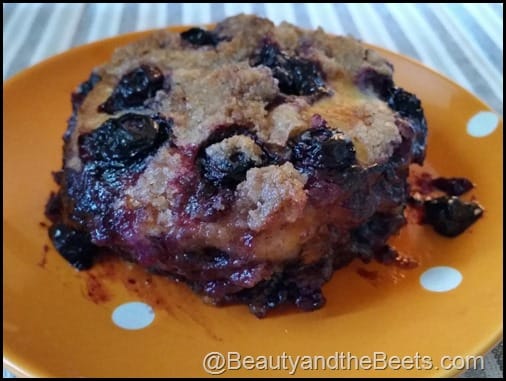 Sometimes I like to get up and make a nice breakfast on Sundays.  One thing that Chad will request every now and again is a blueberry biscuit skillet cake.  I made it once a few years ago and he will ask for it only on occasion.  It's not the healthiest of all the things I make but it's pretty darn good. The original recipe came from Paula Deen so you know it is going to be delicious!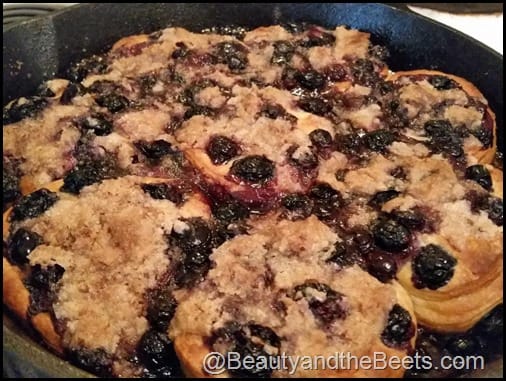 Basically if you just eliminate the butter-brown sugar base and the sugar crumble on top it would be more healthy and diet friendly.  Just bake the biscuits in a skillet with blueberries thrown on top.  But sometimes you just have to treat yourself and just go with the flow.  And this time the flow includes all the bells and whistles (or in this case all the butter and sugar).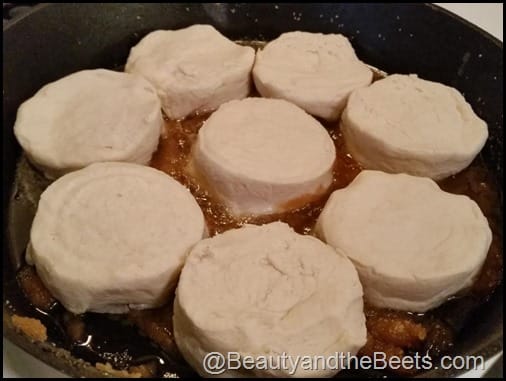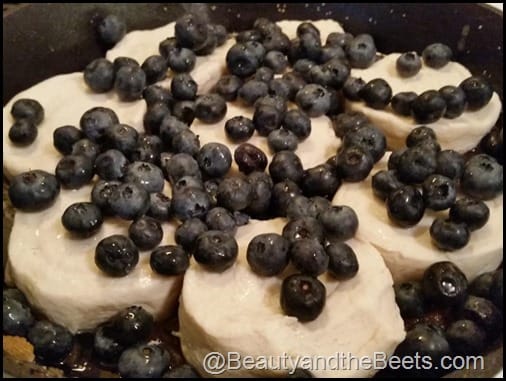 Blueberry Skillet Cake
This is Chad's most favorite breakfast that I fix – it isn't the healthiest although it does have blueberries… and we use Vegan butter to make it slightly healthier.
Ingredients
Streusel topping:
1/4

cup

slivered almonds

1/4

cup

granulated sugar

2

tablespoons

1/4 stick unsalted butter

2 1/2

tablespoons

all-purpose flour

1

teaspoon

ground cinnamon
Coffee Cake:
2

tablespoons

1/4 stick unsalted butter

2

tablespoons

light brown sugar

1

12-ounce tube buttermilk biscuits

1

cup

blueberries,

fresh or frozen and thawed
Instructions
Preheat the oven to 375° F.

Place the almonds, sugar, butter, flour, and cinnamon in a food processor and pulse until large crumbs form.

In a 9-inch or medium cast-iron skillet, cook the butter and brown sugar over medium heat until melted.

Arrange the biscuits in a single layer in the skillet over the melted sugar and butter. Scatter the blueberries over the biscuits, and then distribute the almond crumb mixture evenly over the berries.

Bake until the biscuits are golden and a toothpick inserted in the center of a biscuit comes out clean, about 30 minutes. Allow to cool slightly and serve right from the skillet.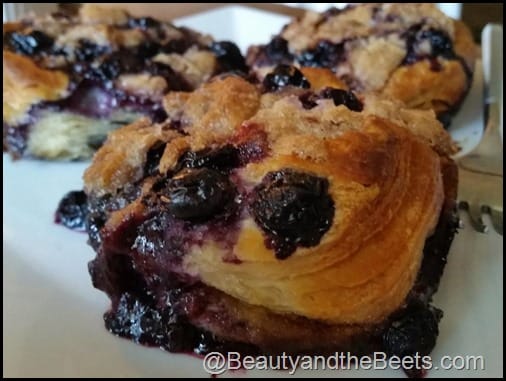 What is your favorite guilty breakfast recipe?