OK I know- this is my umpteenth million post on recipes for brussel sprouts.  I have been on quite a brussel sprout kick lately.  But I love them.  They are definitely my most favorite vegetable.  So delicious, so nutritious.  And here is just another way to prepare and enjoy them.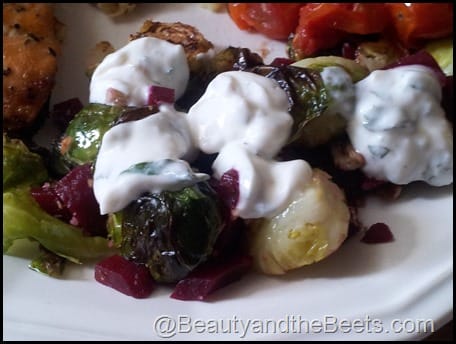 On a recent trip to New York City, my Mother and I grabbed lunch at a place called the BLT Bar and Grill located in the W Hotel near the financial district. First of all, we both got incredible salads but I had to order a side of the roasted brussel sprouts.  They were served with pecans, beets and mint yogurt.  They were really tasty and of course, something I thought I could try to re-create at home since Chad and I eat brussel sprouts at least once a week if not twice.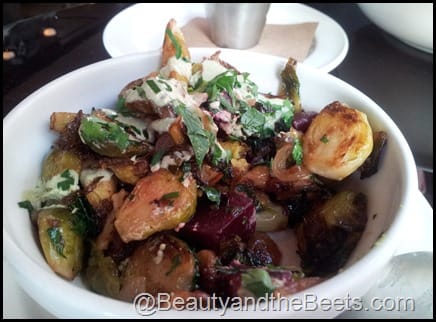 So here it goes-
Brussel Sprouts with Pecans, Beets and Mint Yogurt
Based on the dish from the BLT Bar and Grill in New York City. An absolute delicious way to enjoy your veggies!! It is easy enough, you can roast the beets and the sprouts at the same time in the oven. You can even toast the pecans then too- just remember to pull the pecans out after a few minutes.
Ingredients
1

quart

fresh brussel sprouts

1

tablespoon

olive oil

2

medium beets,

scrubbed and leaves trimmed

2

cups

pecans,

roughly chopped

1

cup

plain Greek yogurt

1/2

cup

fresh mint leaves,

chopped

1

clove

garlic,

minced

1

tablespoon

lemon juice

Salt and pepper
Instructions
Preheat oven to 375 degrees.
To toast the pecans:
Spread pecans out in a single layer on a baking sheet. Toast in the oven until fragrant, about 5-7 minutes.
To roast the beets:
Coat beets lightly with oil. Wrap beets in aluminum foil, place on a baking sheet, and roast in the oven until cooked through, approximately 45 to 60 minutes. Remove from the oven, let cool for 10 minutes. Chop beets into very small bite-size pieces.
To roast the sprouts:
Cut off the brown ends of the Brussels sprouts and pull off any yellow outer leaves. Cut sprouts in half and mix them in a bowl with the olive oil, salt and pepper. Place them on a sheet pan and roast for 35 to 40 minutes, until crisp on the outside and tender on the inside. Shake the pan from time to time to brown the sprouts evenly.
To make the mint yogurt:
Whisk together the yogurt, mint, garlic and lemon juice. Add salt and pepper to taste if desired. Cover and store in the refrigerator while the beets and sprouts roast, allowing the flavors to blend.
To assemble the dish:
Mix together the sprouts, beets and pecans and assemble on a plate. Drizzle with the mint yogurt sauce and serve immediately.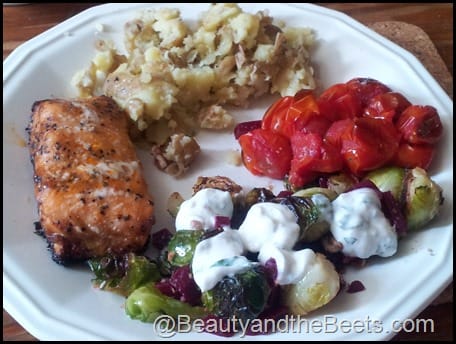 Enjoy!!