Cheesy and Easy – these Brussels Sprouts Veggie Burgers will have you rethinking your love/hate relationship with these little green cruciferous balls of sprout.
Y'all….as you probably know by now if you are reading these posts regularly, I wrote a Vegetarian cookbook. And it all started with a Brussels sprout. Yes, that "ewwwwwwww" vegetable we all love to hate and we all hate to love.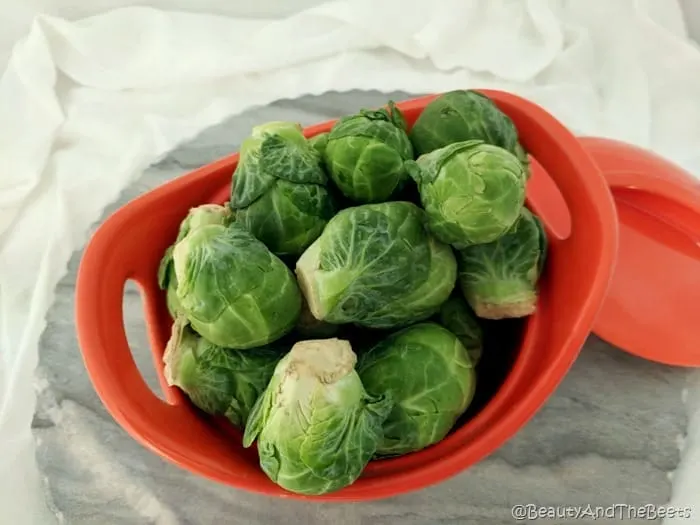 I recieved an email from a book publisher. I had been "discovered" because of my Brussels Sprouts Veggie Burgers recipe and they were interested in working with me on a Vegetarian cookbook. And while I pride myself on my many, many Brussels Sprouts recipes, this particular recipe wasn't a popular one in comparison to others like my famous Tarragon Marinated Brussels Sprouts and and the Nashville-inspired Brussels Sprouts Hash with Poached Eggs.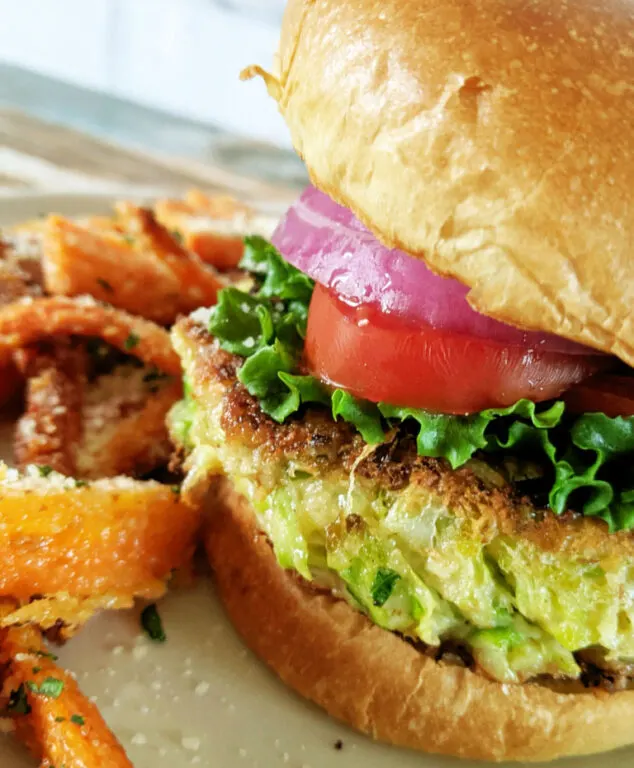 However, there are a lot of haters out there. Lots of people who grew up in the 70's and 80's who ate boiled Brussels Sprouts and the house stank for days.
Somewhere between the end of New Wave radio and the early 90's someone decided to try their hand at roasting Brussels sprouts. And not just Brussels sprouts, but any and all veggies. Carrots, broccoli, potatoes, onions – roasted veggies are the bomb-diggity. I have yet to meet a vegetable that doesn't get crispy and caramelized in the high heat of a roasting oven. Brussels Sprouts included.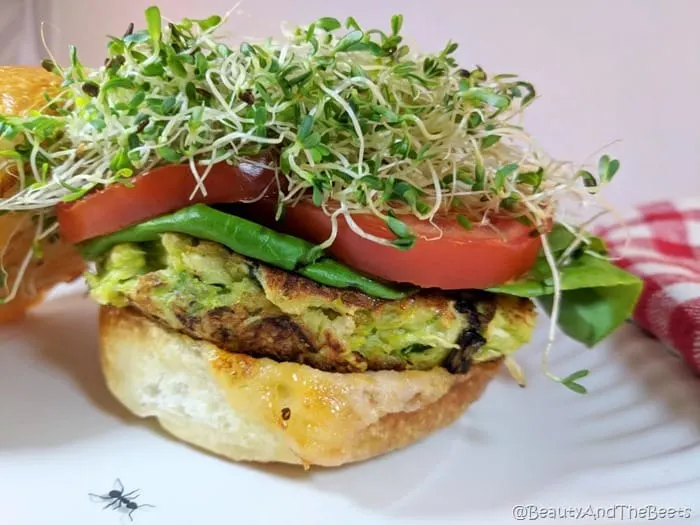 And now Brussels Sprouts are trendy, showing up in recipes with fruit and bacon, and on restaurant menus all over the world. And, since the introduction of veggie-meat counterparts like the Beyond Burger and the Impossible burger, Veggie Burgers are also beginning to see their day in the spotlight. Let me introduce you to the super Cheesy and Easy Brussels Sprouts Veggie Burgers recipe.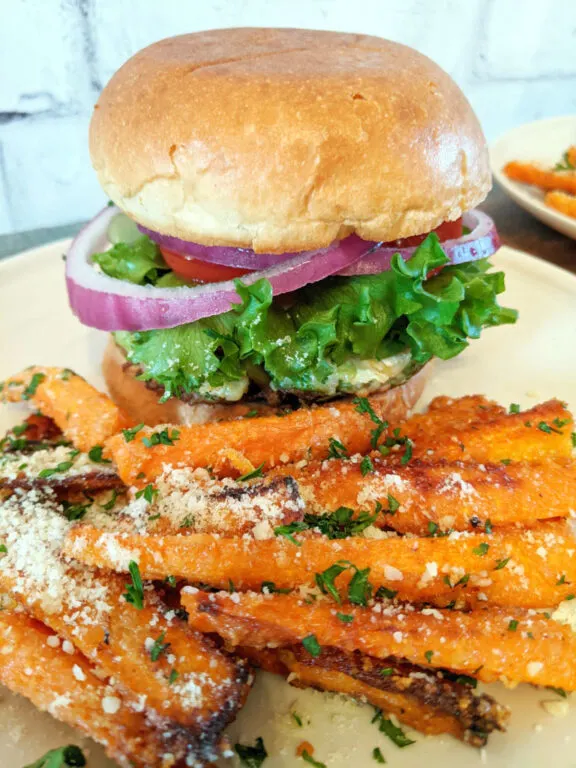 And if you are going to eat Brussels Sprouts, shouldn't you be allowed to eat cheese? Lots and lots of cheese? I actually skip adding a slice of cheese to this burger because the burger patty itself is stuffed with grated parmesan and tangy goat cheese. If you are doing the Vegan thing, there are plenty of Vegan cheese options out there or try making your own with this simple recipe from Go Dairy Free.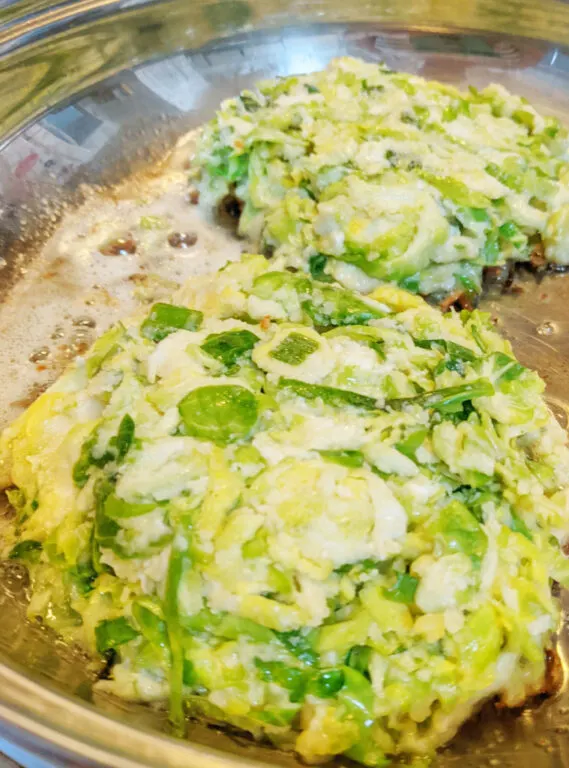 I will add this disclaimer: I will sometimes add an extra egg white to the recipe if my patties are not holding together well. You can use two eggs (whites and yolks) and add an extra egg white for added hold.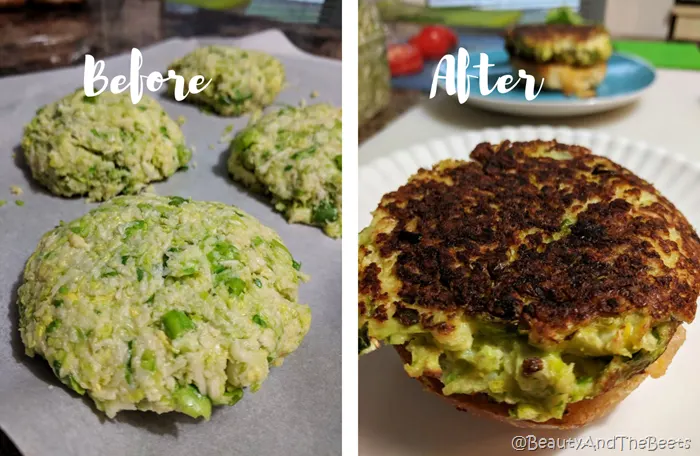 I also made this super amazing bread topping thingy for the buns – I mixed shredded cheddar with low-fat mayonnaise and a pinch of onion powder, spread it on both buns (the top and the bottom bun) and broiled them. A mini piece of hamburger bun Heaven. This is, of course, optional depending on how Heavenly you want to get.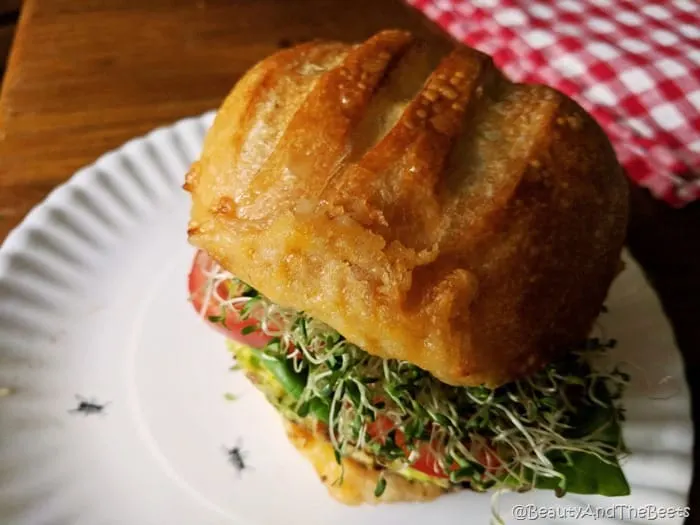 (scroll down to the bottom of the post for details on these awesome ant plates) – in the meantime, enjoy the Brussels Sprouts Veggie Burger recipe.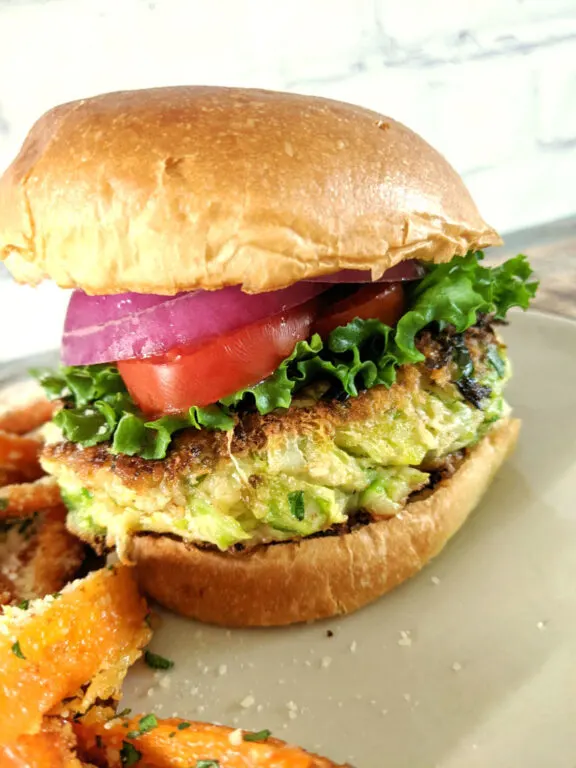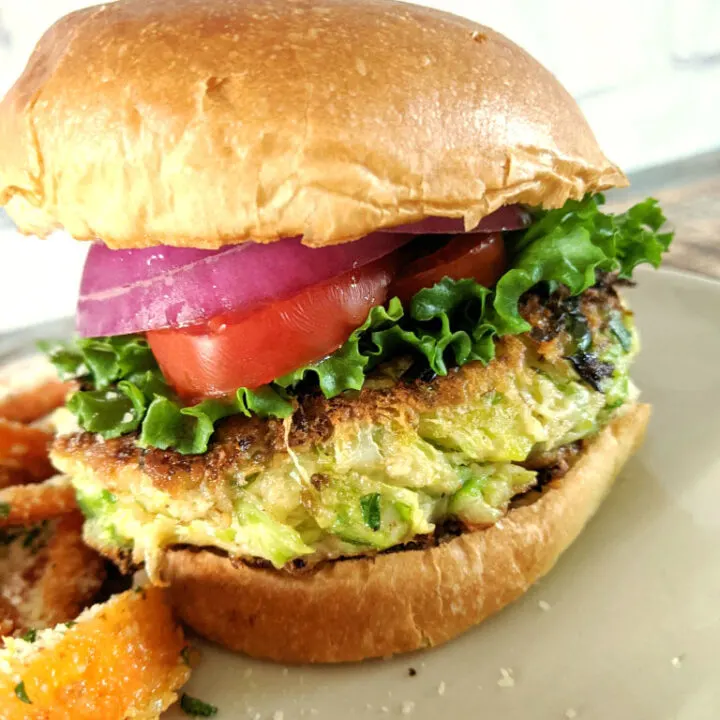 Brussels Sprouts Burgers
Cheesy and Easy - these Brussels Sprouts Veggie Burgers will have you rethinking your love/hate relationship with these little green cruciferous balls of sprout.
Ingredients
16 oz. Brussels sprouts, trimmed
1 cup grated Parmesan cheese
1/4 cup almond flour
3 tablespoons chopped scallions, green parts only
2 large eggs
1 cup soft goat cheese
1 tablespoon olive oil
For the Cheesy Mayo Buns (optional):
1/2 cup shredded cheddar cheese
1/3 cup mayonnaise
1/2 teaspoon onion powder
4 burger buns
Instructions
Using the shredder attachment on the food processor, shred the Brussels sprouts.
Transfer the shredded sprouts to a large mixing bowl.
Mix in the grated Parmesan cheese and almond flour to the Brussels sprouts and combine.
Add the scallions, eggs, and goat cheese. Use hands to mix well.
In a large skillet, heat the oil over medium-high heat.
Form the Brussels sprouts mixture into four patties.
Cook the patties for 6 minutes, flipping after 3 minutes. They should be firm a lightly browned.
Remove from pan and let "rest" on a paper towel lined plate for 30 seconds. Serve on the cheesy buns (if using) and enjoy.
To make the optional cheesy Mayo Buns:
Preheat oven to 350°F. Line a baking sheet with parchment paper.
In a mixing bowl, combine the cheese, mayonnaise, and onion powder, and mix together.
Divide the mayo mixture among the burger buns, place them open-faced on a baking sheet, and bake for 10 minutes, until toasty (take care they don't burn).
Notes
*If your burgers are not holding together well, add an egg white to the bowl.
*Most grocery stores sell shredded Brussels sprouts, which is an excellent time saver. Usually, they're found in the produce aisle near the bags of lettuce and other chopped vegetables.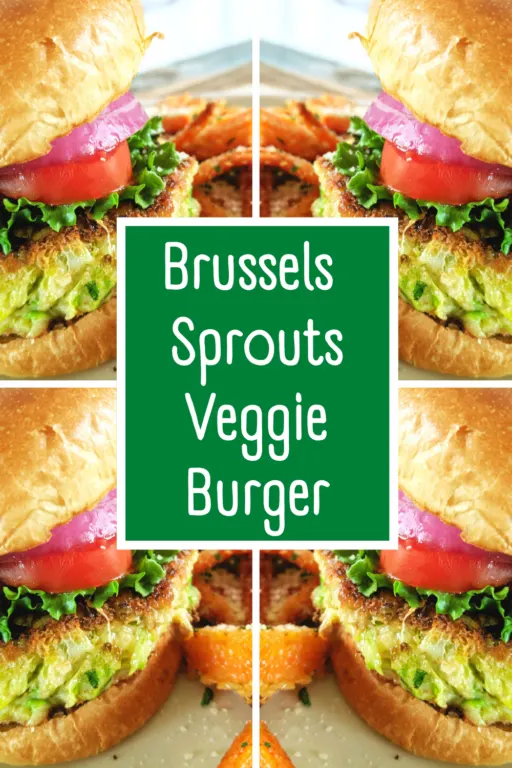 And by the way, your eyes are not deceiving you, and I am not sharing my Brussels sprouts burgers with insects. Yes, those are ants on my plate. Aren't they adorable? It's an ant "paper" plate I picked up at a kitchen store in Fredericksburg, Virginia. The plate looks like a paper one, but it is actually made of Melamine, which makes the plate durable and reusable. You can order your own set of 4 here –> "Paper" Ant Plate (<– affiliate link).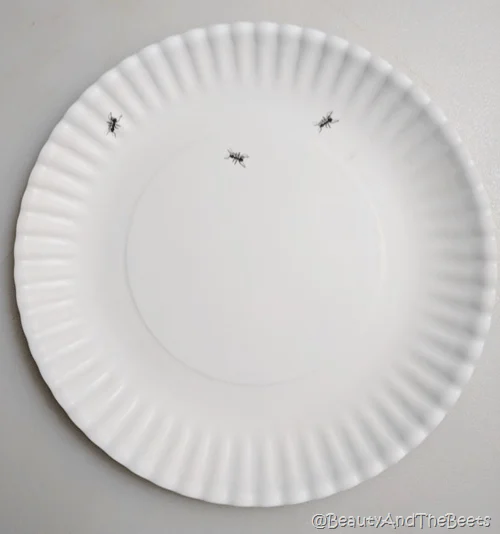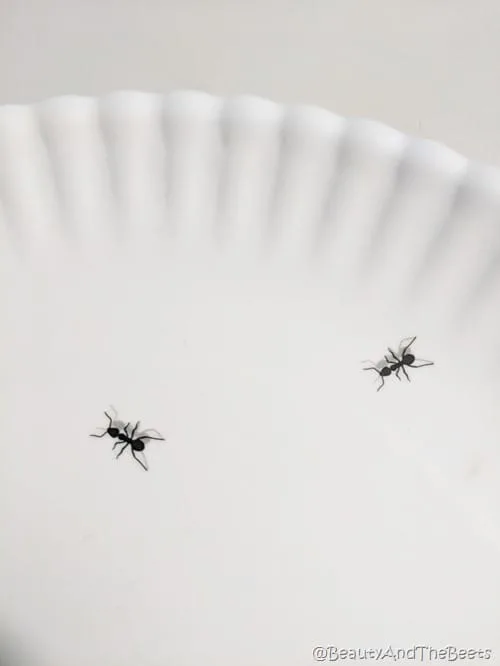 You can order the Quick and Easy Vegetarian Cookbook here.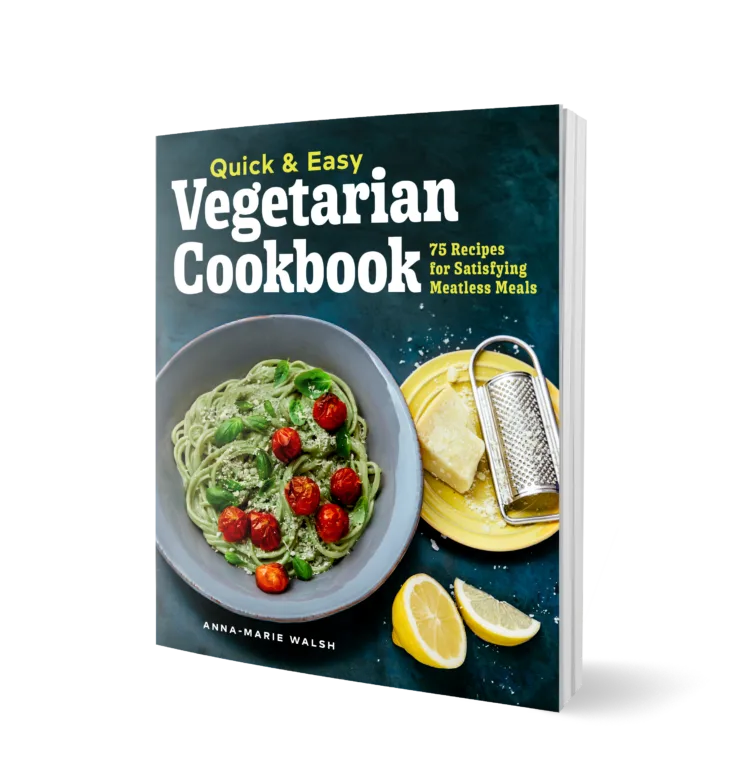 *This post may contain affiliate links which are of no cost to you, the reader. Thank you for your support.*