Here's my problem: you mix anything with cream cheese and I can make it disappear faster than a toupee in a hurricane. It's a gift really. Why is it when you order a bagel at a coffee shop they give you like a tiny tablespoon of cream cheese? Who wants a bagel with a little cream cheese when you can have cream cheese with a little bagel? Anyway, enough about me and my unhealthy obsession with all things creamy and cheesy. Let's talk the Super Bowl. More specifically, let's talk Super Bowl FOOD.
I don't like to spend Super Bowl Sunday in a bar with a rowdy bunch of football fans one shot away from a naked block run. I prefer to be relaxed at home, where I can rewind the funny Super Bowl ads to watch again and fast forward through all that game stuff. Unless the Eagles are playing. Then I will watch and scream at everything.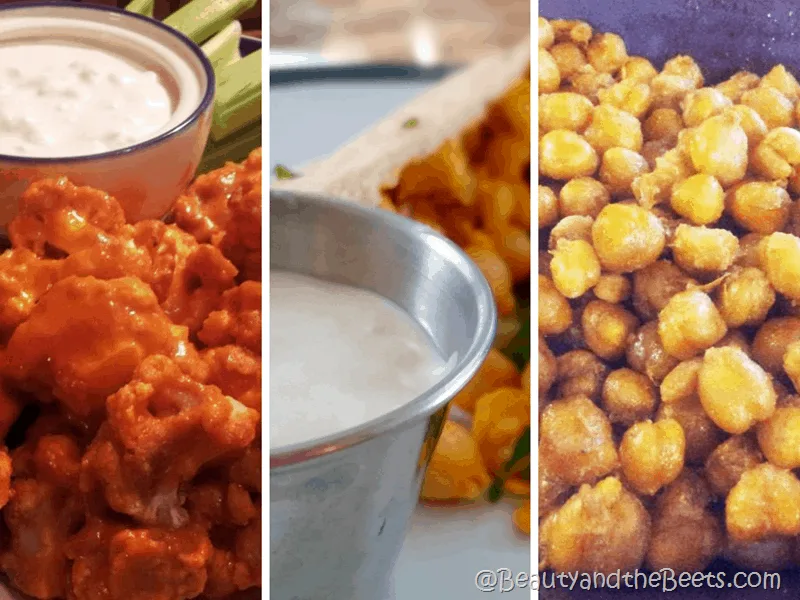 Spending the game at home also means I get to whip up all my favorite snacks – Cauliflower Buffalo Wings with Vegan Blue Cheese, and Spicy Roasted Chickpeas. And this year I am adding a Buffalo Blue Cheese Dip to the mix. It's simple really – cream cheese, blue cheese, sour cream, mayonnaise, garlic, and hot sauce. I suppose this dip won't win the trophy for healthiest dip, but it just may be a strong contender for fan favorite.
You are only a food processor and two hours of chill time away from the Tom Brady of Super Bowl foods; the G.O.A.T. of creamy dips, a successful hail Mary on 4th down.
What you use to dip the dip with is up to you. While I will just use a very large shovel straight out of the bowl, I am sure you and your family aren't bottom feeding varmints like me. I recommend celery sticks and/or pretzel chips.
And if you want to be just a little healthier than me, you can swap the sour cream out with plain Greek yogurt, and use a Vegan or lite mayo in place of the full fat version. Enjoy.
Super Bowl Buffalo Blue Cheese Dip
Total Time:
2 hours
5 minutes
This the Tom Brady of Super Bowl dips. The G.O.A.T. of creamy dips, a hail Mary touchdown on 4th down.
Ingredients
1 1/2 cups cream cheese (an 8 oz. block)
1/2 cup sour cream (or full fat plain Greek yogurt)
1/3 cup mayonnaise
2 cloves garlic, minced
salt and pepper to taste
1 cup crumbled blue cheese
3 tbsp. scallions, sliced, green parts only
celery, carrots, pretzel chips to dip
Instructions
Into the bowl of a food processor add the cream cheese, sour cream, mayonnaise, and minced garlic.
Puree until well blended. Add salt, pepper, and sriracha sauce all to taste and puree again.
Fold in the blue cheese crumbles.
Transfer to serving dish and chill in the refrigerator for two hours to meld the flavors.
Sprinkle with the scallions just before serving.
Serve with celery, carrots, and pretzel chips.
**This post contains affiliate links. I only link to products that I use myself and believe in. Your support is greatly appreciated.**