Burger 21 is known for having incredible burgers so we thought we'd give this place a try.  At first we thought this place was great, then we learned a little secret and now we won't be too excited about returning, at least not for the veggie burgers.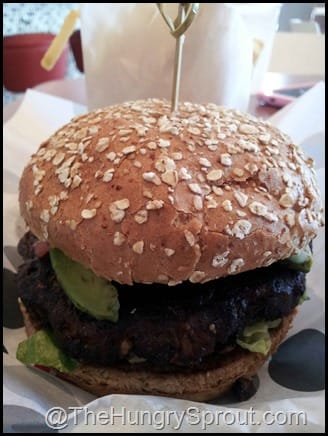 Our search for the best veggie burger in Orlando continued with a stop to Burger 21, a Tampa-based restaurant with an outlet in Orlando.
We visited twice so we could sample all their options for a veggie head.  First, we ordered the black bean burger.  A black bean patty with lettuce, tomato, red onions, salsa, avocado slices, a sun dried tomato aioli and cilantro cream on a whole wheat bun.  It was meaty and a little bit spicy.  It was pretty good.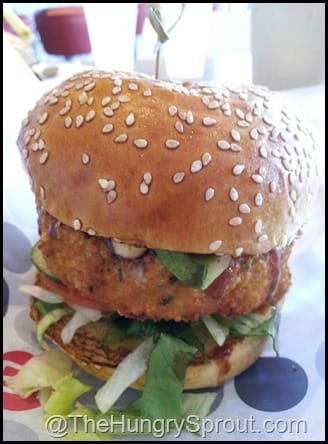 We also ordered the Ahi Tuna burger.  Tuna, lightly fried with panko crumbs, served on a toasted bun with Sriracha, avocado slices, pickled cucumbers, lettuce and tomato.  I thought it to be amazing.  Probably one of the best seafood burgers I have ever tried, but a great tuna burger like that also comes at a steep price, $10 for just the burger, fries are $2.59 extra.  However, considering the fact that it is tuna steak, the higher price is to be expected.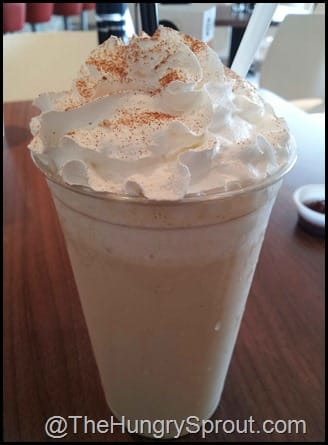 To accompany our first visit, I also ordered the shake of the month which was a Chai Tea Shake.  Hands down, the most delicious shake ever- I hope they will add this to the regular menu permanently.  Chad and I fought over every last sip.  Worth noting that frozen yogurt can be substituted in any of the shakes.  Other flavors include Key Lime Pie, Bananas Foster, Chocolate Peanut Butter and Double Espresso.
The second visit we ordered the Greek Veggie Burger and the Spicy Thai Shrimp burger.  First, the Thai Shrimp burger – it was OK.  The patty was thick and meaty but lacked flavor.  The burger was served with a spicy Sriracha aioli, hot chili slaw, lettuce and tomato- if it weren't for the aioli and the slaw the whole thing would have been tasteless.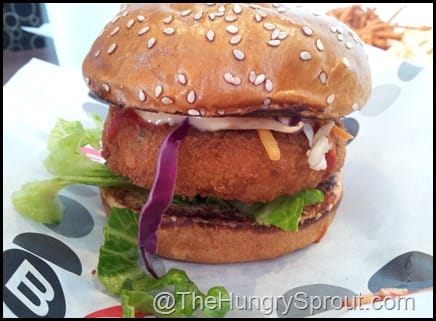 Now, for the Greek Veggie burger.  A veggie burger served with lettuce, tomato, roasted red peppers, feta cheese and pickled cucumbers on a toasted wheat bun.  Sounds delicious right?  Imagine our major disappointment when we realized that the veggie patty was the same Morning Star frozen patty we buy at the supermarket.  When we inquired about what goes in the veggie patty, it had been admitted that both the veggie patty and the black bean patty were indeed frozen Morning Star burgers.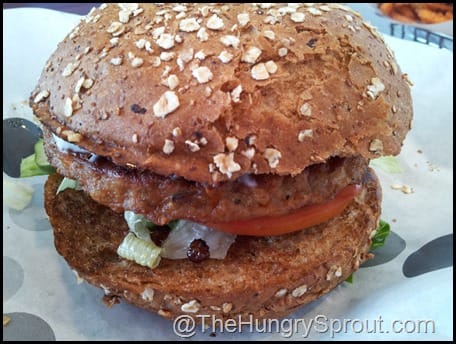 So bummed that all the other burger patties are made in house but they use a mass manufactured frozen patty for the veggie burger.  We can microwave our own Morning Star burgers at home, add toppings and save $7.  I am disappointed with rise in popularity of being vegetarian that they would not consider us as real paying customers and still serve us frozen patties.  Very disappointed.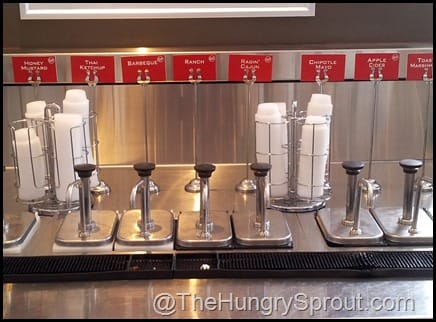 One item worth noting however, is the sauce bar. From fancy Thai ketchup to an apple cider sauce, they have all palates covered.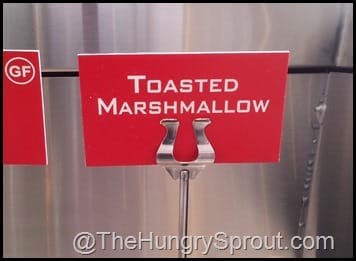 My favorite was the toasted marshmallow sauce that we dipped the sweet potato fries in.  We liked the fries- we ordered the half and half which was half regular and half sweet potato fries for $6- but without the sauces they would be…well…meh.  They also offer an ale sauce for an additional charge- basically a cheesy beer sauce, however, it was really nothing special.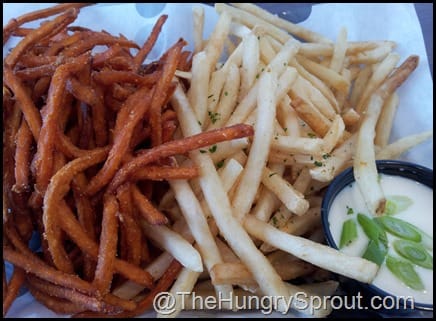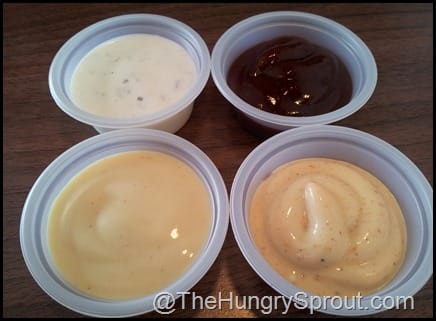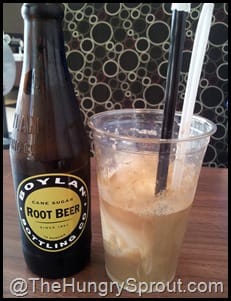 We also opted for a good old fashioned root beer float.  You can't really go wrong there.  It was yummy.
All in all we liked Burger 21.  However, in our search to find the best veggie burger in town we were very disappointed.  There are too many other places that make their own veggie patties that we would rather spend our money and time at.  Boo.  While we would never order the veggie burgers again, we would most likely return for the shakes, the Ahi Tuna burger and an order of sweet potato fries with the toasted marshmallow sauce.