We were looking for a unique restaurant to try some fresh and local fare on a recent trip to Charleston, SC and we found the perfect place- Butcher and Bee. Just slightly north of the downtown area, Butcher and Bee is hidden next to a photography studio and the High Wire Distillery. There is only a small sign painted on an adjoining building but it is well worth the hunt to get here.

There are no paper menus. The only way to find the ever changing daily menu is on Facebook or Twitter. The menu is written on a chalkboard when you first walk in and while it is not very big, it is very unique.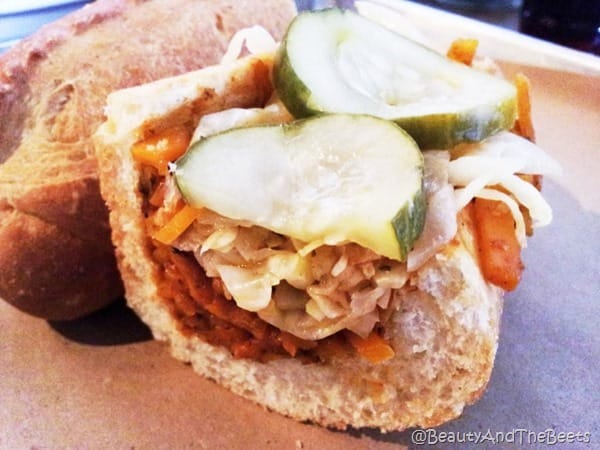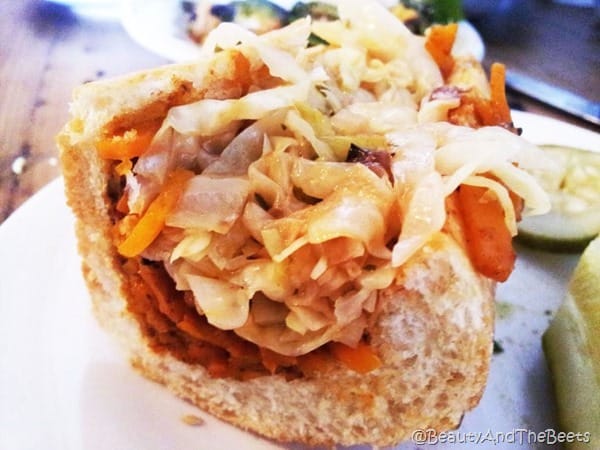 Perhaps the most interesting item on the menu in all my visits have been the Pulled Squash Sandwich with BBQ sauce and smoked slaw. I had read some reviews online from both Vegetarians and meat eaters alike, just raving about how unbelievably delicious this sandwich was. They were not lying. I would never miss the meat here, the Pulled Squash melted in my mouth. The taste was smoky and tangy and topped with sweet and sour pickles. This is a sandwich I could see winning big awards and praise against any pulled pork version any day.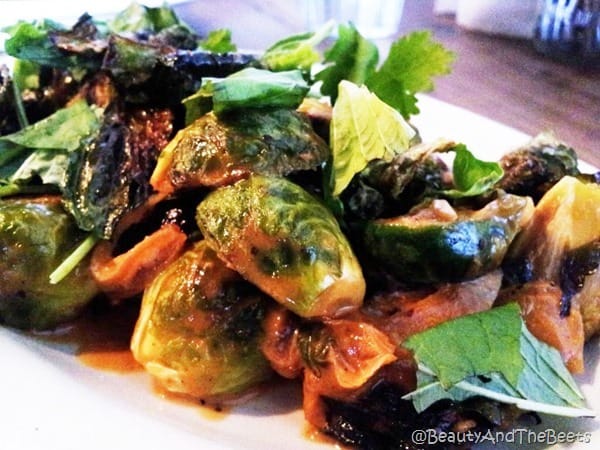 Anyone who reads any of my blog regularly know that both Chad and myself are obsessed with brussel sprouts. We had to try the Curried Brussels on the Butcher and Bee menu. The sprouts were cooked in a spicy sauce and topped with fresh herbs. Probably my most favorite sprouts dish I have ever had in a restaurant.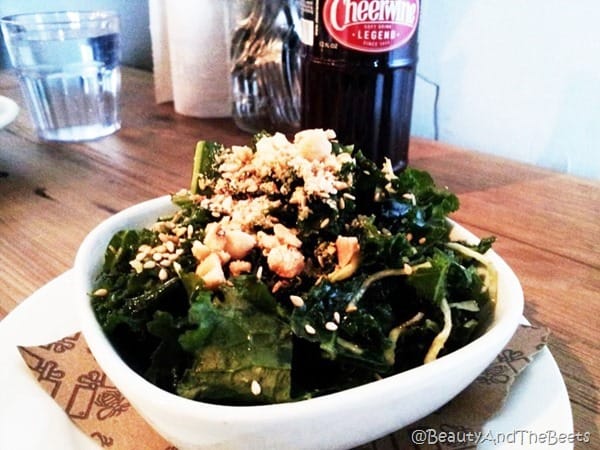 We also ordered the Kale Salad with soy, sesame and peanuts. We fell in love with the Kale Salad with Peanut Dressing from Houstons so this was a no brainer for us. A nice portion of torn kale topped with crushed peanuts. Amazing.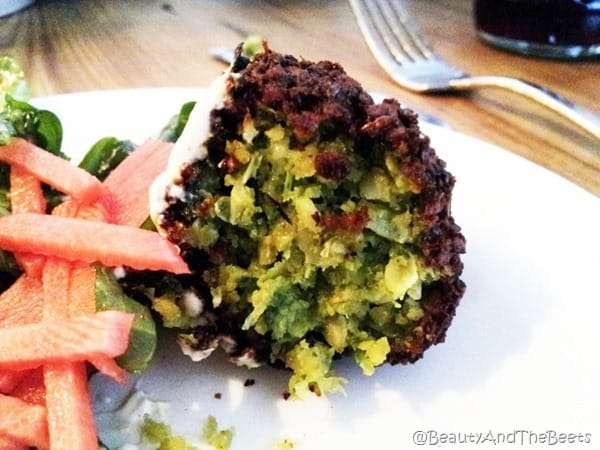 The Falafel with pickled radish and arugula were placed on top of a spicy yogurt sauce that added incredible flavor.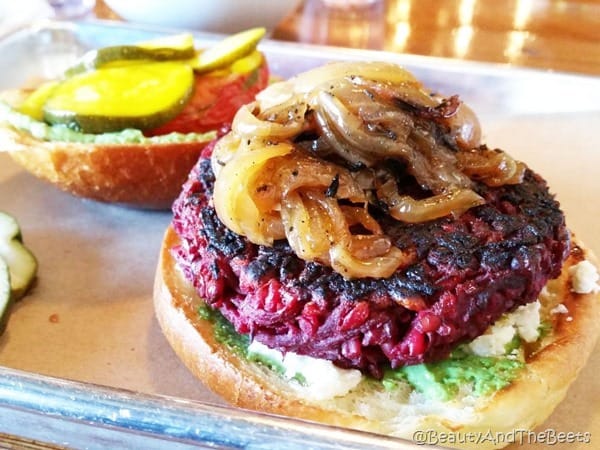 The Vegetarian Beet Burger is amazing and right up my alley. Who doesn't love beets? OK, a lot of people, but the beets are not really prominent in this burger. However, you still get the nutritional benefits of the beets so eat up.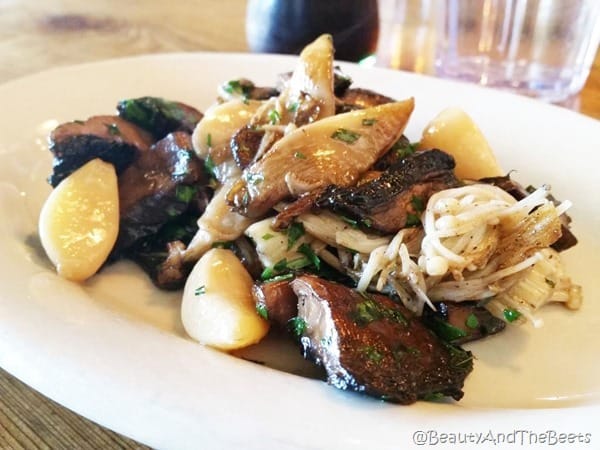 Then there's the Mushroom Confit with garlic. Oh so good.
Then there are the standard items, like fries and ketchup.
And salad with asparagus.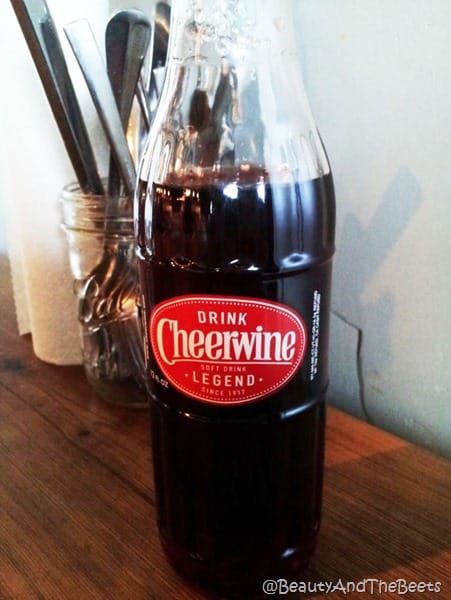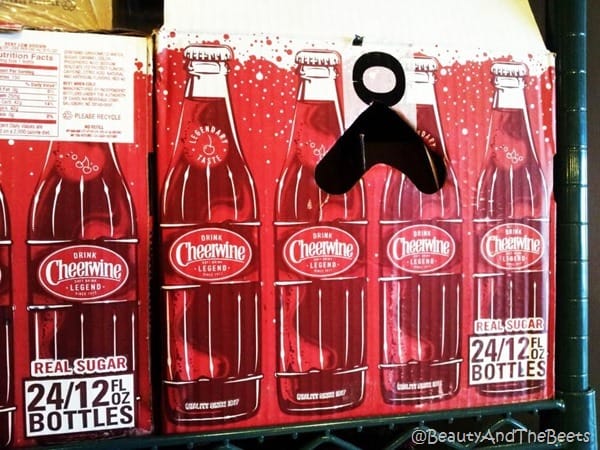 There is a selection of beer but I wanted a Cheerwine. For anyone unfamiliar with it, Cheerwine is a locally made cola with cherry flavoring. They use only cane sugar to sweeten it- no high fructose corn syrup. Cheerwine can be found in almost any restaurant in South Carolina. It's like a Dr. Pepper, only better.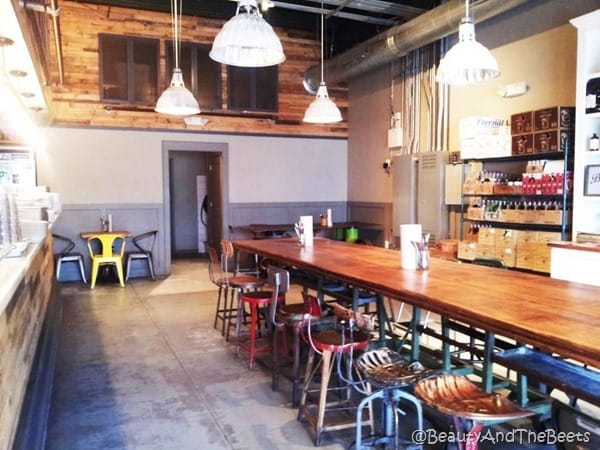 The dining room is just as eclectic as the menu. Long tables fill a warehouse type space. No two chairs are alike. Very unique and fun.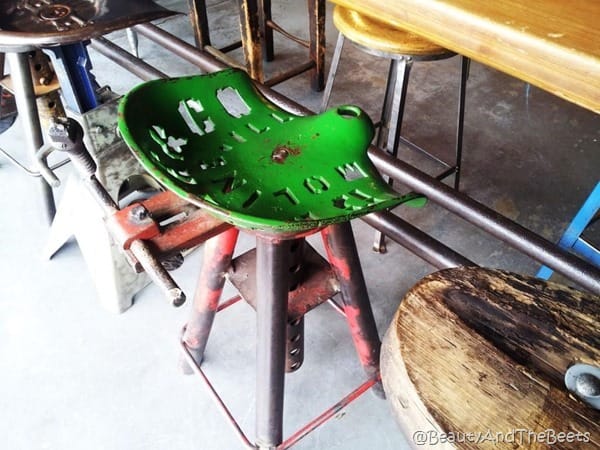 I especially loved the hand scrub that was in the bathroom. It is from the Charleston Soap Chef and is sold at Butcher and Bee as well as other local merchants in the area.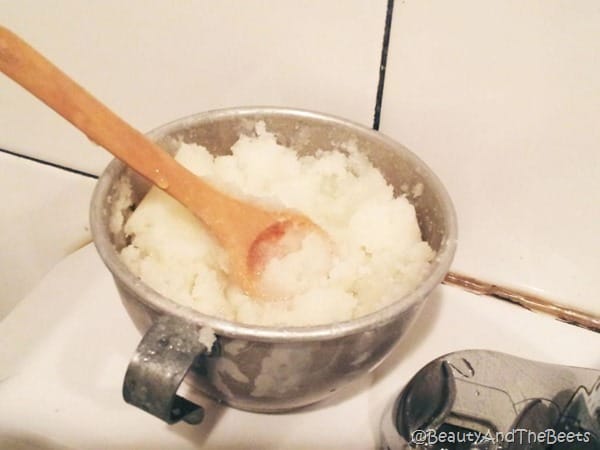 Butcher and Bee is open daily from 11am until 3pm for lunch, then re-opens again at 6pm for the dinner and late night crowd Thursday-Saturday nights. Other items on the menu include a Cuban Sandwich, Korean Beef and hummus. The menu does change daily so be sure to check their Facebook page for the latest offerings. This is one of those places that I would give ten out of five sprouts if I had that option. Wait, it is my blog and I have that option- ten out of five sprouts!!