I think I have found my favorite restaurant in all of Orlando.  Cafe Tu Tu Tango has been a popular hot spot in the city since it opened in 1991 though I have never visited before now.  First of all, I had always thought this was a place just for the tourists due to its location on International Drive- oh how I was wrong.
Secondly, because until fairly recently I was never interested in the concept of tapas-style dining.  How many years I have wasted missing out. Tapas is the single greatest way to explore a large variety of dishes on the menu from dips to salads to soup to pizza to entrees- all without the huge commitment of a single larger entree.  We ordered so much food here I am just going to jump right into this…..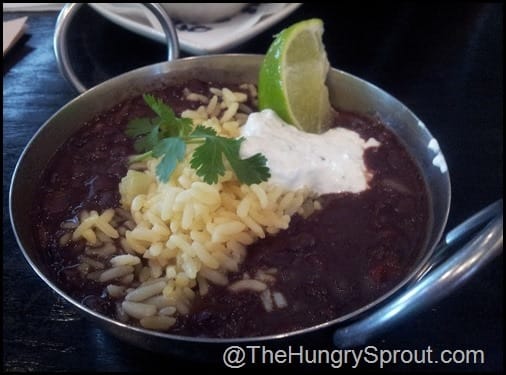 First we tried the Black Bean Soup ($3).  This set the tone for the rest of the meal.  A fun bowl of black beans, peppers and rice topped with a dollop of cilantro sour cream.  Perfectly seasoned, plenty of black beans, not too thick, not too runny and a slight hint of cumin. One word.  Amazing.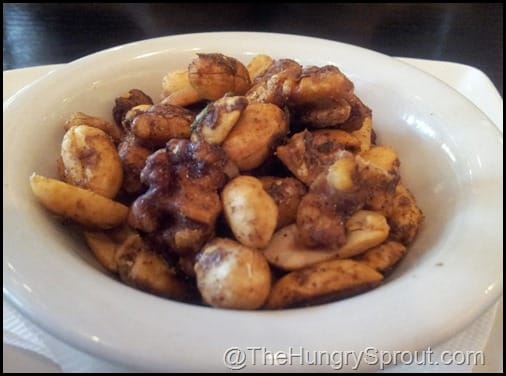 We also ordered the Spiced Rosemary Nuts ($4)- almonds, peanuts and walnuts tossed in a bit of honey with rosemary, cayenne pepper and cumin.  A little sweet, a little spicy…very tasty but definitely my least favorite dish (though not really a dish- more like a little snack sample.)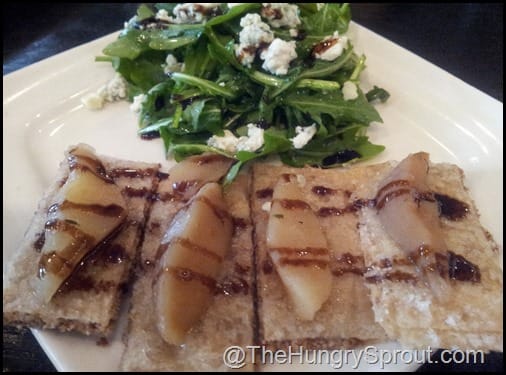 Next up came my most favorite thing of all- the Alforno Roasted Pears ($7).  There are no words to describe this.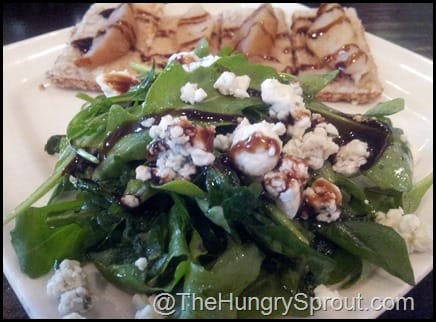 Roasted pears served on pecan crisps plated with arugula, blue cheese crumbles and a balsamic glaze.  The pears were incredibly perfect on the pecan crisps, but when paired with the blue cheese and spicy arugula they had so much flavor I think I had to pinch myself to see if I was dreaming.  Unbelievable.  No words.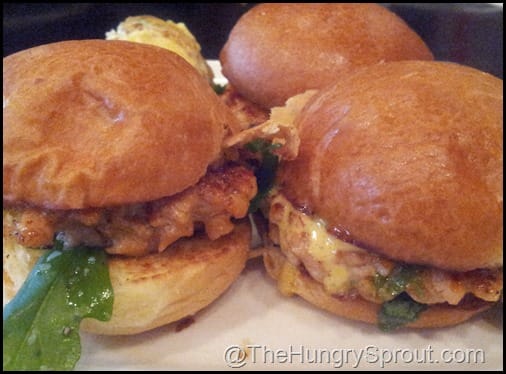 The Seared Salmon Mini Burgers ($8) were also a big hit with us.  These tiny little bite-size burgers were so tasty with the saltiness of the salmon and the sweetness of a chipotle mango sauce.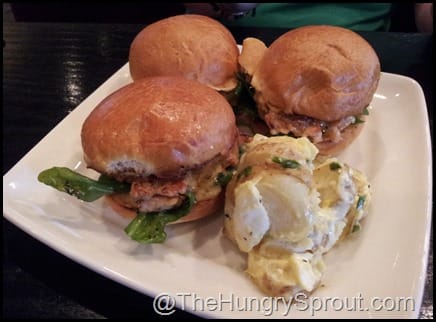 I have found very few places that can pull off a decent salmon burger but Café Tu Tu Tango really did a great job here.  The fish was meaty and a little salty (a good salty.)  Salmon always pairs so well with a sweet sauce and the spicy mango sauce was just perfect.  The burgers were served with a fingerling potato salad which rounded out the dish nicely.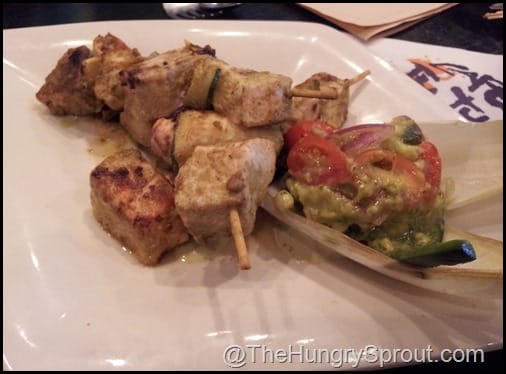 For the last of our "entrees" we ordered the A La Plancha Seafood Skewers ($10) by recommendation of our server.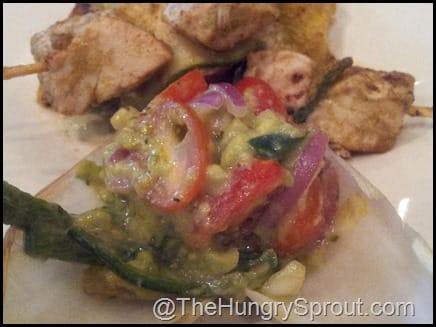 Shrimp, salmon, white fish and squash ribbons served on skewers with a sherry-blue cheese drizzle and an avocado-grape tomato salad.  Somewhere in all that I tasted fennel too which is normally not one of my favorite flavors but somehow it all worked together.  There was no skimping on the seafood here, the shrimp and pieces of fish were huge and cooked perfectly.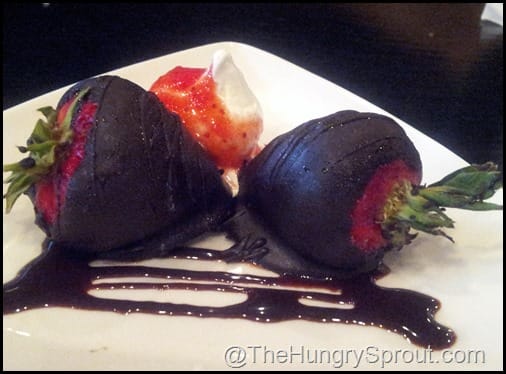 As we were finishing our meal it started to rain- the real heavy Florida summer afternoon downpour so we did something we rarely do- we ordered a cup of hot Chai Tea and contemplated the dessert menu while we rode out the storm.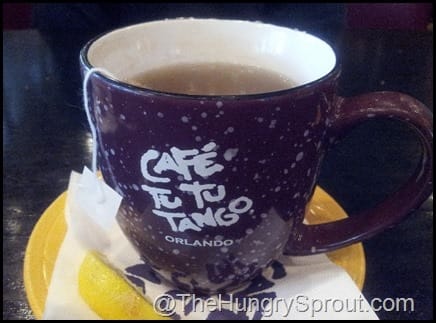 We had stuffed ourselves to the gills, however, I was so impressed with the presentation of everything I decided to order us each a Chocolate Covered Strawberry ($1.50 each) purely just to see how they plated it.  Honestly, I really wanted to order the Chocolate Dipped Cheesecake Lollipops ($7) which another table near us had ordered and it looked so inviting.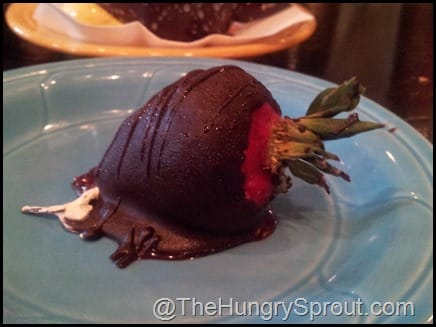 I regret not bothering the table and asking for a bite (just kidding) but we were just so stuffed the strawberries were about all we could take.  Oh how fun.  Strawberries, dark chocolate and whipped cream.  No better way to end the best meal I have had in a long time.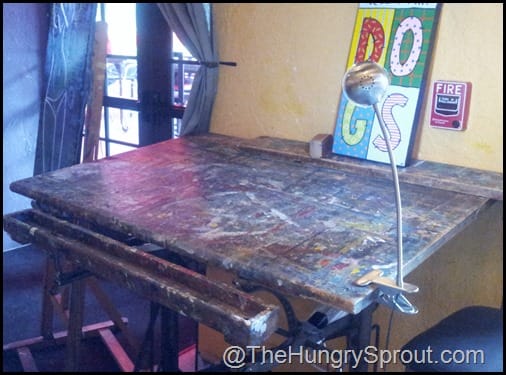 Café Tu Tu Tango has a starving artist theme to it.  Art pieces line the walls and everything is for sale.  An artist was sitting at a desk just inside the lobby area painting.  Art is the definite theme here but the food is the certainly the main act.  A very solid five out of five sprouts.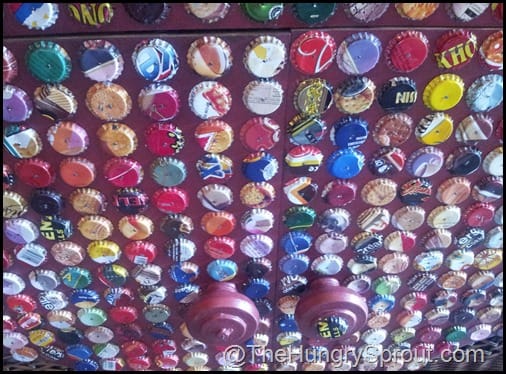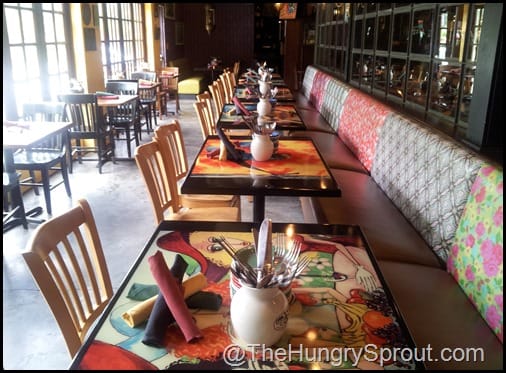 EDITOR'S NOTE:  We visited again a few months later and it was just as good- here are some pictures from that visit- hope you enjoy!!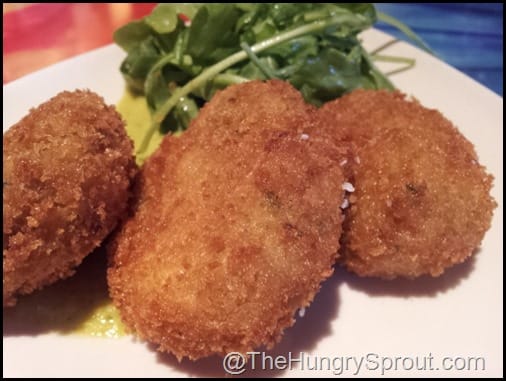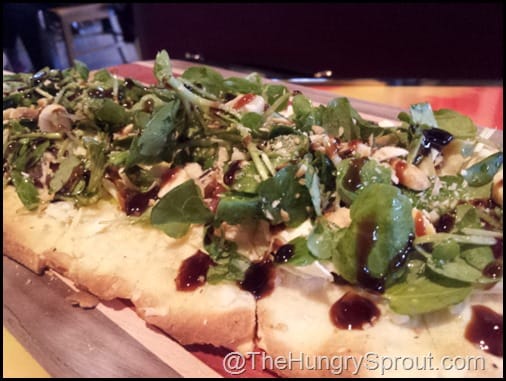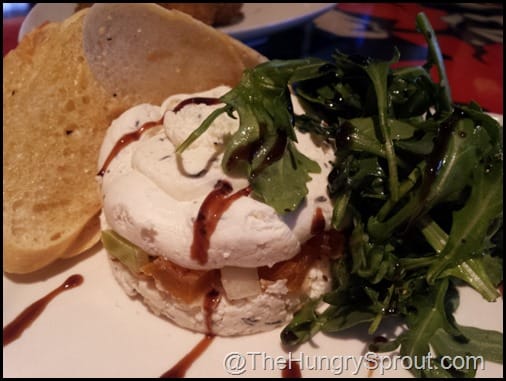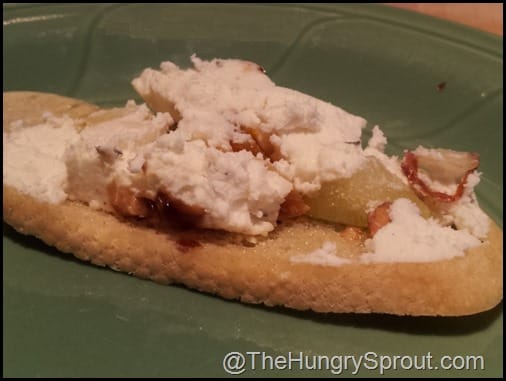 And for those of you in Orange County, California- there is another location at The Outlets at Orange.  The California location is privately owned but the two restaurants share a similar menu and vibe.  Good times for those of you on the West Coast too.