These Vegan Cauliflower Lentil Tacos are so simple to make, packed with healthy proteins, and easy on the digestive system.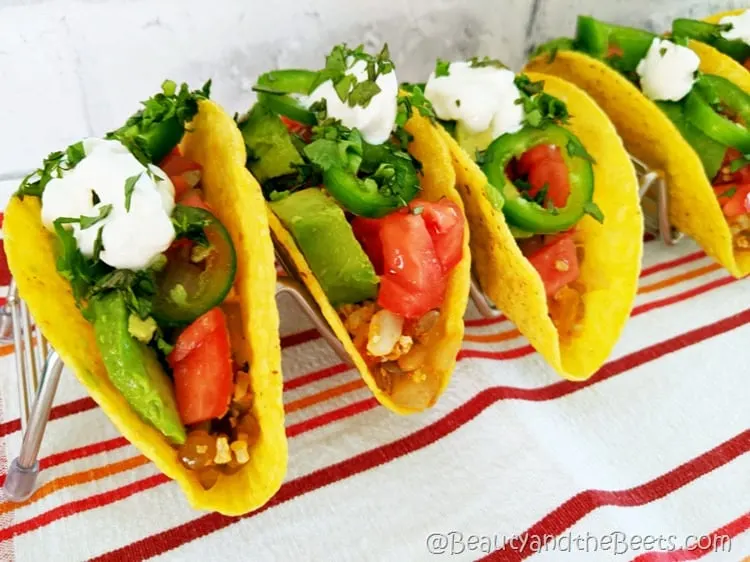 Taco Bell was always my favorite fast food splurge back in my unhealthy days. I could sit down and scarf down a 6-pack of beef tacos loaded with packets of mild sauce paired with an order of nachos with that warm cheesy dip. Throw in a super large-sized Cherry Pepsi and I would be a happy girl. However, somewhere along the way I began to realize I really wasn't eating very healthy. Go figure. However, I really do miss the crunchiness of a corn shell and the punch of a savory meat. And now that I rarely ever eat meat, my taste buds have changed and ground beef is just too oily and chewy for me.
Lucky for me, as my tastes have changed, so has my desire to find alternative and creative ways to enjoy tacos. I loved these Walnut Cauliflower Tacos I made and have used the "meat" for other dishes like zucchini boats and even meatballs. However, I have had several requests for a meatless "meat" recipe without nuts. Challenge accepted. Meet my new friends – Cauliflower Lentil Tacos.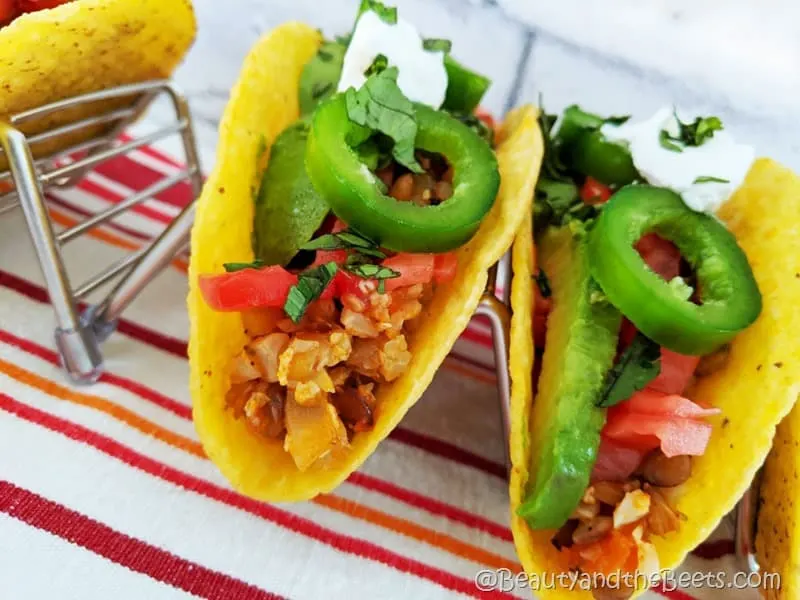 First of all, cauliflower is such a great base for meatless "meat" as it can crumble, can be cooked many ways, and can basically be seasoned with about anything. It's a common staple in India, a culture that follows a mostly Vegetarian diet.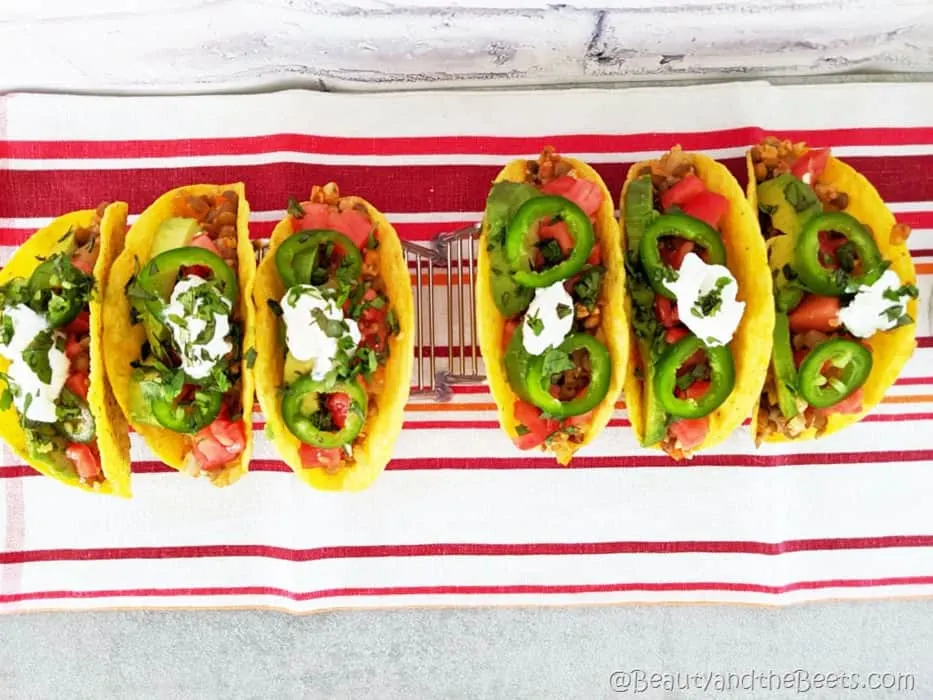 My recipe is really easy. The most difficult part is probably "ricing" the cauliflower. To make cauliflower rice, cut a head of cauliflower into smaller florets. Add these florets to a food processor and pulse until the cauliflower resembles rice. However, be very careful not to over process or you will end up with liquefied cauliflower (Cruciferous Smoothies anyone?) Or, if you are without a fancy food processor, simply grate the head of cauliflower onto a box grater.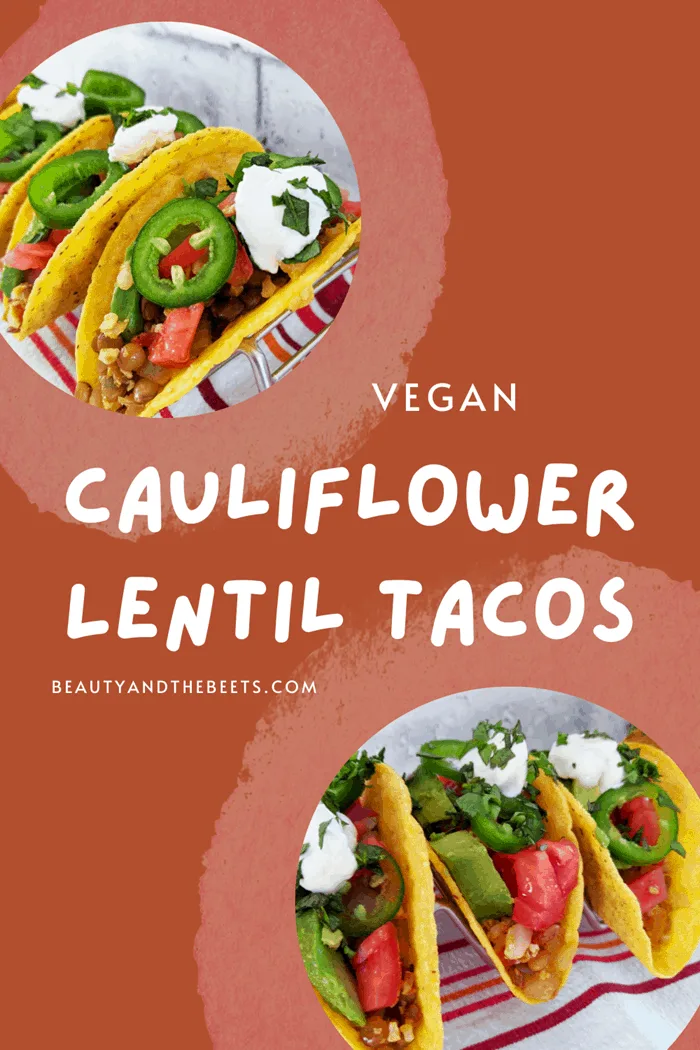 The rest is just heating everything up over the stove adding seasoning as you go. Condiments are the same as any other taco would have- chopped tomatoes, lettuce, sliced avocado and in my case- Vegan sour cream (store bought). Effortless. Healthy. I hope you enjoy!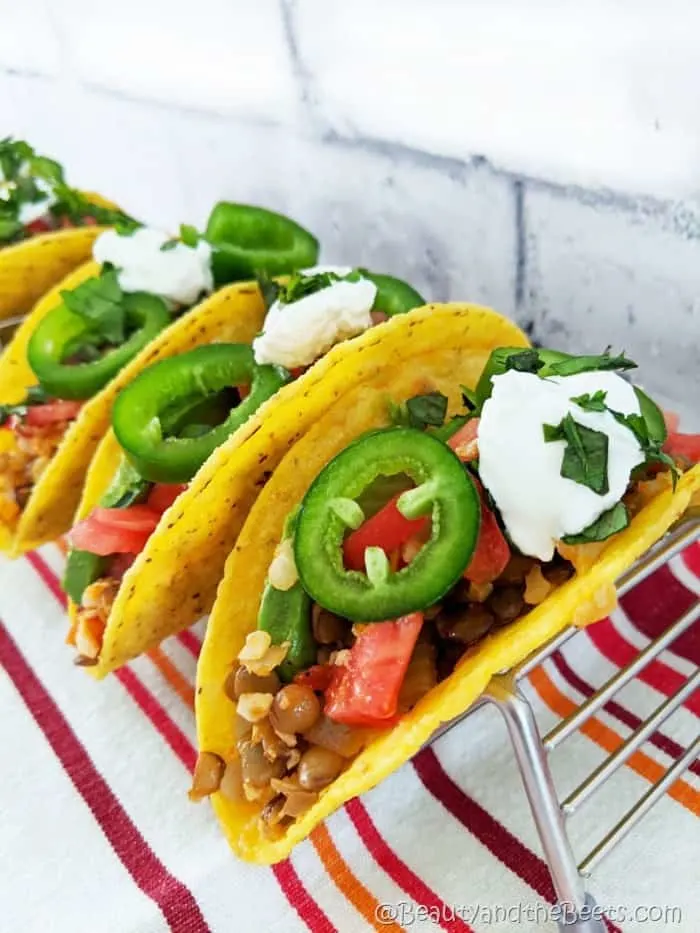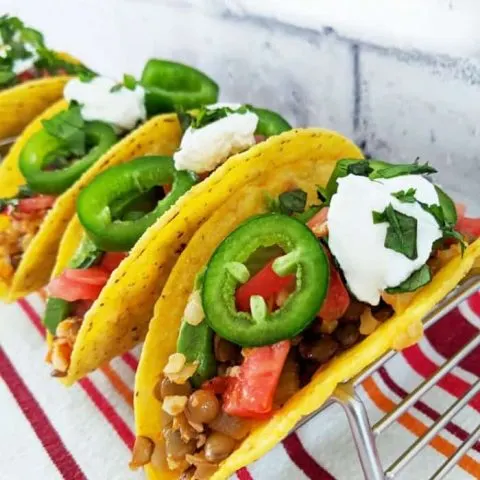 Cauliflower Lentil Tacos
A healthy Vegan alternative to traditional beef tacos. Go Meatless on Monday!
Ingredients
1 head cauliflower, riced **see notes for directions on ricing
2 tablespoon olive oil
1 large yellow onion, diced
2 tablespoon minced garlic
1 jalapeno, sliced, seeds scraped out
3-4 limes, halved
fresh cilantro, minced for serving
sliced avocado, for serving
Instructions
Heat the olive oil over medium heat in a skillet on the stove. Add the onions and cook until the onions begin to turn translucent, about 5 minutes.
Add the riced cauliflower, garlic, cumin, chili powder and 1/2 the jalapeno slices. Stir and cook for 4 minutes.
Add the tomato sauce and cooked lentils. Simmer the cauliflower mixture for 5 minutes.
Scoop the cauliflower meat into the taco shells. Squeeze the lime onto each taco and sprinkle with cilantro. Add sliced avocado and a dollop of Vegan sour cream if desired. Top with remaining jalapeno slices.
Notes
**to rice the cauliflower: Add cauliflower florets to food processor and pulse until the cauliflower resembles rice. Do not over pulse or you will end up with liquified cauliflower. Or grate cauliflower with a box grater.
**This post contains affiliate links. I only link to products that I use myself and believe in. Your support is greatly appreciated.**