These Fruity Pebbles cereal breakfast cookies take 20 minutes from start to finish.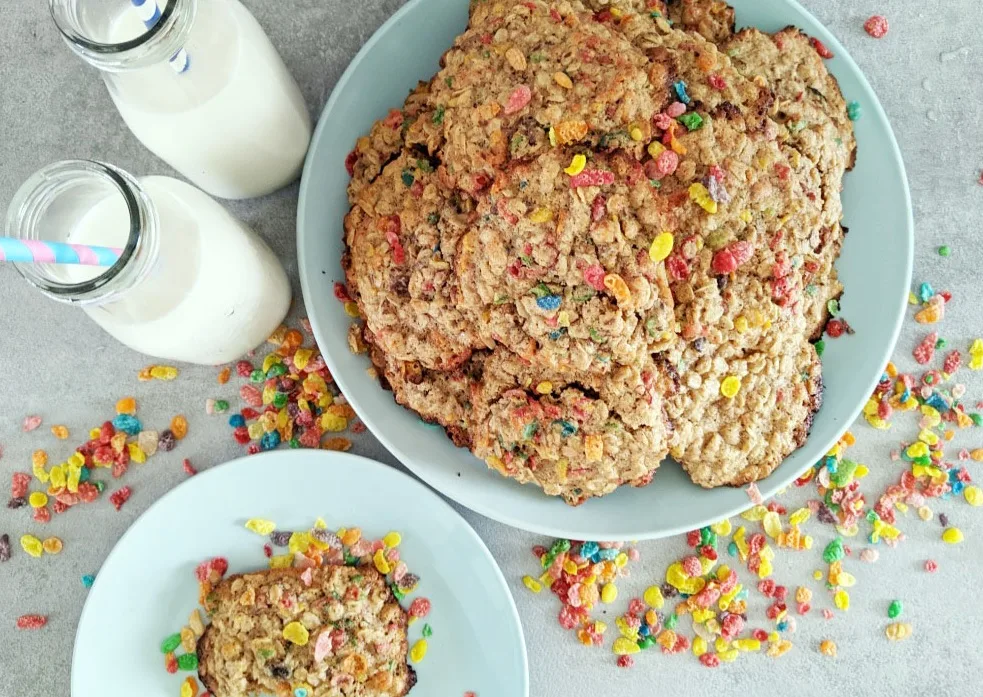 Back in my younger Philadelphia days, I had a day job that kept me busy all day, then I worked in a nightclub where I would often work well into the wee hours of the morning. Only to do it all over the next day. And the next day. I loved both of my jobs and had the energy to get through the day on minimal sleep and even less food.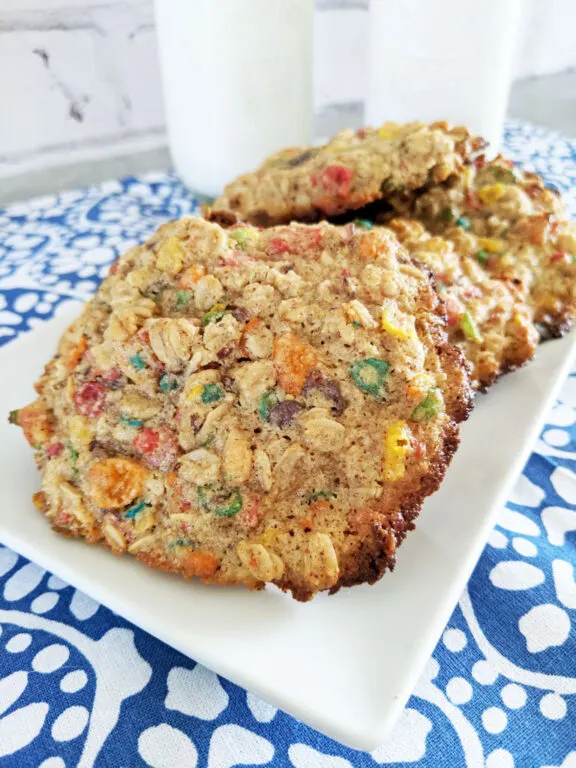 These days I work a simple 8 hour day and definitely take the time to drink my tea in the morning, have a decent breakfast, and have a nice two hour lunch.
KIDDING. I am still working just as much, most of it is from home, but sometimes I am flying out the door at 6:00am on my way to catch a flight or I am jumping on a conference call at 7:30. Those are the days I don't have the time to whip up a a Blueberry Biscuit Skillet Cake or French Toast, let alone time to sit down and enjoy it.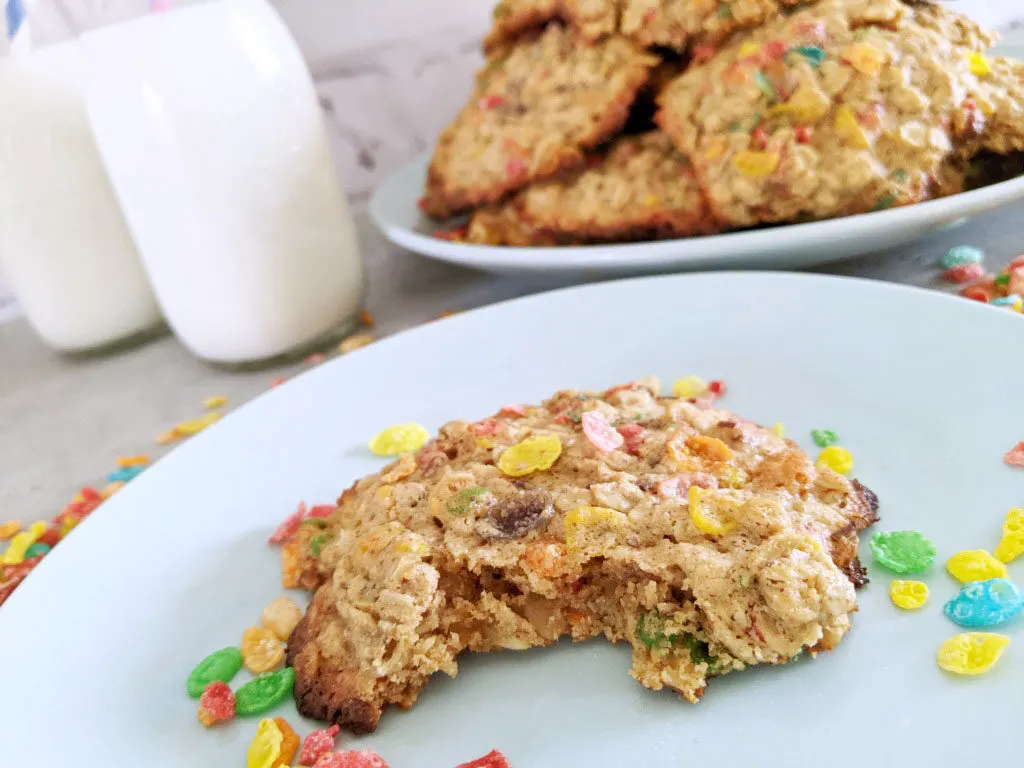 These are the days I need a quick grab and go treat.
I'm a big fan of breakfast cookies. They are easy to throw together and ready to eat in 20 minutes. You can make these Sunday night and you've got a quick and portable breakfast on the go all week long.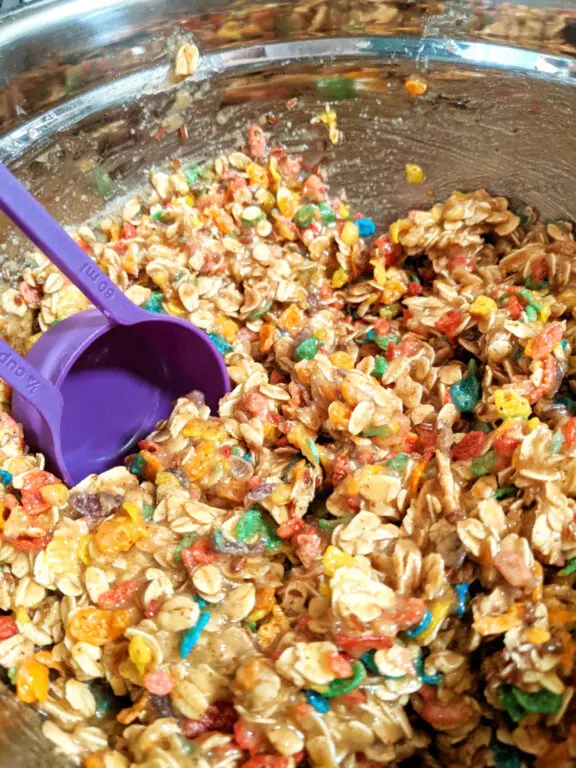 These cereal breakfast cookies are also quite healthy with rolled oats, protein packed almond butter and ground flax seeds. Besides using Fruity Pebbles, I used pure maple syrup to sweeten these up a bit.
Ingredients take ten minutes to throw together and ten minutes to bake.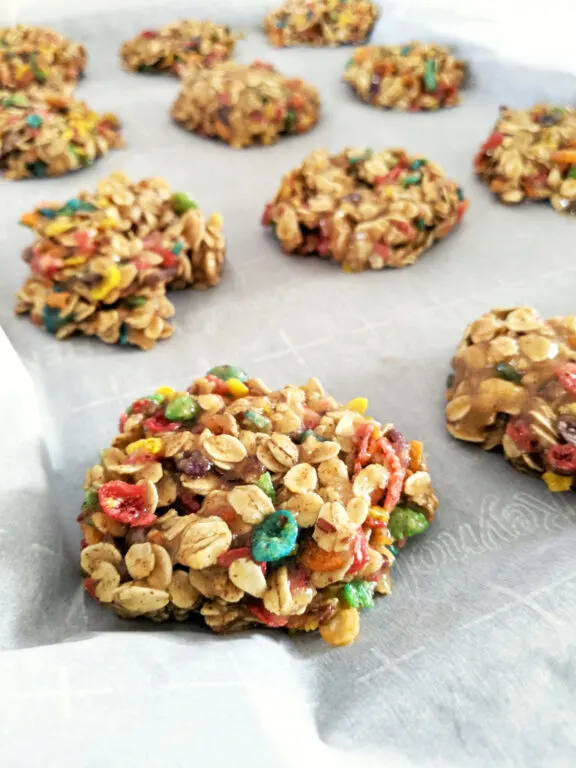 Cereal breakfast cookies are also quite versatile. My favorite breakfast cereal is Fruity Pebbles, though not the healthiest. These cookies are a great way to enjoy my favorite treat while adding other key nutrients I need to get me going in the morning.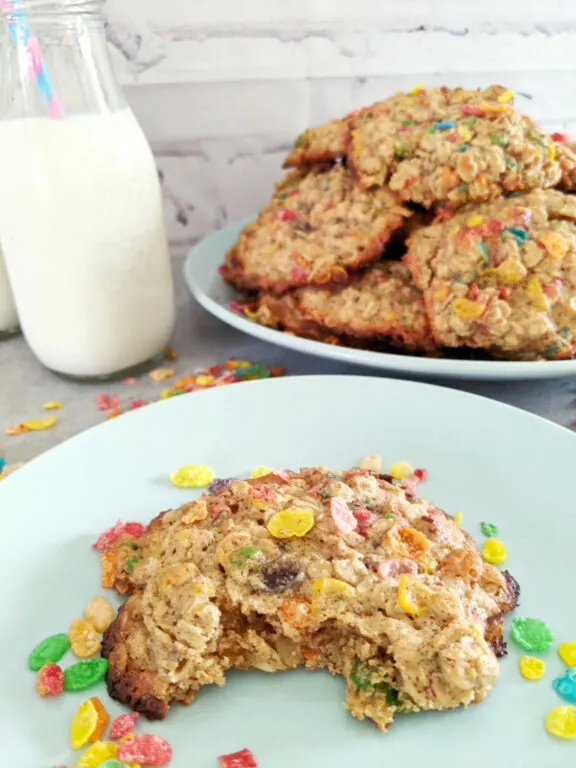 These are also delicious with Cocoa Pebbles, Apple Jacks, and Captain Crunch. Or go extra healthy and swap out the sugary cereal for something with a little more substance.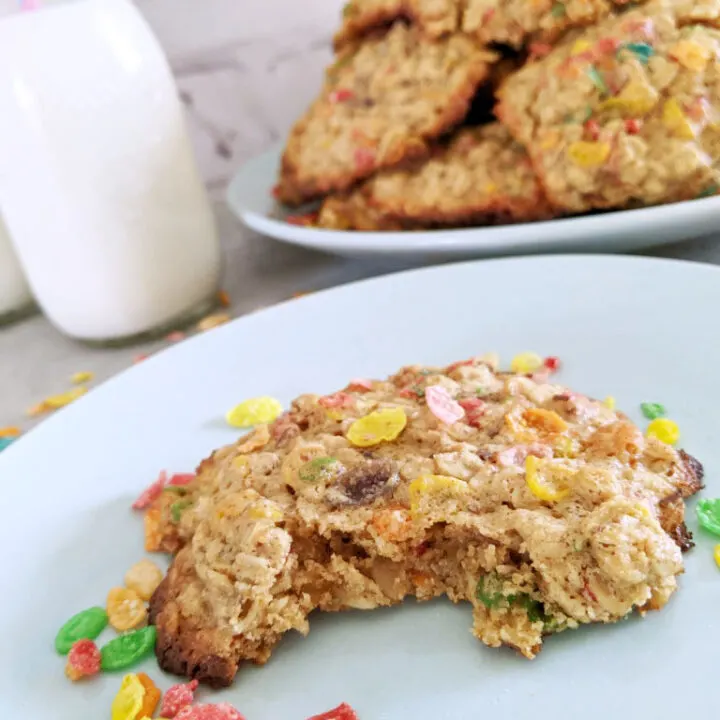 Fruity Pebbles Cereal Breakfast Cookies
Yield:
approximately 24 cookies
These Fruity Pebbles cereal breakfast cookies take 20 minutes from start to finish. Make a batch on Sunday and have breakfast ready all week!
Ingredients
2 large eggs
1 1/2 cups Fruity Pebbles or other cereal of your choice
Instructions
Preheat oven to 350° F. Line a large baking sheet with parchment paper.
In a large bowl, whisk together the egg, nut butter, coconut oil, maple syrup, vanilla extract, salt and baking powder until smooth.
Add the flour and oats and stir until well combined.
Fold in the Fruity Pebbles or cereal of your choice.
Using an ice cream scoop or measuring cup, scoop out about 1/4 cup of the dough and drop onto the parchment paper.
Bake for ten minutes until edges are golden and set.
Remove cookies from baking sheet and let cool on a cookie rack.
Repeat steps 5-7 until all the dough is used.
**This post contains affiliate links. I only link to products that I use myself and believe in. Your support is greatly appreciated.**