Where do you go for freshly prepared fish and veggies on Hilton Head Island? Chow Daddy's of course. We had an amazing meal.
First of all, we sat out in the outdoor dining area which is perfectly secluded from the hustle and bustle of the island. We were there at sunset and it was romantic among all the greenery of the patio.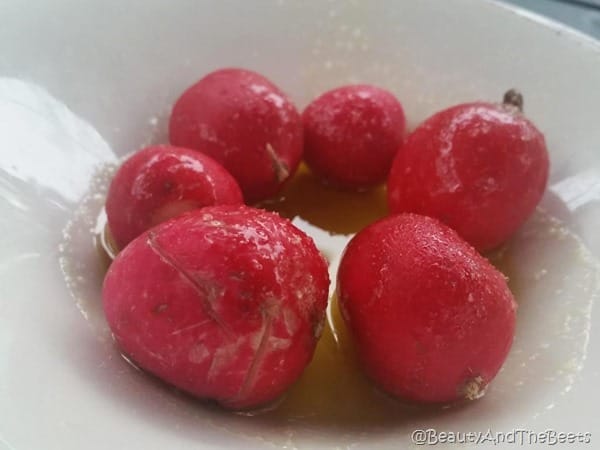 We started our meal with the Fresh Radishes with sea salt. I have never seen such a thing on the menu anywhere so I was interested to see how it was served. Turns out the dish was exactly as stated in the menu- fresh radishes with sea salt, nothing more. And it was delicious. Very unexpected.
Mr. Beet and I both ordered fish for our entrees – I went for the Grilled Salmon with smashed potatoes and lemon-garlic butter. The salmon was plump and juicy – perfectly cooked. The lemon garlic butter was subtle and not overpowering over the potatoes.
Mr. Beet tried the Blackened Tilapia with long grain rice and lemon garlic butter. He definitely enjoyed it, not too spicy, cooked well and tender.
The meals we ordered are not accompanied by vegetables so we placed an order for the Roasted Brussels Sprouts. The sprouts are normally served with bacon but we asked to have ours with the pork and they were more than happy to oblige. Brussels sprouts to me are a hit or miss in most restaurants but these were an absolute hit.
We opted out of dessert but the menu offered house made ice cream sandwiches – vanilla or peanut butter. Next time. We were just too filled with our fish and veggies. Any place that can make Brussels sprouts and salmon right deserves a 4 1/2 out of 5 sprouts in my book.