I was on the hunt for a restaurant at Walt Disney World to celebrate my birthday at, without having to shell out money for everyone in my party to have a park pass. Citricos was suggested to me at the Grand Floridian – more upscale than the Grand Floridian Cafe and significantly less formal than the uber expensive Victoria and Alberts. However, Citricos is considered to be an upscale Disney dining establishment.
The menu is a mix of Tuscany , Rivera and Mediterranean dishes with a uniquely American twist. From seafood to oak grilled steaks, there is a nice variety to choose from. We had Vegetarian, Pescatrian, and Carnivore dishes at our table.
I started with a green salad – the Salade Verte with bibb lettuce, haricot vertes (green beans), heirloom tomatoes, fennel, nicoise olives and fingerling potatoes drizzled with a sherry-mustard vinaigrette. I feel as though a good sign a meal will be delicious can be judged by the brightness of a salad and this Salade Verte did not disappoint.
The rich cauliflower soup was wonderful. The poached quail egg was a nice touch on what could have been an otherwise ordinary soup.
I chose the Scallop Risotto special as my main entree. The scallops were quite large and the risotto was perfectly seasoned and creamy.
One of my tablemates chose the Qunioa and Provencale Ratatouille with mushrooms, zucchini, cauliflower, and tomato confit, then topped with a chickpea sauce. Another perfectly seasoned fantastic dish.
The Florida Red Snapper was a hit with shrimp, mussels, smashed fingerling potatoes, and a fish stew sauce. The Red Snapper was meaty and flaky, cooked to a crisp golden hue.
The last meal at our table was the Oak Grilled Beef Filet over a potato puree with asparagus and topped with red wine sauce and onion jam. Also very good.
And because we were celebrating my birthday, we all ordered a dessert. The Key Lime Pie and Tropical Fruit Creme Brulee were delicious, but it was the warm Banana Chocolate Torte that was the hands down table favorite. Do not skip dessert here.
The prices per entree range from $32 – 62 so it is on the higher end of the Disney dining scene but it is absolutely worth it if you are celebrating a special occasion. This is a wonderful birthday meal I will not soon forget. Five out of five sprouts.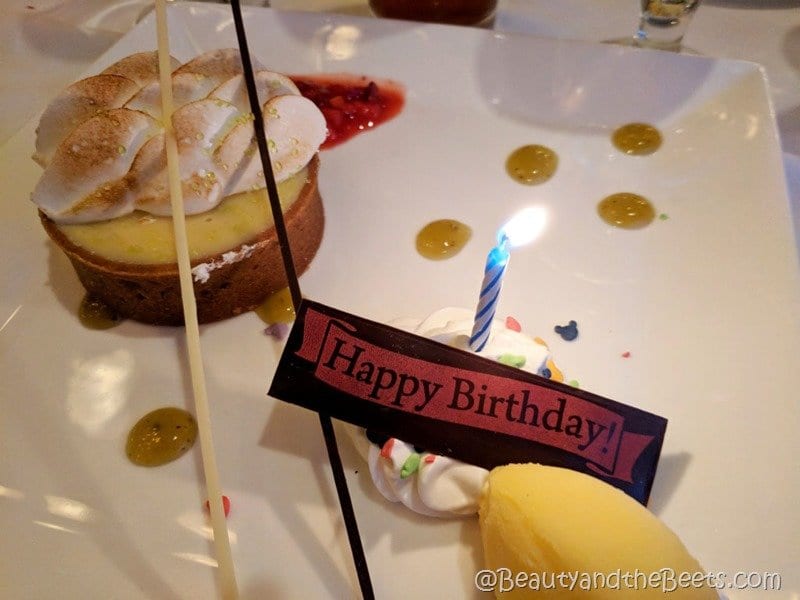 For more information and to view the menu visit the Citricos website.