Strolling along Park Avenue in Winter Park you can find a number of fine-dining restaurants, but stray onto a side street and you will find some cute cozy cafes and gourmet shops. One such spot is called Croissant Gourmet located on East Morse Blvd. A tiny French bakery, Croissant Gourmet offers sweet treats and a variety of croissant delicacies for both breakfast and lunch.
We visited on a Saturday morning and were immediately drawn to the expansive display of pastries- from Danishes to eclairs and of course, croissants. I didn't ask about all the goodies but I do know that the croissants are made right in the back every morning.
The menu is quite small but covers any taste or craving from quiches to French toast to sandwiches.
Chad ordered the Le Petit Dejeuner– a breakfast croissant with egg and a choice of two fillings from veggies to cheese. He added spinach and onions. The sandwich was enormous but delicious. The croissant itself was obviously freshly baked and the eggs were perfectly fluffed.
I decided on the La Nordique– a croissant sandwich with salmon, cucumber and a dill sauce. Again, the fillings were minimal but tasty as the croissant was the star of the show.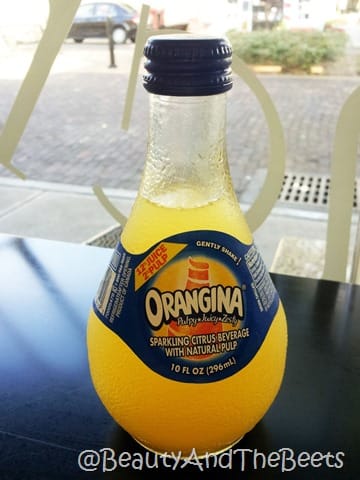 And of course, as in most French bakeries, they had my beloved Orangina– one of my most favorite beverages ever. How could I not love this place?
We sat at a small ledge that faced the street to eat (a great way to people watch just like they do in Paris.) There are a few tables inside but on a Saturday morning they were all filled (as we had expected.)
For as many times as we have visited Winter Park, we did not ever know this place was here. However, now we know and now we can see ourselves making this a regular stop on our way to the Saturday morning Farmer's Market just a few blocks away. Slightly expensive for breakfast (which is to be expected for the Winter Park area) Croissant bakery gets a solid 4 1/2 sprouts from this Sprout.
There is no dedicated website- just a Facebook page.