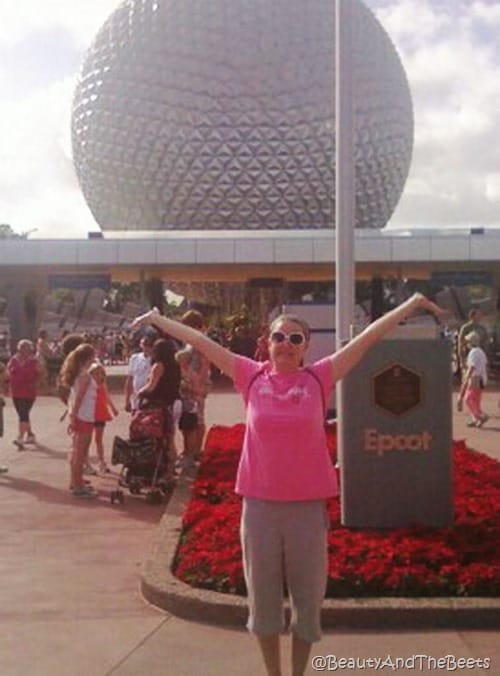 Ah- the perks of living in Central Florida – we can spend a day at any of the area theme parks without needing plane tickets or hotel rooms – today we chose Disney and our adventures started at Epcot.
The very first thing we did was go snag some fast passes to Test Track.  We then stood in the stand-by line for 45 minutes (worth it)  to see Soarin' in the Land Pavilion. This ride is not for those afraid of heights- to ease my fear I told the girl strapping me into my seat that I am afraid of heights and I used to work as a Flight Attendant- her response?  "A Flight Attendant afraid of heights?  Well, that's a first."  Well, I felt better – I expressed my fear to an employee so I know that they kept an eye on me the whole time to make sure I was breathing (I mean, they do that…right?)  You are basically strapped into your seat via one single little lap belt and they raise you up off the floor and place you in front of this HUGE movie screen and you "soar" over the ocean, through mountains, through cities…..both Chad and I felt like the tiny little lapbelt we had was not going to stop us from being dropped into the Pacific Ocean or into traffic on the LA Freeway…but we didn't fall out and….Soarin' was AWESOME!! The ride even incorporated smells so as you were soaring over the ocean you could smell the salty air.  We would have done it again if not for the now 90 minute wait….
Then it was about the start of our window for our fast pass time at Test Track so we made our way over there- got into the fast pass line and then…….they had to shut the ride down due to technical difficulties and made everyone get out of line. 🙁  It was sad for us but luckily we had only been there a few minutes thanks to us owning a fast pass – I felt really bad for all those people that stood in the stand-by line for an hour……
OK..well…we went back over to the Land Pavilion to find lunch…..the Land has a counter service restaurant called Sunshine Seasons on the bottom level- they serve everything from a tofu noodle soup to ribs and everything in between.  I thought it was going to be difficult to find healthy vegetarian food that wasn't fried or served in one of those red plastic baskets with liner paper…..however- we found an eggplant veggie pita sandwich as well as a roasted beet and goat cheese salad with a sherry-honey vinaigrette.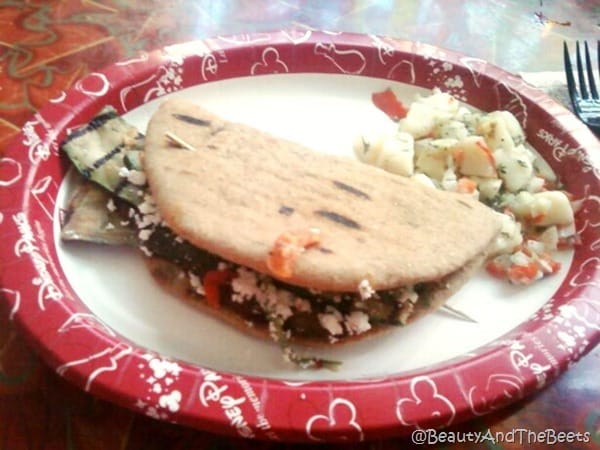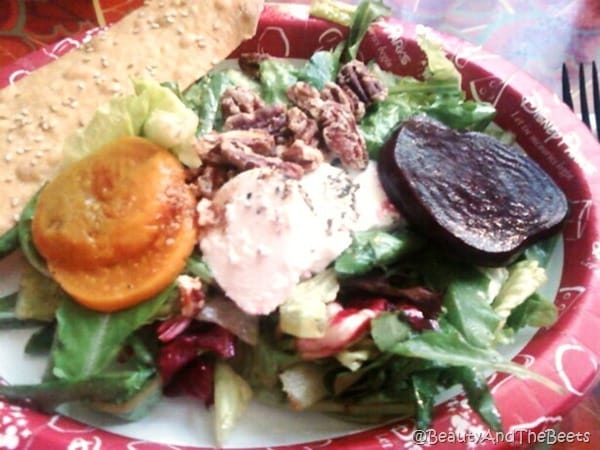 The sandwich was served with a potato salad that was tossed in a light vinegar based sauce instead of the usual mayo – something I  will try to re-create at home as Chad just loved it.  But honestly- my salad was the best- I truly forget how much I love the sweetness of roasted beets- and the goat cheese and walnuts were a perfect accompaniment – AND – lunch was filling but light enough that we didn't feel like we were going to be carrying around bowling balls in our tummies the rest of the day.
Since we were already there, we decided to do the boat tour in the Land Pavilion.  All the produce served at the Land Pavilion restaurants is grown in an experimental horticulture greenhouse on site.  The boat tour takes you through this agricultural wonder –  there were tomatoes growing on trees, cucumber trees and even trees that were growing NINE pound lemons  (disclaimer- be careful when ordering beverages at the Land – a wedge from a nine pound lemon might be just enough to tip your glass of iced tea over).
These are the trees with the NINE pound lemons.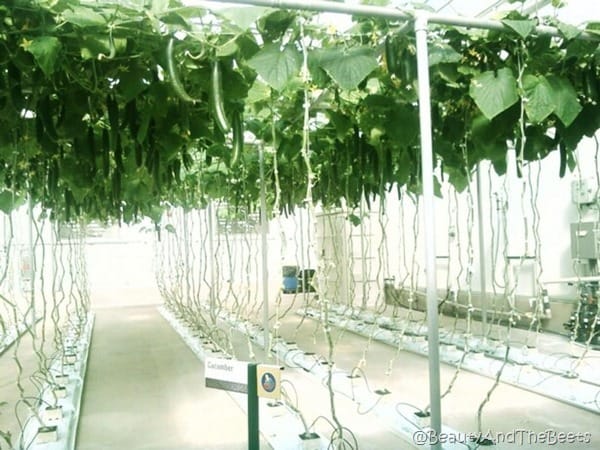 Disney also offers a more extensive walking tour of the greenhouse called the"Behind the Seeds" tour – we will have to do this at a later time – we would solely do it for research for this blog 🙂 (oh- the sacrifices I have to make.)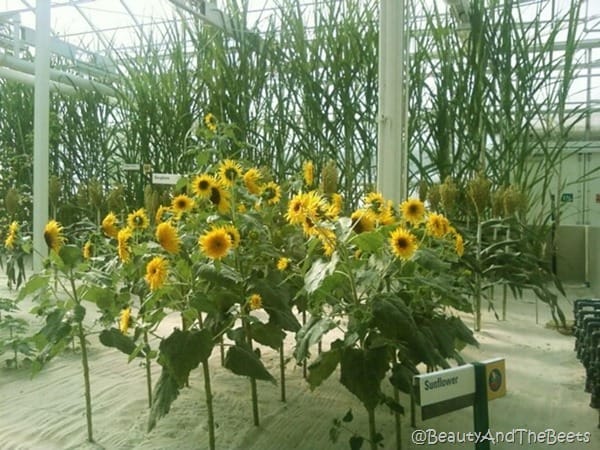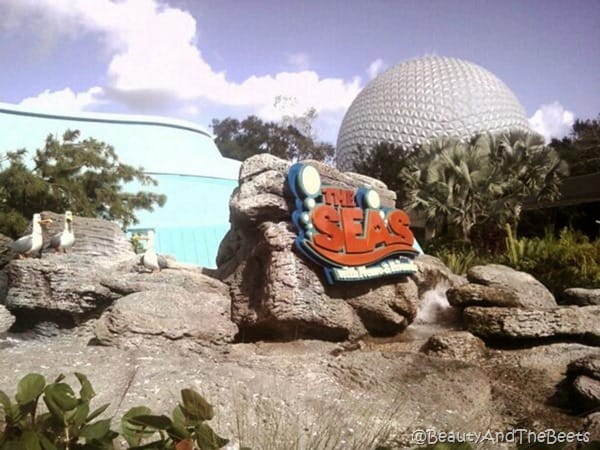 Our next stop was to the Seas Pavilion to check out the Finding Nemo ride.   We rode in our own "Clamobile" and saw Nemo, Dori and friends swim among the Sea's 5.7 million gallon saltwater aquarium.  We thought the ride was very clever and fun – at the end of the ride you can explore the rest of the aquarium as a walking exhibit -the old Living Seas pavilion was primarily just an aquarium exhibit so I thought the Finding Nemo ride added a nice element of surprise to an already cool attraction.
We also enjoyed the stroller derby attraction……..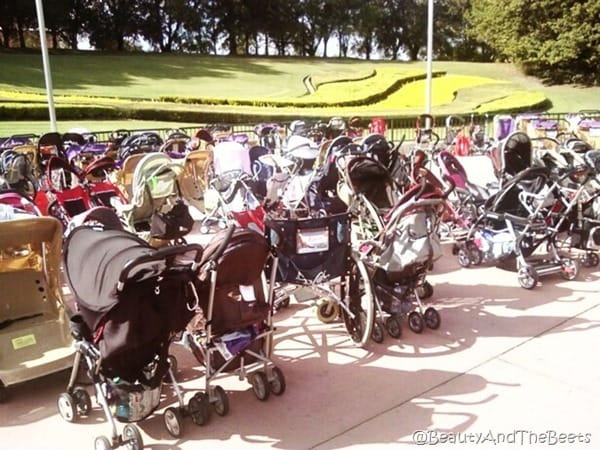 We also got to experience the ride in Spaceship Earth (the big Epcot golf ball) – it was almost the same as I remembered it from years ago except for a special surprise at the end of the ride – I won't ruin the surprise but……we were kinda the stars of the attraction…..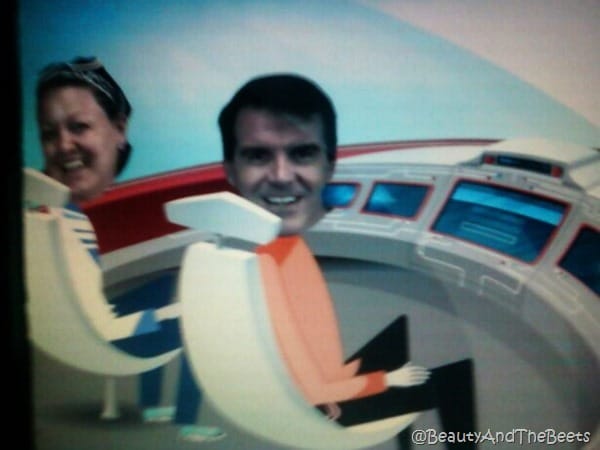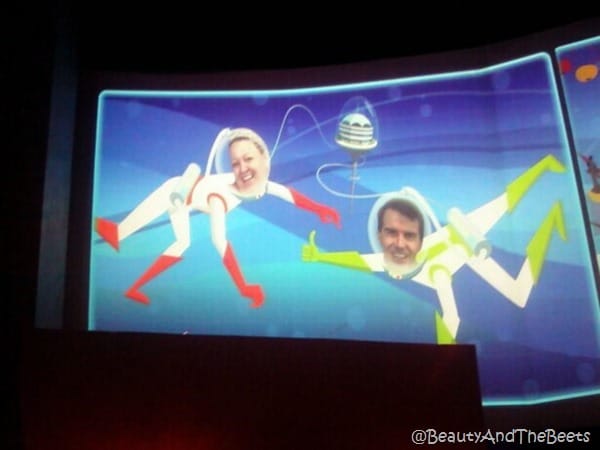 We then made our way back over to Test Track which was back up and running – waited about 10 minutes in the fast pass line (the regular line was 90 minutes again).  I have always loved that ride but the fast part of the ride is way too short- but it still probably my favorite ride at Epcot (though Soarin' was pretty impressive).
We knew we were not going to spend the whole day at Epcot as we really wanted to venture over to the Hollywood Studios to see the Osborne Family Spectacle of Dancing Lights (that will be tomorrow's post – it will be worth the wait I promise). We started to make our way into the World Showcase area of the park – we rode the boat ride in the Mexico pavilion (updated with Donald Duck – it was cute) and started to make our way past  Norway (they have a boat ride also but we decided to skip it- but it is a cool attraction if you get the chance to check it out) and came across China. I was parched at this point – and suddenly- my thirsty eyes came across a TEA STAND. Of course – China! Tea! Woo hoo! I ordered a green tea mango slush.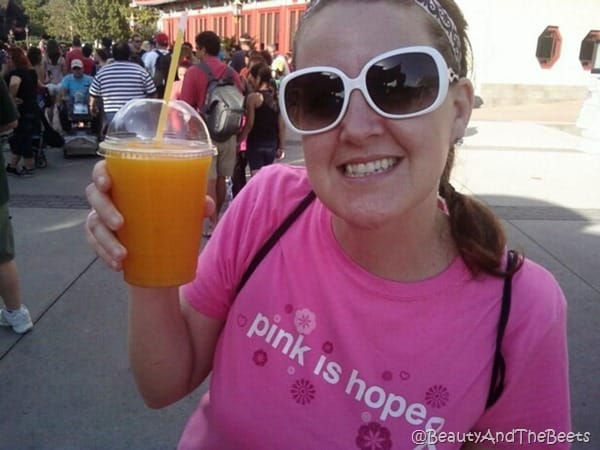 Two words- YUMM and O!  Chad isn't a fan of tea at all and he drank at least half of it  yumm-o …that is my official scientific definition of a green tea mango slushy from Epcot.
We made our way over to the back entrance of the park (also known as "International Gateway") where we caught a boat over to the Hollywood Studios – those adventures I am saving for tomorrow's post –
So go wrangle yourself up some roasted beets, a few slices of goat cheese, mix up a green tea mango frozen concoction and sit patiently for Disney Part 2- The Hollywood Studios

Chow!