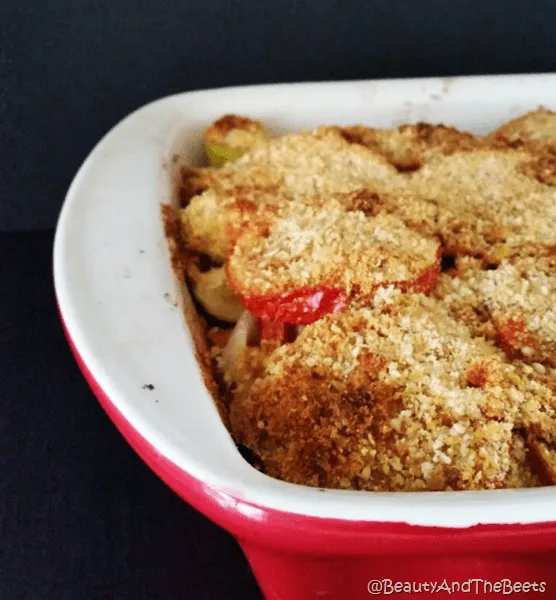 It's been a few years since Mr. Beet and I decided to eat a mostly Vegetarian diet. I say mostly because we will both eat fish, and I will eat meat on special occasions, usually if I am at an event like a restaurant opening. However, at home, we only stock the kitchen with vegetables and plant-based foods. As a matter of fact, I just recently completed my Forks Over Knives Rouxbe Cooking School requirements and earned my plant-based food preparation certificate. Much of the course focused on preparing food without using oil, including roasting veggies and in making salad dressings. Oil is just such a staple in our daily diets, but yet it is processed, no matter how high quality or extra-virgin it is. Much of the course focused on preparing unprocessed ingredients, and Mr. Beet really enjoyed eating all the homework I had.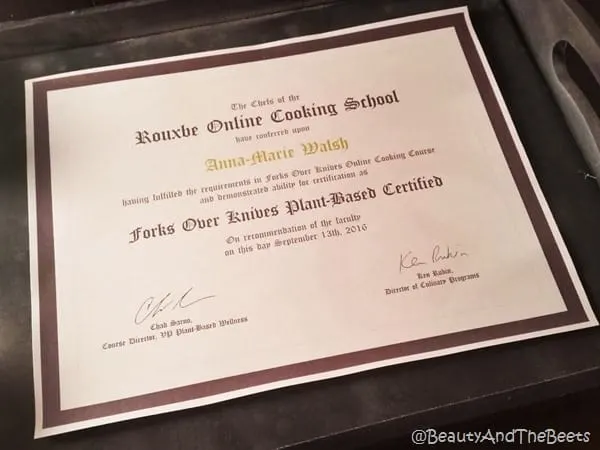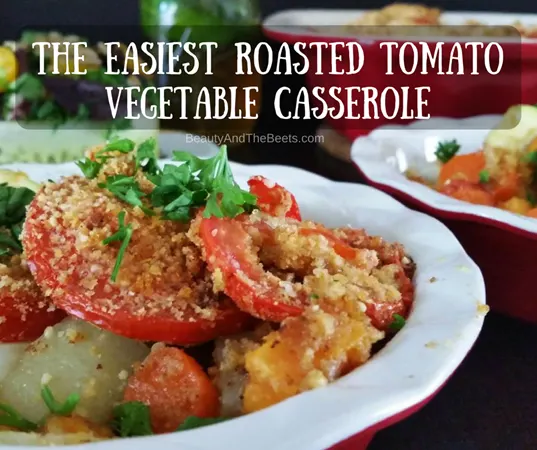 So as World Vegetarian Day rolls around (October 1) I wanted to share a recipe that is not only one of my favorites, but it is also on heavy rotation at the Beets house. Vegetable casserole is probably one of the easiest and more popular dishes prepared on Meatless Monday. I love this Roasted Tomato Vegetable Casserole.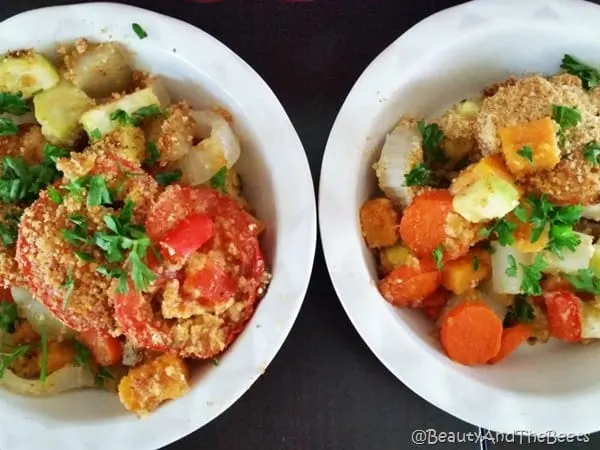 The best part of a veggie casserole is the versatility – you can chop up any veggies you have lying around your kitchen. In this version I used sweet potatoes, white potatoes, an orange bell pepper, zucchini, squash, carrots and ripe tomatoes. I made it completely Vegan by using a product called Parma Zaan (<—Amazon affiliate link) in place of parmesan cheese. Its ingredients are almond meal, sea salt, nutritional yeast, dehydrated onion, citric acid – none of that funny stuff. And it tastes great on just about everything from spaghetti to popcorn. While it is sold on Amazon, I have also found it Whole Foods and specialty Vegan markets.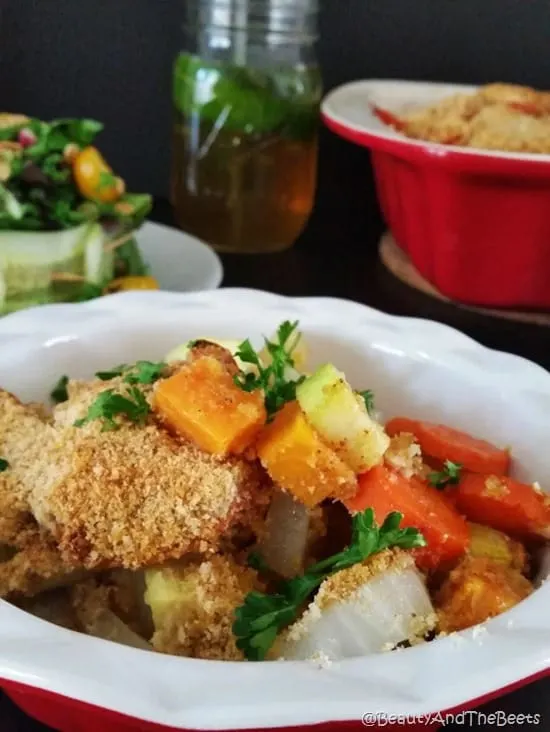 I think this particular casserole is very Fall-friendly with the use of sweet potatoes and squash -and no- there is no pumpkin here, but I guess you could add pumpkin if you want. Brussels sprouts, broccoli and/or cauliflower would be great additions.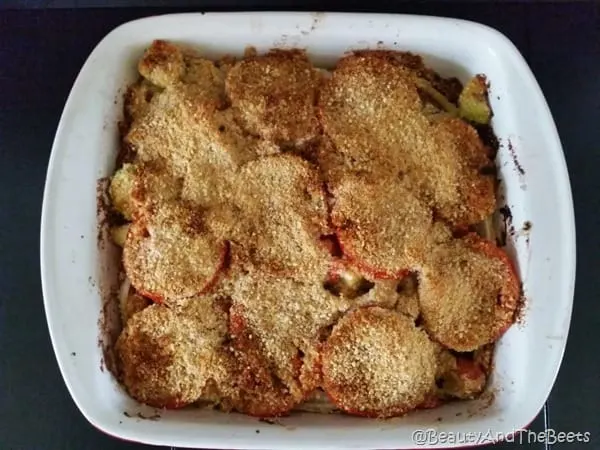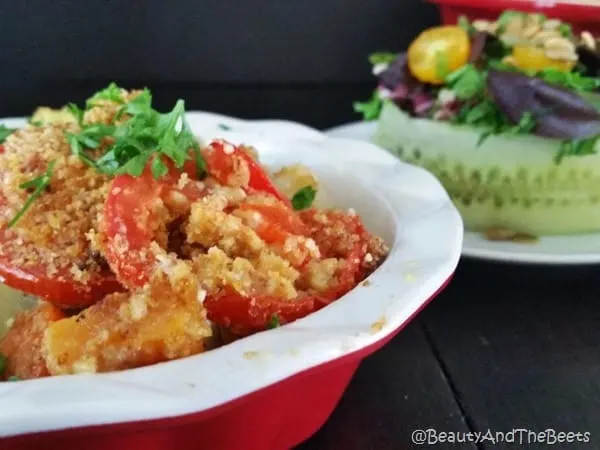 What is your favorite vegetable to use in a casserole?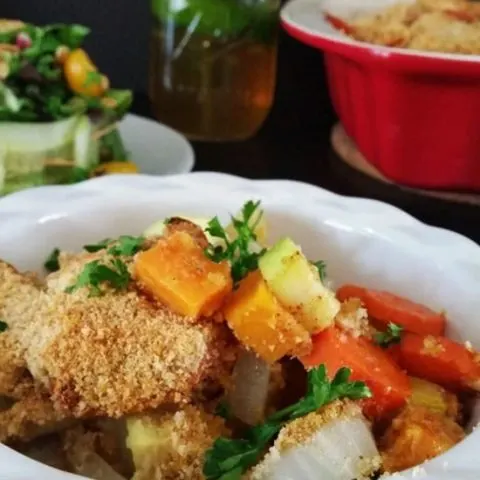 The Easiest Roasted Tomato Vegetable Casserole
Adapted from a recipe by *Giada DeLaurentiis*, this is the easiest Roasted Tomato Vegetable Casserole you will ever make.
Ingredients
1 sweet potato,, peeled and cut into 1/2-inch pieces
1 white potato,, peeled and cut into 1/2-inch pieces
2 carrots,, peeled and cut into 1/2-inch pieces
1 orange or red bell pepper,, seeded and chopped into 1/2 inch pieces
salt and pepper to taste
1 white onion,, cut into thin rings
1 zucchini,, peeled and cut into 1/2-inch pieces
1 yellow squash,, peeled and cut into 1/2-inch pieces
2-3 large red vine tomatoes,, washed and sliced
3/4 cup vegetable broth,, divided by 1/4 cup each
2 tbsp. Vegan bread crumbs,, or regular plain
Instructions
Preheat oven to 400° In a 13x9 baking dish, toss the sweet potato, white potato and carrots with 1/4 cup vegetable broth, salt and pepper until evenly coated. Spread the potatoes and carrots evenly across the bottom of the pan.
Place the onion slices evenly atop the potato mixture, followed by the bell pepper, zucchini and squash. Drizzle with another 1/4 cup of the vegetable broth.
Place the tomato slices over the zucchini and squash. Drizzle the tomato slices with half of the remaining veggie broth. Bake uncovered for 30 minutes.
In a small bowl, combine the Param Zaan (or regular grated Parmesan if using) and the bread crumbs. After the casserole has cooked for 30 minutes, remove casserole from oven and sprinkle with the Parma Zaan and breadcrumbs mix. Drizzle with the remainig veggie broth and cook for an additional 10 minutes.
Pin this recipe for later: