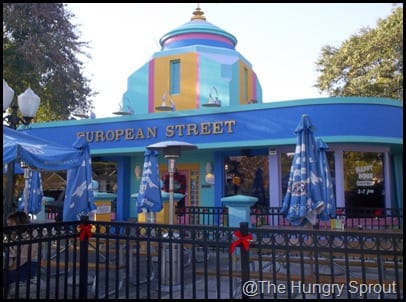 I knew I was going to be spending a weekend in Jacksonville so I did some research on places to find healthy eats in town.  One restaurant kept popping up in my search called European Street Cafe.  After looking at the menu I saw that they had an extensive listing of delicious items on the menu including a good selection of soups, salads and sandwiches including vegan and vegetarian choices. The day we arrived into town we went straight to the Riverside location.
When we first arrived we didn't know if we should seat ourselves or wait to be seated.  There was no one at the door to greet us and we just awkwardly stood in the middle of the entrance area.  Servers passed us having their own conversations with each other and just ignored us.  Eventually we were told to sit wherever we would like.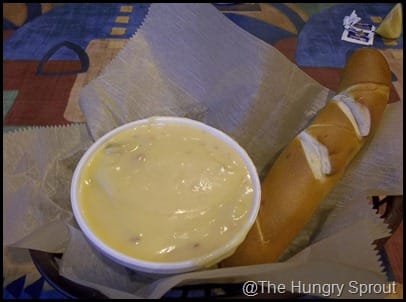 I started by ordering the beer cheese soup which from other reviews I have read they seem to be famous for.  It was a good sized portion served with a large and freshly baked pretzel breadstick.   The soup was great, really hearty.  My only complaint is that it was hot.  And that isn't really a bad complaint is it?  It was just really really hot.  But again, really hearty and delicious.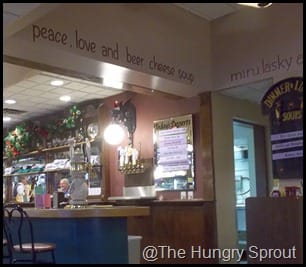 As a matter of fact- written on the wall was the saying "Peace, Love and Beer Cheese Soup."  It was actually written several times across the wall in a variety of languages.  As Chad and I tried to figure out what the languages were, we finally asked our server.  Her reply was "People ask me that all the time and I have no idea."  Uh…if people ask you all the time wouldn't you rather have an answer and sound more intelligent than "I don't know?"  Did you ever think to maybe ask a manager?  An owner?  A fellow employee?  Well, she probably didn't care.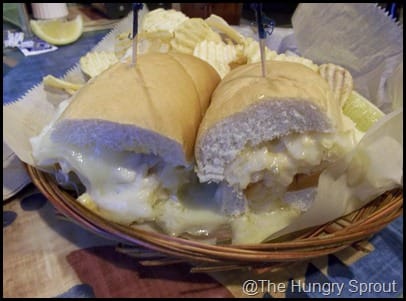 For lunch I ordered the Smart Reuben Hero which was a vegetarian "wiener" with sauerkraut, melted swiss cheese and Thousand Island dressing.   The wiener was spicy, the sauerkraut was sour and the Thousand Island dressing was creamy and tangy.  Everything I love about a really good Reuben.  It was really tasty- if they just didn't put it on stale bread it would have been an all time favorite of mine.   Chad ordered the Tabbouleh and Tuna pita sandwich.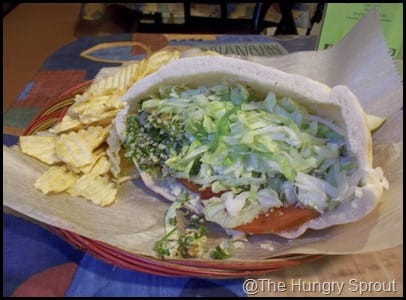 It was huge- stuffed with lots of lettuce and tabbouleh- the only thing missing was the tuna.  Seriously.  There was no tuna.  Somehow he ended up with a Tabbouleh and Humus pita.  He was actually OK with it though because he was originally trying to decide between those two anyway. But there sure was a lot of lettuce.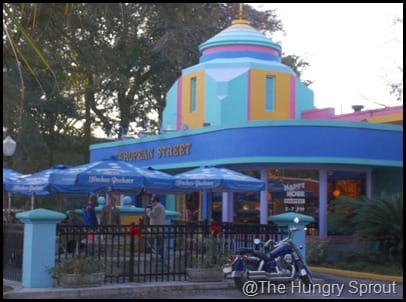 Just one word of advice, don't ask the server what "dilly kraut" is- her answer?  "I don't know but I think it looks like it has dill in it."  And don't expect to be given your check in a timely manner.  We waited awhile as we watched her greet, serve drinks, take orders and serve appetizers for 5 other tables as we sat there with empty plates in front of us watching.
We will give this place another try next time we are in town but for this visit I am only going to give it 2 1/2 out of 5 sprouts.  Noone greeted us at the door or assisted us when we entered, my bread was stale, Chad's order was wrong and the service was terrible.  I think that overall the food was pretty good and we probably just got stuck with a server who didn't know, didn't care and didn't care to know.