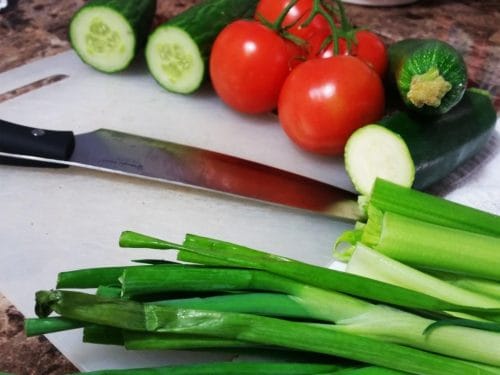 Forks Over Knives is a horror movie. Not your typical horror movie- there aren't any monsters or mass-murderers jumping out from the dark- but there is horrifying information in it. As a wanna-be-vegetarian/vegan, this is a movie I have wanted to see since it came out last year. The release was small, only playing in certain cities. Now it has been released nationally and Chad found it on our Hulu Plus menu.
This movie focuses on the benefits of a whole foods plant-based diet. I thought I was going to see baby chickens getting their beaks chopped off or cows being slaughtered. That wasn't the case at all…..this movie was even more horrifying.
Here is what I learned:
The average American is 23 lbs. overweight
40% of Americans are considered to be obese
Every one minute someone dies from heart disease in the United States
Diabetes, obesity, heart disease, high blood pressure and other diet related illnesses cost Americans over $120 billion a year
1 in 3 people born in the United States will develop diabetes in their lifetime
1500 people a day will die from cancer in the United States
Seriously, these statistics scare me.
This movie is a documentary that follows 2 American doctors who say that changing your diet to a whole food plant-based diet can reverse illnesses like cancer, diabetes and heart disease.   That's right- reverse!
In Norway, they used to eat a lot of meat. In 1939, the Germans invaded Norway and took all the meat from the Norwegians to feed their own troops. The citizens of Norway were forced to eat a plant based diet and their mortality rates from circulatory diseases like heart attack and strokes decreased DRAMATICALLY from 1940-1945. In 1945, Norway got their cattle back and the death toll from circulatory diseases went up.
In Japan, where they eat mostly rice and veggies, there were 18 deaths due to prostate cancer in 1958. In the United States that same year, there were over 14,000 prostate cancer deaths, as meat was (and still is) a big staple in the Western diet, as well as the introduction of processed foods. (It was in the 1950's that supermarkets began to appear in the United States and introduced processed foods, meant to make our lives easier but really just made our lives worse.)
I guess there  is a reason why our food pyramid with the basic four groups has disappeared. Now we have My Plate. However, meat is still a large part of this diet- and- our country representatives are getting huge kickbacks from the meat companies to keep meat and processed food in the mix of what we should eat. Who do we believe?
Forks Over Knives has me really thinking……….
We need to choose forks over surgical knives!
I know Chad and I are now making some huge changes! In addition to meat and processed foods, we are going to slowly start cutting out milk and cheese. I am going to do much more research and post my findings next. Stay tuned for more information…. Who's with me?