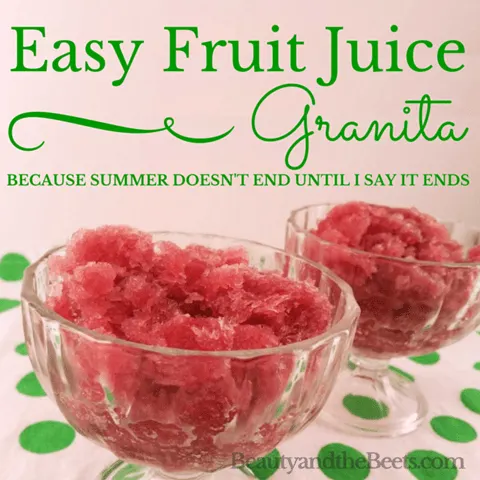 Look- just because we are a week past Labor Day doesn't mean summer is over. The weather is still warm, most of us can still spend the weekend swimming at the pool or sunning at the beach.
Next weekend I will be at Cedar Point in Ohio for a blogging conference. The weather will be cooler and it will also be the first weekend of the annual Halloweekends- where the park will be decorated for Halloween, complete with scary haunted houses, pumpkin patches and plenty of hot chocolate stands. It really is just a matter of time before we are donning heavy coats and wrapping scarves around our faces to keep warm. Even in Florida we are going to have to pull out our light cardigans to keep warm. (I shiver at the thought!)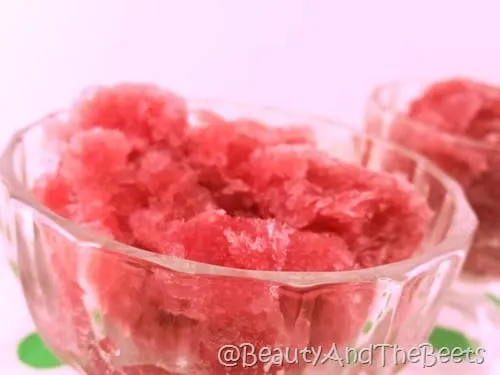 In Beetsland, our summer doesn't end until I say it ends. This week I tried my hand at making my own fruit granita- a cold icy fruity dessert similar to sorbet. But technically different.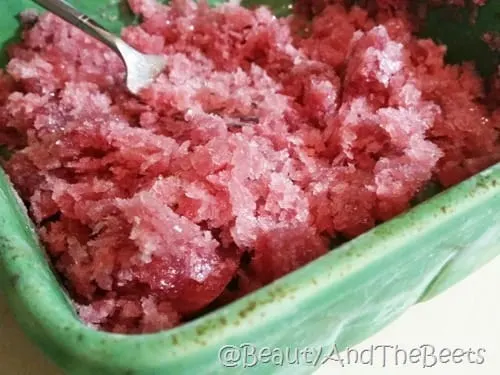 So here is the lowdown- both granita and sorbet are made with fruit, water and sugar but sorbet is traditionally made in an ice cream maker, resulting in a smoother texture, similar to ice cream but without the dairy. Granita, also dairy-free is made in a shallow pan placed in the freezer, and then scraped with a fork to produce a coarser icy texture. This time I made the latter.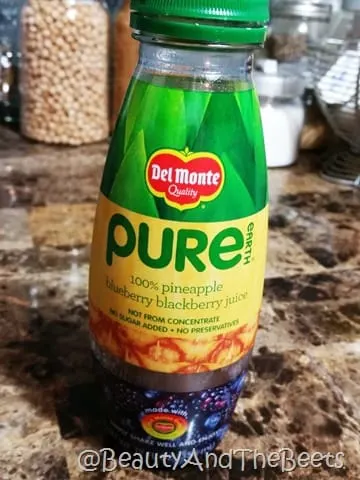 The cool thing (no pun intended) is that you can use virtually any flavor of fruit juice- just be sure to use 100% pure fruit juice- not the bottled fruit juice cocktail kind. I picked up a couple bottles of this Del Monte Pure Earth fruit juice, in particular the pineapple-blueberry-blackberry flavor. The mixed flavors worked out very well. So I hope you enjoy and are still squeezing out time to enjoy the last of the warm summer weather!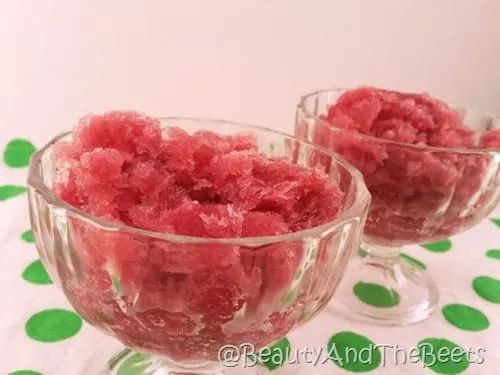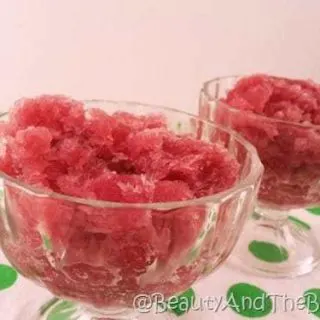 Fruit Juice Granita
Ingredients
1 cup filtered water
1/2 cup sugar
2 cups 100% pure fruit juice, , *see note
Instructions
Add the water and sugar to a medium pot over medium-high heat. Stir until sugar dissolves into the water, about two minutes.
Remove pot from the heat and let cool. (I placed the entire pot in the freezer for about 10-15 minutes)
Once the sugar mixture is completely cooled, add the fruit juice and mix well.
Pour the mixture into a 9x9 baking dish and place in the freezer. Every 30 minutes or so use a fork to break up the ice particles. Mixture will take 2-3 hours to freeze.
Be sure to break up the mix with a fork just before serving.
Notes
*You can use any flavor of fruit juice you desire, however, be sure to use 100% juice, preferably with no sugar added and no preservatives. It is not recommended to make this recipe with bottle fruit juice cocktails.