Ginza Japanese Steakhouse is often our go to place when we have out of town guests and we want to dine outside of the theme parks.  There is something for everyone.  One of the very few places we tend to stray from our mostly all veggie diet and order the steak or chicken and we often take advantage of the lunch or early bird dinner specials.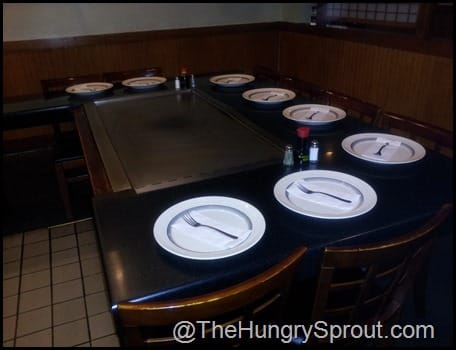 This particular visit we stopped in for lunch at the hibachi.  For $8.95 Chad ordered the lunch special.  Choice of two meats: chicken, steak or shrimp plus soup, salad, fried rive and vegetables.  He chose the chicken and steak and got a lot of food.  I ordered the shrimp and scallop lunch for $11.25 which also included the soup, salad, rice and vegetables.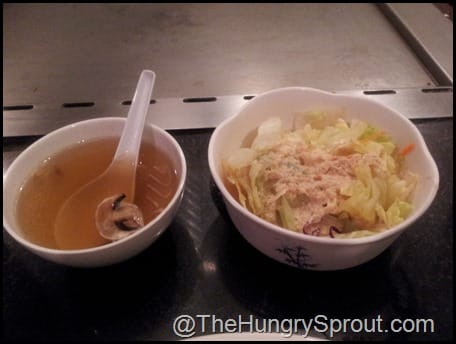 We have always loved the soup and salad.  It gets served immediately so you do not have to wait long to begin eating. The ginger dressing on the salad is one of my favorites even though I am not a big fan of ginger.  Somehow, what they blend together makes this so creamy and tangy.  I found out that they also sell a quart of the dressing for $5 too.  Good to know.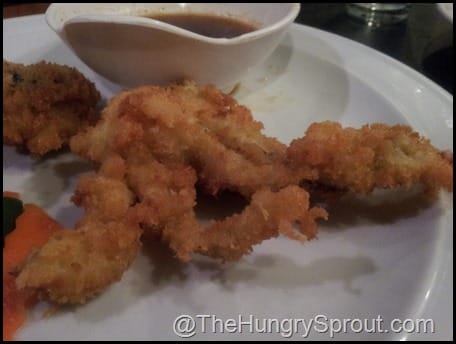 I had also ordered the soft shell crab appetizer.  It was very good but small for the $9.95 price.  I was promised two pieces and it was actually just two halves of a very small crab.  I won't make that mistake again though it was good.  Just not as meaty as other soft shell dishes I have had elsewhere.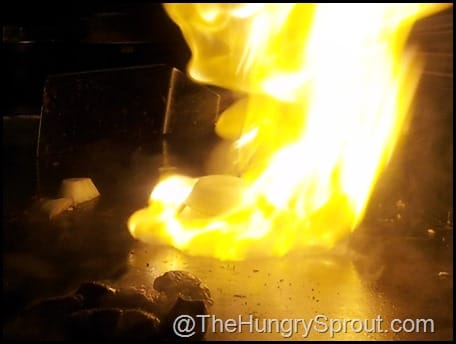 As we enjoyed our appetizers it was time for the show.  This was the first time it was just the two of us at a Hibachi table which was nice.  Our Hibachi Teppanyaki Chef certainly kept us entertained. He turned the onions into a fiery volcano (often a staple at the Hibachi table), performed tricks with the knives and tossed an egg into the air collapsing it onto the hot grill before promptly removing all of the shell (that is always impressive to me how the shell doesn't shatter into a million pieces.)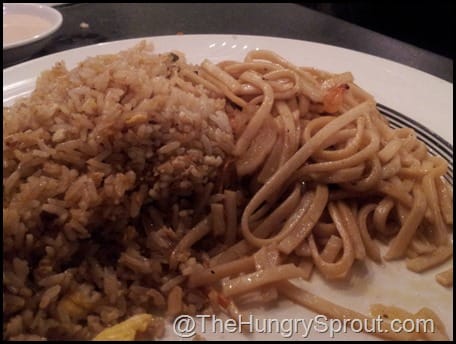 Perhaps one of the reasons we like Ginza is the fact that they do not use nearly the large amount of butter as some of the other Hibachi places do.  My only complaint is our Chef used a little too much oil on the noodles (we ordered noodles on the side for an additional $2.50) and I could just real taste it.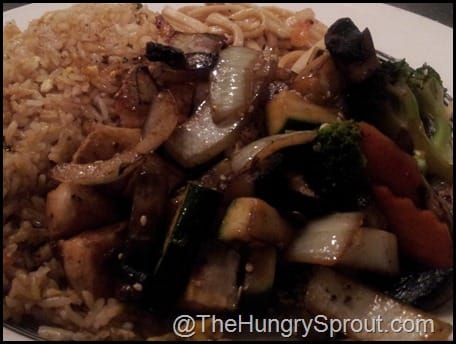 Other than that, everything else was perfect as always.  Chad's meat was cooked and seasoned perfectly, my shrimp and scallops were perfectly seared.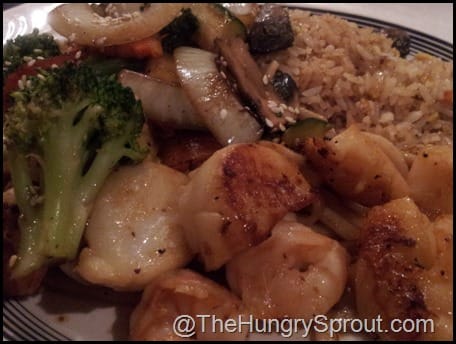 And as usual, I was given way too much food so I had plenty of leftovers to take to work for lunch the next day.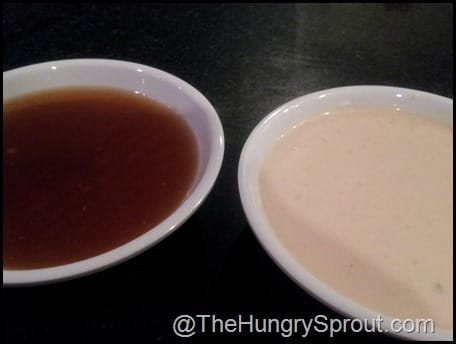 As typical in a Hibachi restaurant, the meal is accompanied with a ginger sauce and a white sauce (I have tried to find out what goes into making the white sauce but I am just told it is simply white sauce- maybe I don't want to know what is in it- all I know it is really good.)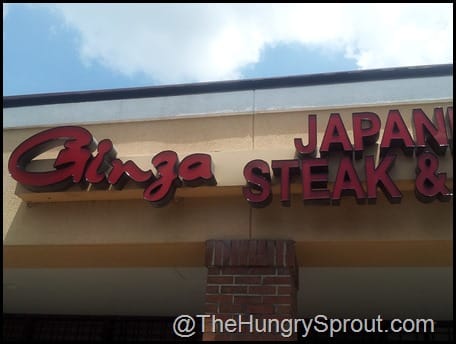 However, if you come for lunch call ahead for the hours.  They are typically closed from 2:30-5pm on the weekdays.  They also serve sushi in a separate room.  You can also sit at a table in the sushi bar and order from the hibachi menu where your food will be prepared in the kitchen, though for us watching the cooking show is part of the fun.  There is also a sister location on Colonial in the Mills 50 district.  4 out of 5 sprouts.
Ginza Japanese Steakhouse website