There are so many excellent places to eat at Walt Disney World and rarely have I ever had a bad meal.  There was no exception here at the Grand Floridian Cafe located just off the lobby in the Grand Floridian Hotel.  A bright atmosphere that is inviting for breakfast, lunch or dinner.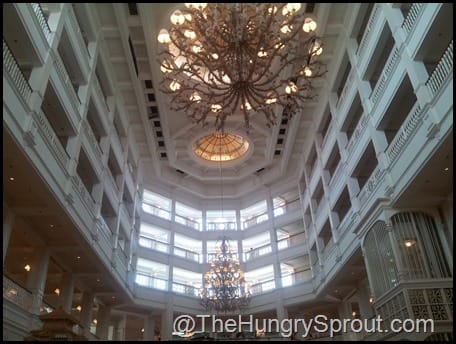 We arrived just at the start of lunch.  A few appetizers like Shrimp Cocktail or Crab Cakes, a few salads, a small selection of sandwiches and a few main entrees make up a small but pretty basic menu.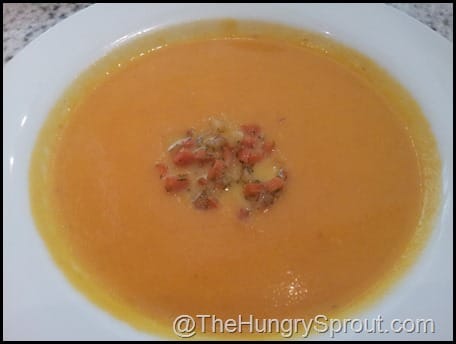 I started with the soup of the day which was Carrot-Ginger.  It was actually very good (which says a lot coming from me because I am not usually one to order anything with ginger).  I especially loved the chopped carrots used as a garnish.  However, the only option was a bowl and it was very large for a starter.  I would've preferred just a small cup- it was good but it filled me up pretty quickly.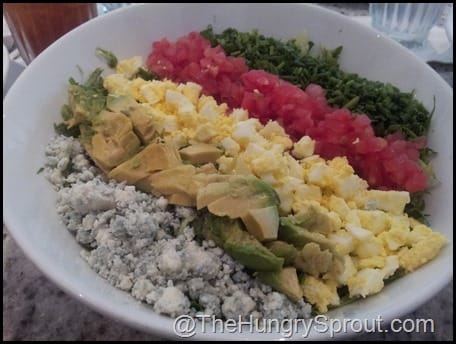 For my main dish I ordered the Cobb Salad minus the turkey and bacon.  The Chef did a great job making the salad look full with extra egg, tomatoes, avocado and blue cheese- like the meat was never even supposed to be there in the first place.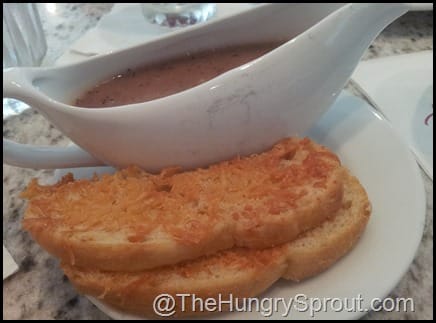 It was served with a tangy Balsamic vinaigrette which was good but almost a little over powering in taste to the salad itself.  I had filled up on my big soup bowl that I could only eat less than half of the salad.  It would've been a great second-day lunch if Chad hadn't left the doggie bag on the monorail.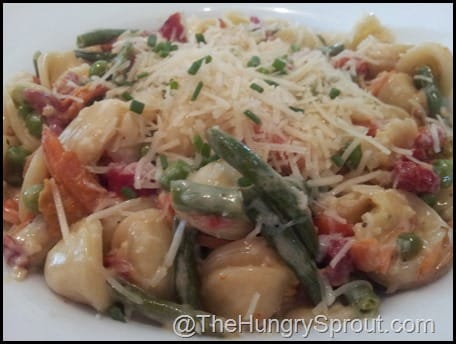 Chad got the Orecchiette Vegetable Pasta– (minus the mushrooms of course).  Another meal Chad got that I wish I had ordered.  The pasta was mixed with red peppers, onions, carrots, peas and green beans in a light cream sauce.  He really enjoyed it and he isn't the biggest fan of Alfredo-type sauces- but this one he really liked.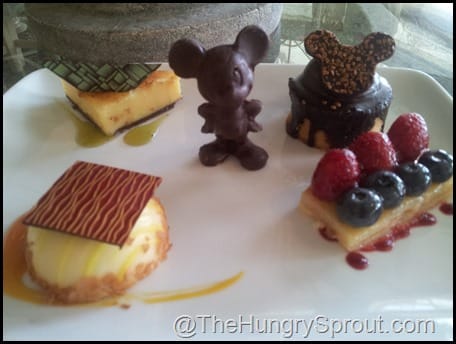 We didn't get any dessert but I couldn't help but snap a picture of the dessert tray.  Next time.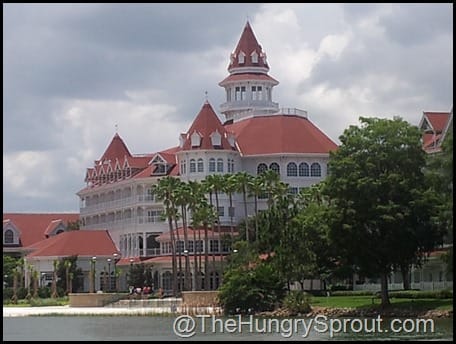 The Grand Floridian Cafe was a great little spot for a nice leisurely lunch.  We had dined with my Dad and he liked his Crab Cake entree, but he started to eat it before I was able to snag a picture (I had forgotten to inform him of rule number one- no eating until all the pictures have been taken).  Again- next time.
Get more info on the Grand Floridian Cafe