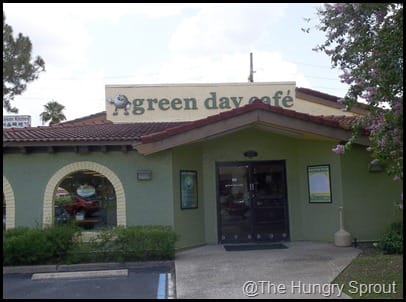 We love to eat healthy.  Lucky for us and others like us, many restaurants have greatly pared their menus to accommodate all types of diets- organic, vegetarian, vegan, gluten-free, low carb, etc.  One place that Chad and I love when we are hunting for great fast, fresh and healthy food is Green Day Café just north of downtown Orlando.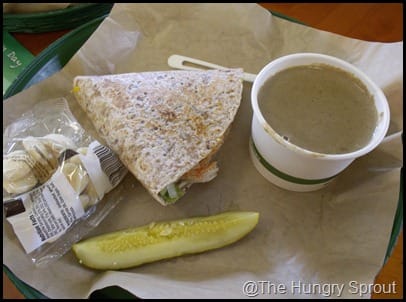 Don't be fooled by the hole in the wall type look, this place is packed at lunchtime- a line out the door.  The menu is mostly sandwiches, salads, rice bowls and soups.  The first thing that caught my eye was the Mushroom-Brie soup in which they now serve as Gluten Free.  It is simply amazing.  A-M-A-Z-I-N-G!  I ordered the pick two option and ordered a buffalo chicken sandwich to go along with my soup.  One word. Delicious.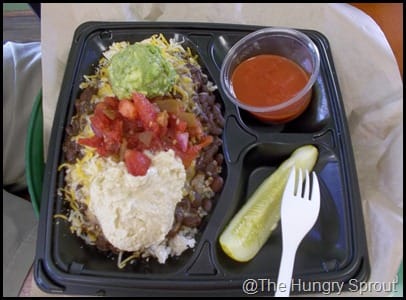 Chad ordered the 7-layer rice bowl.  Brown rice, vegetarian black beans, Colby jack cheese, guacamole, salsa, hummus and buffalo sauce.  He liked it.  I have ordered the mushroom-brie rice bowl in the past- brown rice, vegetarian black beans, chicken and red onions- then they pour on 2 heaping ladles of the mushroom-brie soup.  My favorite!!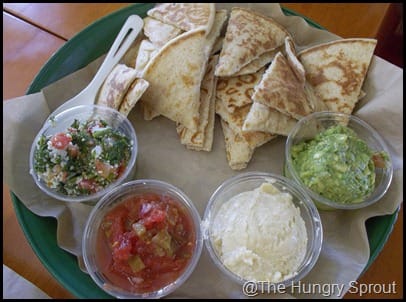 We also ordered the Mediterranean platter– salsa, hummus, guacamole and tabouli  served with grilled pita bread.  It was yummy too- but very small portions.
They also serve baked potatoes (which you can get covered in the mushroom-brie soup), quesadillas and a vegetarian stuffed pepper.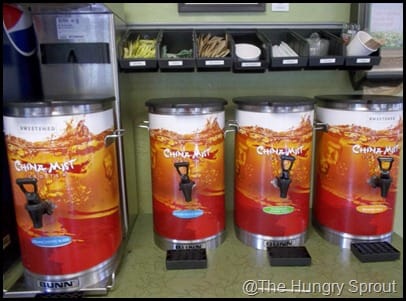 Green Day Café is a counter service restaurant.  In the dining room you get your own drink which was OK with me as they a have a few varieties of iced tea so I was able to try them all.  The place looks like it was once a Taco Bell and it is a "fast" food joint- minus all the heavy grease and guilt.  Don't let the outside appearance fool you- this a gem on the inside!!