If you have ever get the opportunity to walk across the Brooklyn Bridge- do it.  Then go to Grimaldi's Pizza.  If you ever find yourself in Clearwater, Florida- go to Grimaldi's Pizza. On a recent trip to Clearwater, I found myself sitting in this pizza joint and eating really good authentic New York pizza.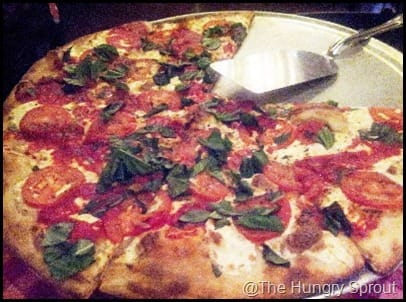 Anyone who has lived in Florida knows that good pizza is really hard to find. They blame it on the water. I think there is truth to this. At Grimaldi's of Clearwater, they use a special filtering system to recreate the water of Brooklyn, New York.  The pizza here in Florida is just as great as I remember it being in Brooklyn.  And I didn't have to wait in a long line to get it.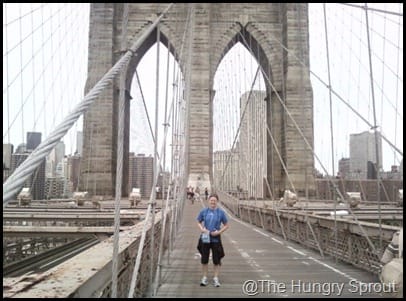 In New York City, my Mother and I walked across the Brooklyn Bridge then stood in line for about 30 minutes at Grimaldi's.  Though my Mother is a local New Yorker, I talked her into visiting this famous pizzeria I have seen on the Food Network and the Travel Channel. It was great. I loved it- but it was more of a tourist attraction and an experience than just going out for a pizza.  Would we ever do that again?  Most likely not since you can get great pizza on every block in New York City.  But it was fun.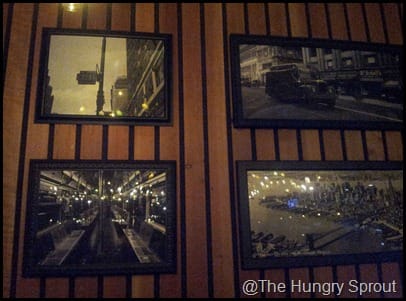 We didn't have to wait in a long line in Clearwater.  I don't know if there is normally a wait but I imagine it isn't quite as much of a tourist attraction here as it is in Brooklyn. However,  they made sure you don't forget that they are a New York institution. There are pictures of New York City everywhere.  A nice open kitchen (similar to that in Brooklyn) and the chandeliers are wine bottles hanging from the ceiling. Cool.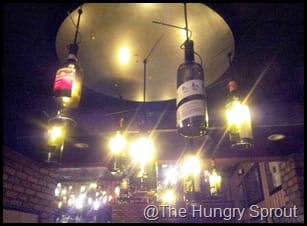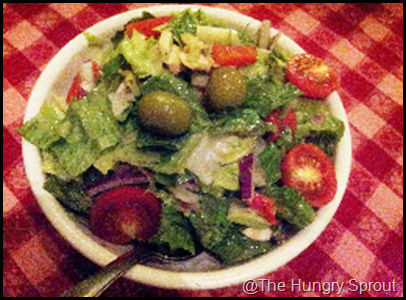 We started with a side salad for $6.  The server told us that a small isn't so small and we could easily split it.  He wasn't lying.  The small was large.  It was full of veggies like mushrooms, red peppers and green olives.  I love salads like that are stuffed with veggies instead of just being a bowl of lettuce.  I loved my salad and couldn't wait for the main dish- the pizza.
We ordered a large pizza (18″)- and we added fresh tomatoes and basil to make it more like a Margherita pizza.  Not only do they use the special filtered water, they also use a coal oven (the same as Brooklyn.)  If I didn't know any better, I would say this was a pizza shipped hot and fresh straight from Brooklyn.    Below the picture on the left is from Clearwater and the pizza on the right on the is from Brooklyn.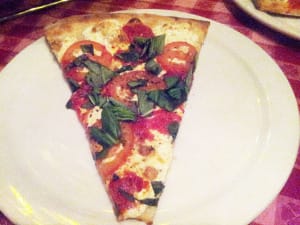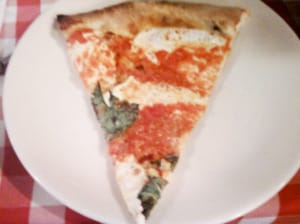 On the menu in Clearwater, there was an option for extra basil- when I asked for basil on the pizza we were charged $2 so that leads me to believe that it isn't a standard topping.  After we added the fresh tomatoes our pizza came to $20. Most toppings were anywhere from $2-$4 so if you like a lot of toppings it can really add up.  The prices are the same as the pizzeria in Brooklyn- but everything in New York is expensive- so for Florida- this was a very expensive pizza.  (According to the Big Mac index, the food in New York City is about 19% more expensive than in Florida. Therefore, the pizza should only cost about $16.20 here.)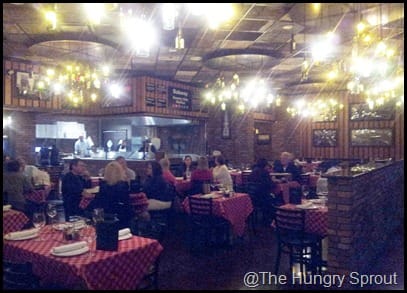 All in all, we thought it was delicious and worth the trip.  However, dropping over $30 for a pizza and salad was very pricey.  (And that was without alcohol- there is a full bar if you can afford it.)  But something has to pay for that fancy water filtering system.  Also, just as in New York, you cannot order just a slice. There are other locations too in Florida as well as Arizona, Nevada, South Carolina and Texas.  Definitely worth a visit if you are craving real pizza and not the generic cardboard tasting pizza of Florida.  However, bring your wallet because for a pizza joint, it ain't cheap.  I could not afford the fifth sprout- so 4 out of 5 sprouts for me.
Grimaldi's Pizzeria website for locations