Have you visited ICEBAR Orlando yet? I have to admit, I had not until just recently when I was invited to check out their new food menu.
What is ICEBAR Orlando?
If you are not familiar with ICEBAR Orlando, it's located on the south end of International Drive virtually next door to Pointe Orlando. ICEBAR Orlando is a fun choice when seeking out unique places to visit in the tourist corridor of Orlando.
ICEBAR Orlando is basically two bars/lounges. The Fire Lounge does not have an admission charge and is kept at a normal temperature (meaning no jacket or gloves needed). The Fire Lounge is spacious with plenty of tables and a bar, and is also where the food is served. Food is not allowed to be taken into the ice bar area of the venue. However, the ice bar itself is a super cool place (pun intended!) to grab a cocktail.
The temperature is kept below freezing (it was 19° when I visited) and everything is made of ice, from the bar top, the tables, and even the drinking glasses.
Jackets and gloves are available at no additional charge when you check in. For an additional $10 you can rock a faux fur coat! And while reservations are highly recommended to enter the ICEBAR, the Fire Lounge is free for anyone to walk in and order off the menu.
The Food Menu
ICEBAR Orlando has recently rolled out a new food menu with almost 30 items from appetizers to flatbreads to tacos. We tried several dishes off the menu and my favorite was the from the taco menu.
Blackened shrimp tacos with a tropical salsa were so flavorful and the Bahn mi Taco was amazing with juicy chicken, pickled vegetables, and spicy mayonnaise. However, for me it was the Chimichurri Steak Taco that won me over. The steak was seasoned well and paired with marinated cabbage, cilantro cream, and topped with an Argentinian chimichurri sauce.
We tasted two of the flatbreads – the Fig and Goat Cheese Flatbread was delicious. Sweet figs, tangy goat cheese, and salty prosciutto topped with spicy arugula and a balsamic fig glaze.
The BBQ Chicken Flatbread was made with barbecue chicken, jack cheese, bacon, red onion, and drizzled with a jalapeno ranch dressing.
The Meatball Sliders were very tasty with authentic Italian meatballs, marinara sauce, and provolone cheese.
This Philly girl approves of the Philly Rolls, basically Philly cheesesteak egg rolls. Rib eye steak, onions, peppers, and provolone cheese baked in a crispy wonton wrapper.
The Drink Menu
Of course, a visit to ICEBAR Orlando would not be complete without a trip around the drink menu. There are plenty of non alcoholic concoctions for those who do not want to indulge in the alcohol (I highly recommend the Penguin Fizz)
The Ice Bar Experience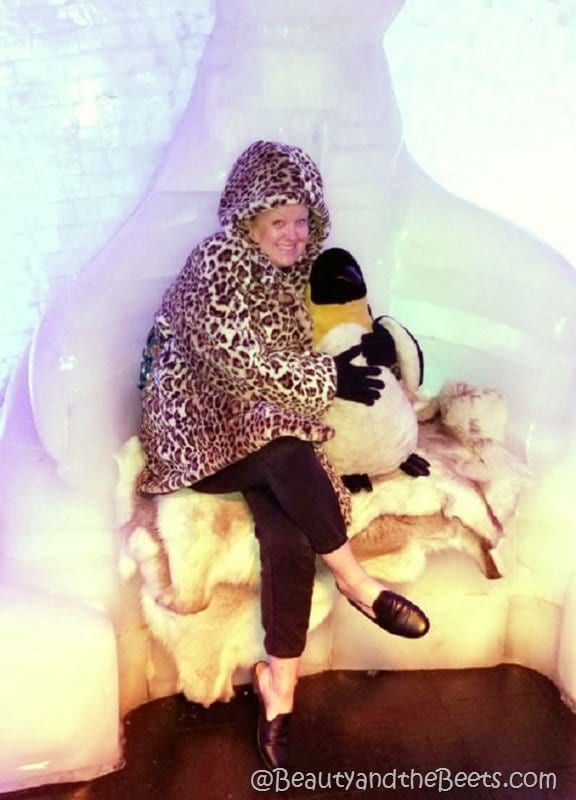 We picked up our fur coats and ventured into the freezing ice bar area. It's small but spacious with a few tables and bar stools scattered about.
There are a few fun photo ops inside but the main attraction is the bar itself. All the drinks are served in frozen ice shaped glasses. When you order another drink, you can receive $4 off your bill by reusing your glass.
I am not going to lie. It's cold. We stayed about 15 minutes before I had to go outside the ice cave to warm my feet up (I am fairly intolerant of the cold, I am a Floridian after all) However, you are allowed to warm up and re-enter as many times as you like. We went back in a few times to enjoy the atmosphere.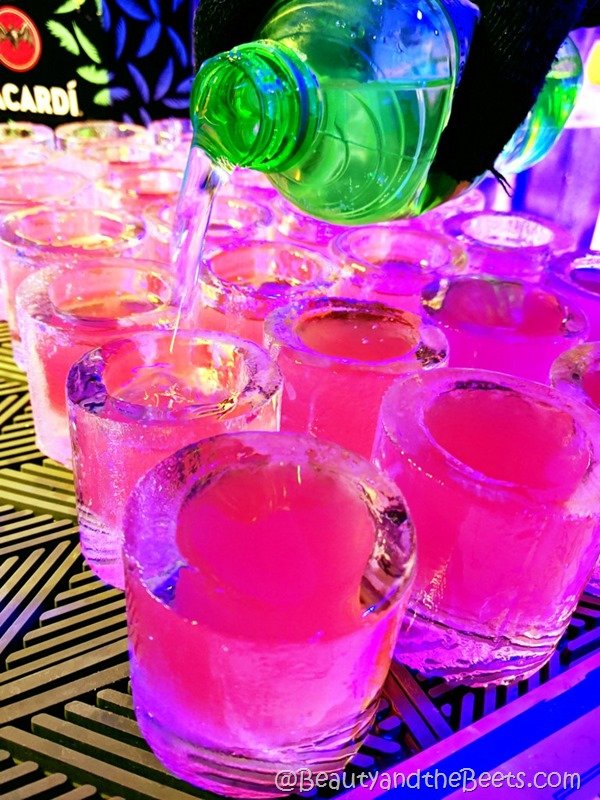 ICEBAR Orlando will also soon be renovating the ice cave as well so expect some changes coming soon. And beware, since all the surfaces inside the ice bar are made of ice, keep a steady hand on your drink glasses as they slide around quite easily. But it's so fun!!
Details
ICEBAR Orlando opens their doors daily at 5pm.
Children ages 8 and up are allowed inside the Fire Lounge and the Ice Bar until 9pm. At 9pm, the entire venue turns into 21 and over only.
Admission to ICEBAR Orlando is free for the Fire Lounge. The cover charge is $19.95 to enter the Ice Bar area, however, keep an eye on the ICEBAR Orlando website as they often offer discounts and specials.
The bathrooms are not in the freezing part of the venue. (This is important, right?)
There is plenty of free parking behind the building.
*I was hosted by ICEBAR Orlando to experience the food and drinks. However, all opinions are my own.*