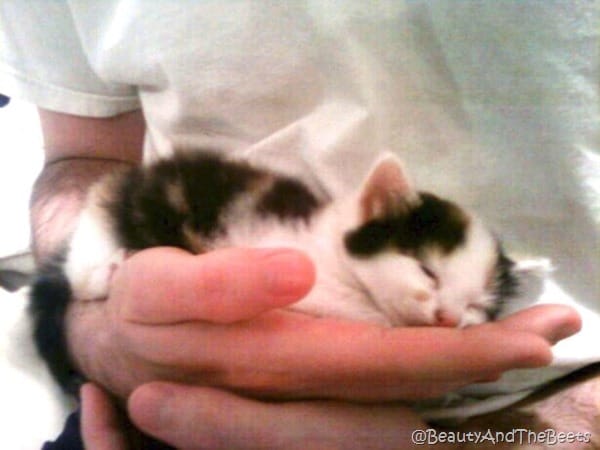 Meet Lenore Raven Poe. She was found next to the Edgar Allen Poe house at Halloween Horror Nights at Universal Studios. She was being passed around our Poe cast and she seemed to be relishing the attention. The cool thing was that we were all dressed as scary looking people- some of us have axes in our heads- some have us have very elaborate scary makeup but none of that phased her. A few people were making phone calls to see if they could take her home but it wasn't looking like she was going to have a warm home for the night so…..I couldn't resist. I had not called Mr. Beet and warned him about my new friend- at 1am Mr. Beet was sound asleep- I woke him up- I introduced them to each other. Mr. Beet was quite taken by this tiny little furball. We named her Lenore Raven Poe  after some of the characters in the poems of Edgar Allen Poe, as well as characters in the Poe haunted house.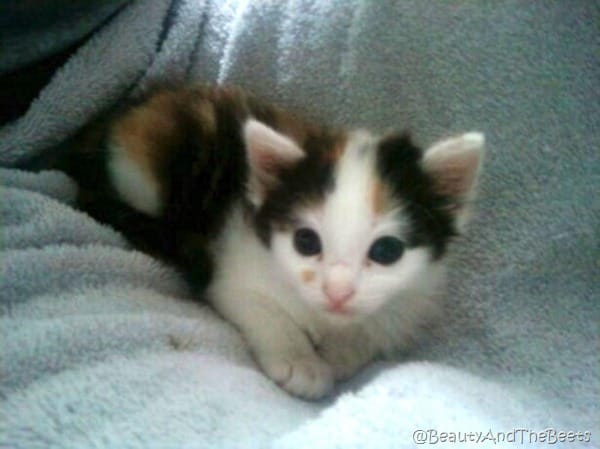 This morning we took her to our vet and this is what we learned about her-

She weighs 13 oz.
She is about 3-4 weeks old
She does not like the vet anymore than my other 2 furballs do
She HATES the taste of bananas

Her worm medicine was banana flavored and she made quite a face when the doctor gave it to her. Overall, she had a good bill of health- she has to eat a milk formula mixed in with her food and we have to "stimulate" her. We basically have to "train" her to potty by rubbing a wet paper towel on her hiney and it will eventually teach her to go to the bathroom. Usually this is the mother licking her hiney to teach this so the wet paper towel simulates the "stimulate."

Of course, acquiring a new furry child means an excellent reason to visit the pet store. We picked up the milk formula, wet kitten food and a new toy (naturally). We had gone straight to PetSmart from the vet office so we had our little bundle of joy with us and EVERYONE wanted to pet her. She was very popular today and all the attention exhausted her- she has been sleeping most of the afternoon/evening. She did eat, play with a ball, play in a box and is very slowly starting to know her brother and sister (though brother and sister are NOT happy- and they take every moment to hiss at each other and at us just to show us how displeased they are). So here are a few more pictures-

Well, WE (much to Mr. Beet's displeasure) are off to "stimulate" – this should make for a great second post. We'll take pictures just for you! Chow!!