The Kalahari Resort in Sandusky, Ohio has so many things things to do under one roof – from the indoor waterpark to the animal park safari to the arcade. Throw in a selection of gift shops and eateries and you never have to leave the resort. But what if you want something a little more diverse than pizza and burgers? Well, there are a few full service restaurants on property – one of which is the Ivory Coast Restaurant that I recently visited on a trip to Ohio.
The menu varies greatly – from pancakes and waffles for breakfast to pasta and rib eye steaks for dinner.
Mr. Beet tried the stir fry – Jasmine rice, broccoli, snow peas, bell peppers, bok choy, water chestnuts, onions, carrots. For a nominal charge you can add chicken, shrimp, or steak. Mr. Beet kept his Vegetarian and ordered the teriyaki sauce. He loved it. I tried a bite and it was very tasty.
Along with a Caesar salad, it was a perfect meal for him.
I had the Vegetarian Melt – a portobello mushroom, broccoli, red peppers, spinach, artichoke and Swiss cheese on toasted Focaccia bread. It wasn't very big for the price, but it was very good. Thankfully I also had ordered a small Caesar Salad as well, so in the end it was filling.
We opted out of dessert but they had some good choices. We instead ended up with chocolate from the lobby chocolate shop.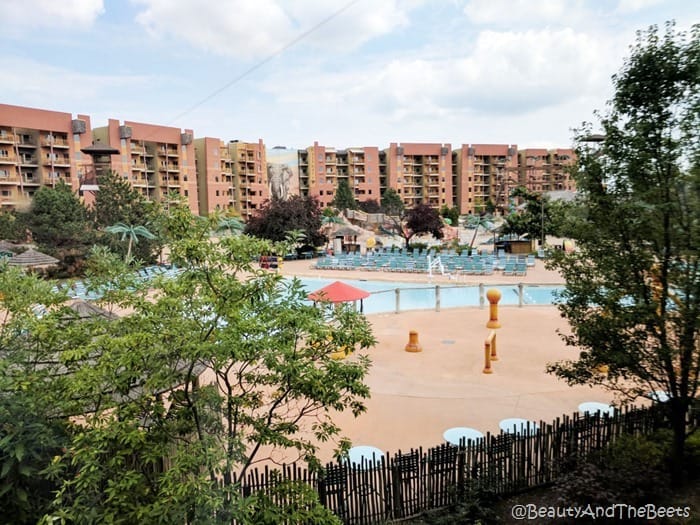 The Reserve Restaurant is the other full service outlet on the property but they are only open for dinner, and only during peak season. So the Ivory Coast Restaurant is your best option if you want something more than counter service. Ask for a table by the window for a great view of the resort and the pool. 4 out of 4 sprouts.
Ivory Coast Restaurant at the Kalahari Resort Sandusky website