I was supposed to complete my first half marathon in Savannah in 2011, only I ended up with the flu. So I decided to make it one of my goals to try again and finish a 13.1 mile race by the end of 2012. I had also told Chad I was going to do my half marathon at the same time he was going to run his next full marathon. Instead of making the 5 hour drive back up to Savannah this year, we opted to drive just 2 hours north to Jacksonville, Florida. The event itself was much smaller- only about 4,000 people participated in Jacksonville as opposed to over 17,000 runners that made the trip to Savannah.  Jacksonville Marathon- arriving in town.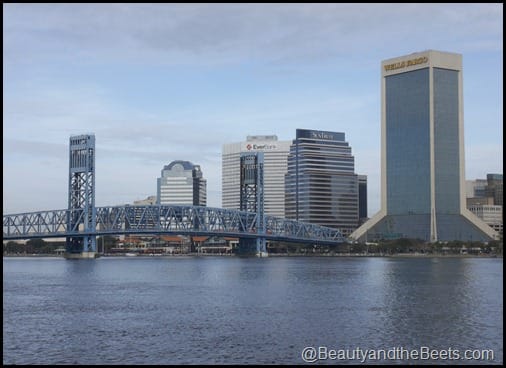 Another decision to choose Jacksonville is that because it was a shorter drive we would have a little more time to explore the area.  We drove up on a Friday a few weeks before Christmas and arrived at our hotel in the early afternoon.  I had chosen a hotel that was very close to the downtown area of  city so that we could do a little sight seeing and not have to venture too far away from our "home" base.  We also didn't want to do too much walking around as we were going to be running our race in just two days.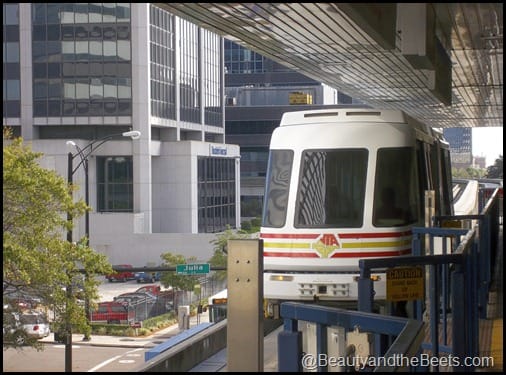 Just behind the hotel is a train called the "Skyway" that is operated by the Jacksonville Transit Authority.  This could take us straight across the St. John's River into the center of the city. It is basically an unmanned monorail that sits about three stories above the street on an elevated track. Currently it is free to ride. The Skyway isn't a very extensive system- basically just shuttles people a few miles across the river into various areas downtown.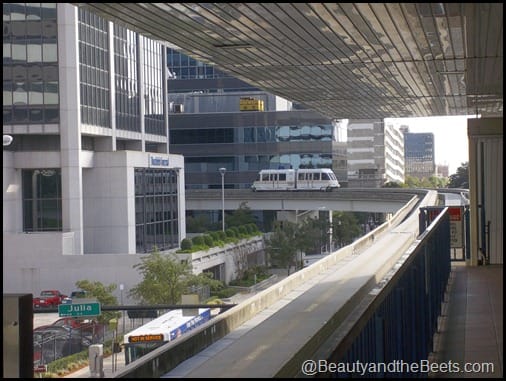 We rode into the center of town then set off on foot to find a restaurant I had seen online that had a nice selection of both vegetarian and vegan sandwiches.  Well, from the Skyway stop to the door of the European Street Café was about 2.5 miles.  Sure, there was a trolley we could take to get us most of the way there but hey- we were gearing up to walk/run 13.1 and 26.2 miles respectively in just a few days so a little more "training" wouldn't hurt.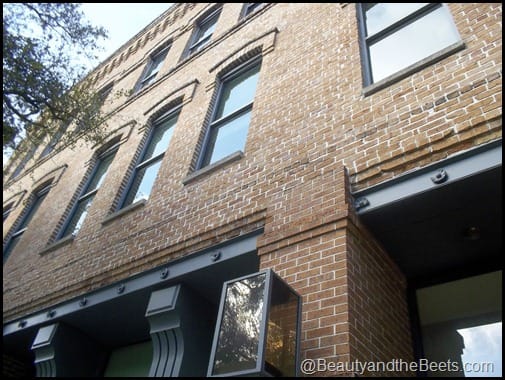 Jacksonville is cute.  Once you start to step away from the tall bustling glass and concrete skyscrapers of downtown you come across some really eclectic and older neighborhoods with some quaint and unique houses.  That is always my favorite part of exploring a new city- just walking around into the different neighborhoods and getting a feel for the "local" life.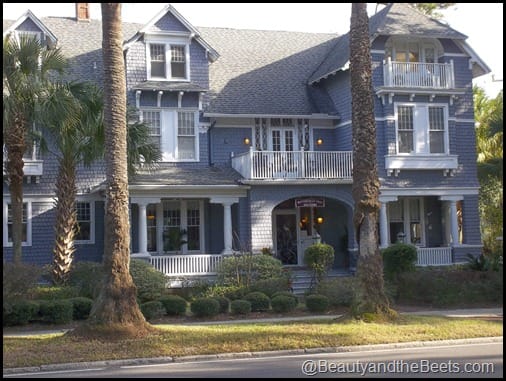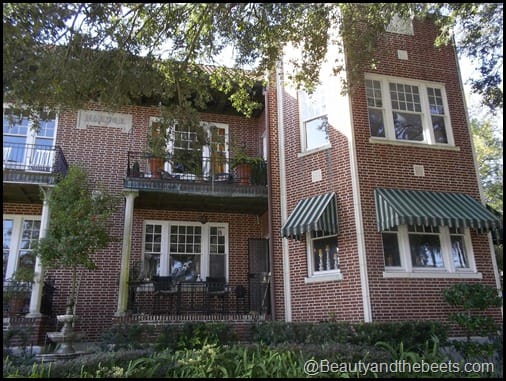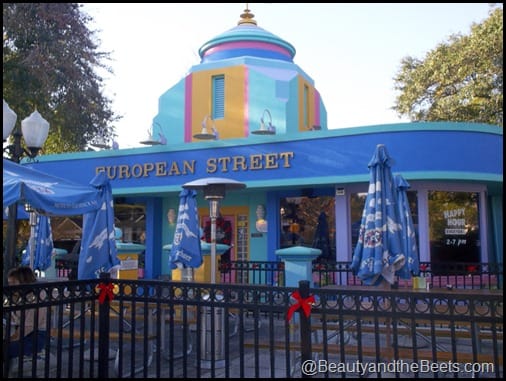 We finally arrived at our destination and had a so-so lunch (read about my review of European Street Café here.)
Chad had ordered a tuna and tabbouleh pita (and was served the wrong sandwich) and I had ordered a vegan reuben (served with stale bread.)  It wasn't the worst lunch in the world but it also wasn't the best.  No worries- I knew we still had a few days to find some great eats in Jacksonville.  We then walked the 2.5 miles back to the Skyway station and rode it back to the hotel.   We were tired and ready for some sleep……I was worried that my feet were sore from just walking a short 5 miles – how was I planning on making it through a 13.1 mile half marathon?
As race day drew near I was really starting to get nervous.  I was nervous I wasn't going to start the race at all because I was going to get the flu again, I was going to sprain my ankle, I was going to chicken out……………..tune in for day 2 next time as the countdown to the race continues….