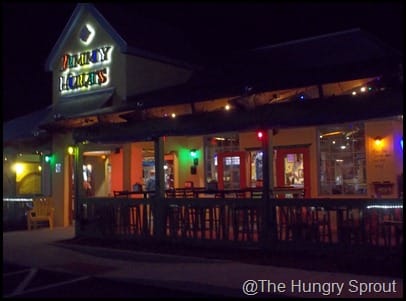 Jimmy Hulas is a place that claims to have great burgers- I can't vouch for that- we went straight for the fish tacos.  I can vouch that they have the best fish tacos in the area.  My very first fish taco was at a place called Rubio's in San Diego. A place that claims to have served the first fish taco ever in the United States. It was good…it was interesting….something new.  Now, ten years later fish tacos are almost the norm on most menus.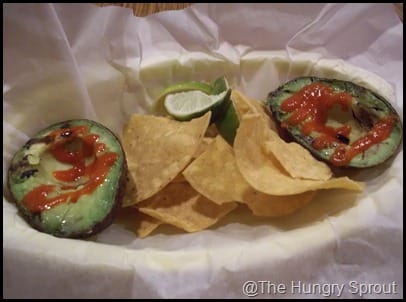 The place is colorful…usually pretty crowded. You order at the counter then sit at a table where they will bring you the food as it is ready.  Start with the Fire Roasted Avocado.  It is served with a sriracha sauce- just spicy enough to give the avocado a kick- not too much that you will need a diffuser.  Pretty delicious.  I don't think I would have ever thought to roast or bake an avocado until now.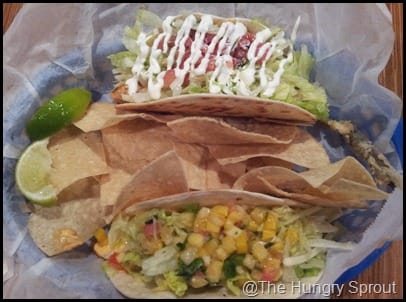 There are many options for ordering the fish tacos.  You order them separately so you can mix and match different flavors like the Big Island (Spring mix, mandarin oranges, pineapple-mango salsa and a lava sauce) or the Killer (cabbage, jack cheese and a Habanero sauce.)  We ordered the VooDoo (lettuce, pineapple-mango salsa and a spicy VooDoo sauce) and the Malibu (guacamole, jack cheese, lettuce, salsa and sour cream.)  I can't tell you which was better. What I can tell you is that they were both the best fish tacos I have ever had in Orlando.  They were perfection.  I wouldn't and couldn't change a thing.
Paired with a side of green bean fries and a side of sweet potato fries.  Yummy.  One word.  That's all.  The sweet potato fries were thick and hearty.  The green bean fries were coated in a little too much crispy batter but the sauce was spicy and tangy and was a great accompaniment.
I also ordered the Shrimp Po' Boy sandwich.  It had quite a kick with the VooDoo sauce. The shrimp melted in my mouth.  I could eat a plate of just the shrimp without the bun or the lettuce and tomato and it would make a great meal.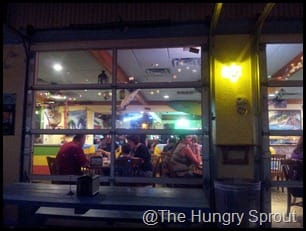 Other items on the menu include a selection of burgers topped with anything from grilled pineapple slices to a fried egg to a meatless portobello version.  They also serve chicken and steak tacos, salads and rice bowls.  There is also a great selection of beers. Four out of five sprouts- both locations don't have enough indoor seating for everyone.  Not such a bad thing though- it just shows that people flock to great food.  There is also not a huge selection for vegetarians.  One of the only veggie items was the portobello burger.  Very fun and Caribbean themed atmosphere.  I feel like I am in some beachside shack on the ocean somewhere.