I love Mexican inspired foods. The cuisine is really so simple- pick your vessel, whether it be a flour tortilla or corn chips and add rice, beans, and vegetables.  I also love when Mexican inspired restaurants keep it simple and to the point. Like this: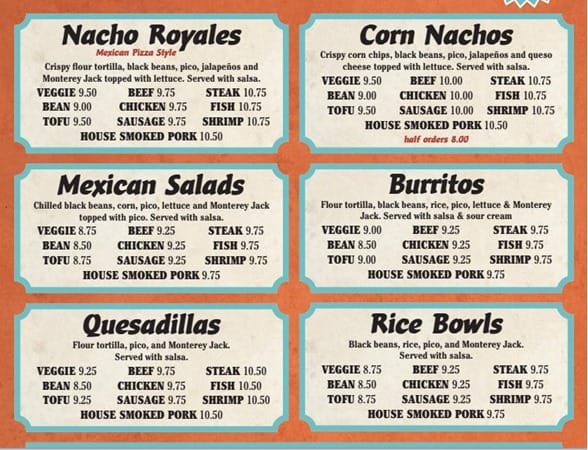 Don't complicate things with fancy dishes and try to be so out of touch. Keep it simple silly. Juanita Greenberg's Nacho Royale does just that. Simple and to the point. However, you think you are ordering a plate of nachos, but what are getting is a giant platter of nachos.
Who wouldn't want nachos for dinner?  However, there are other things to have for lunch or dinner – like  burrito or a rice bowl.
Rice bowls are simple, right?
Coupled with complimentary nachos and salsa, you will certainly get your fill of chips at Juanita Greenberg's Nacho Royale.
The service is great, the atmosphere is fun and the food is delicious. So what are you waiting for? Juanita Greenberg's Nacho Royale is a fun time. 4/12 out of 5 sprouts.
Juanita Greenberg's Nacho Royale website