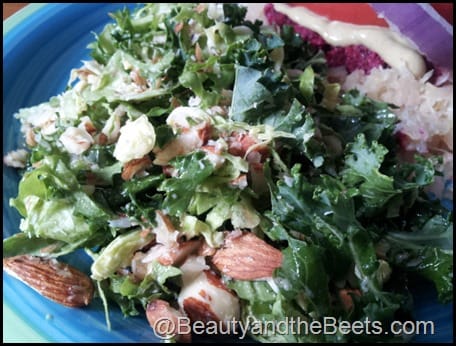 I hope everyone had a wonderful and filling Thanksgiving Day. Chad and I stayed at a nice resort here in the Orlando area and enjoyed a relaxing staycation while Mom was in town. Though we had a very nice kitchen at our condo we ate out quite a lot. That's what you do on vacation anyway right? So now it's time to get back on track….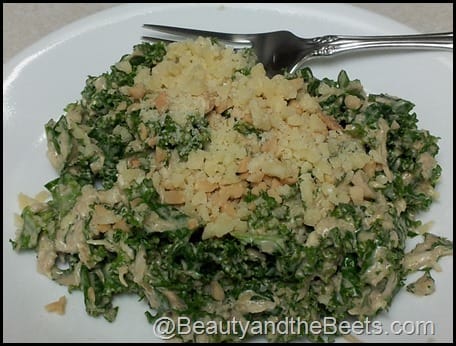 Welcome to Vegan Monday. A few months ago I made a Kale Salad with Peanut Dressing based off the Kale Salad found at the Houston's restaurants and it has been a huge hit so I was up for trying a different Kale salad. Simply enough, I was watching the Thanksgiving Live special on the Food Network and Giada DeLaurentis was making this salad. It combines two of my most favorite green veggies- kale and brussel sprouts. So nutritious and delicious….Giada actually makes hers with gorgonzola cheese which we simply omitted. Giada also had bacon in her recipe which we of course left out.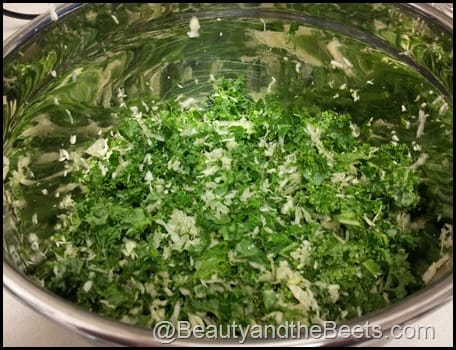 To make it more of a meal, add anything you would add to a regular salad….chickpeas or kidney beans (for more protein), carrots, beets or cherry tomatoes (for color and more vitamins), or alfalfa sprouts for texture. I would even sprinkle flax seeds, chia seeds or nutritional yeast for even more of a boost.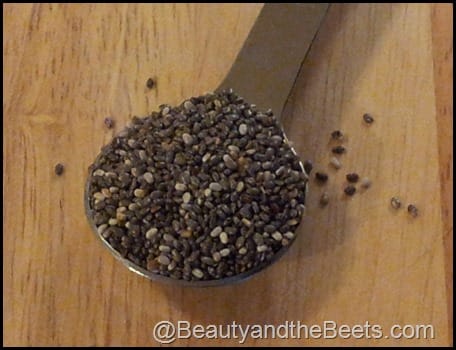 However, I will say this, while I followed the amounts of ingredients in Giada's recipe, it made a lot of salad. The recipe said it only makes 4 servings but it made more like 8 very large servings. Enough for three days as the main entree of lunches and dinners.
The shredder attachment on my food processor was my most valuable kitchen gadget for this recipe as the kale, brussel sprouts and the endive are all called to be shredded. And yes, the brussel sprouts are supposed to be raw. The raw sprouts are very tasty and have high levels of vitamin K, vitamin C and fiber, just as their cooked counterparts. Just peel the outer leaves and cut off the tough stem and they are ready to be shredded.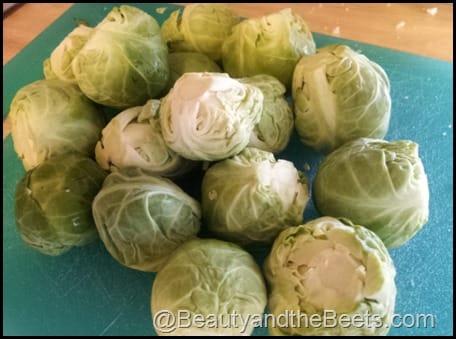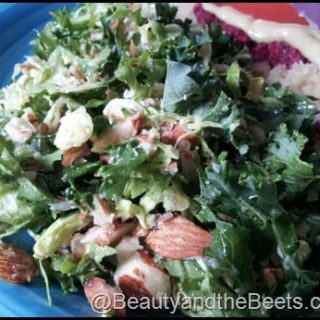 Kale and Brussel Sprout Salad
Ingredients
Dressing:
1/4 cup fresh lemon juice,, about 1 large lemon
1 tablespoon Dijon mustard
1/4 cup extra-virgin olive oil
salt and pepper
Salad:
1 pound Brussels sprouts,, trimmed and finely shredded
1 bunch Tuscan kale,, stems removed and discarded, leaves thinly sliced
1 head Belgian endive,, shredded
1/2 cup sliced almonds,, toasted
Instructions
For the dressing: In a small bowl, whisk together the lemon juice, Dijon and olive oil until smooth. Season with salt and pepper.
For the salad: Place the Brussels sprouts, kale, endive, and almonds in a salad bowl. Add the dressing and toss together.
Cook's Note: To toast the almonds, arrange in a single layer on a baking sheet. Bake at 350 degrees F for 6 to 8 minutes until lightly toasted. Cool completely before using.
What are you making for Meatless Monday?