An easy 5-ingredient Kimchi Quesadilla, makes a great appetizer or serve with a side of vegetables and green salad for a full meal.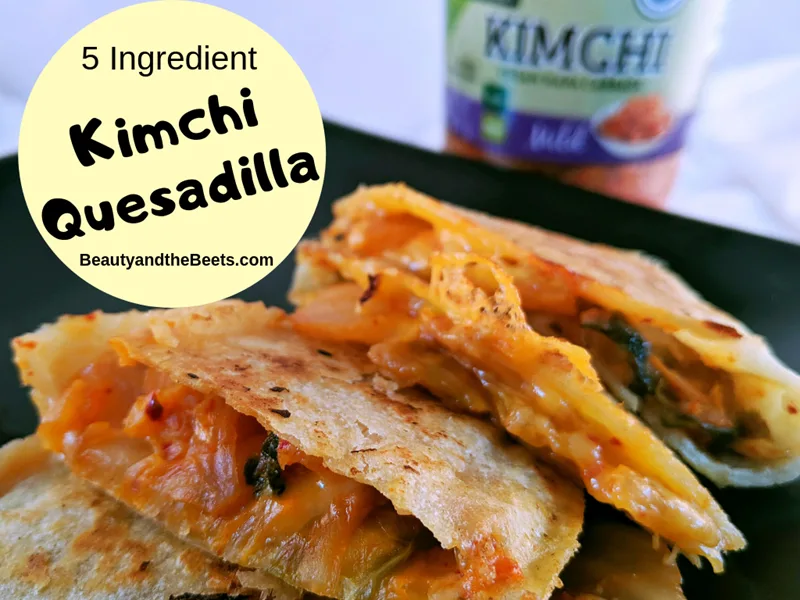 When I was a Flight Attendant at Delta Airlines, I had a long layover in Kalispell, Montana. A place I had never heard of prior to flying. On long layovers, our crew often went out to dinner, one of my favorite times when I got to experience to local fare. Our Captain took us to a place called Moose's Saloon in the middle of town, and treated us to sauerkraut pizza. Yes, you read that right – Sauerkraut Pizza.
To this day, I still love to order pizza with sauerkraut though not too many places offer it as a topping. And every person I have ever had a pizza with thinks I am off my rocker. But here's the thing – you can't knock it 'til you try it. Trying new foods and flavors was and still is one of my favorite components of traveling. You will never find me eating at a chain restaurant when I am in a new city if I can at all help it.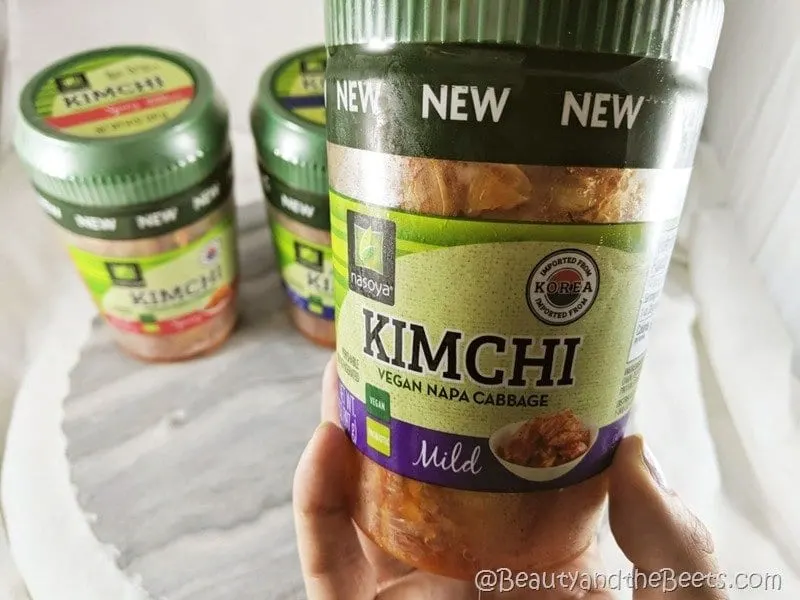 I was recently asked to try a new line of Kimchi from Nasoya, and all I knew about kimchi is that like sauerkraut, kimchi is fermented cabbage. But there are differences in the two.
Sauerkraut versus Kimchi
Sauerkraut means "Sour cabbage" in German and it is made from shredded cabbage heads. Kimchi is a Korean dish made from the stems and leaves of Chinese cabbage. Sauerkraut has a sour flavor, Kimchi is a bit on the sweeter and spicier side. Kimchi is often fermented with garlic, peppers, and spices. The Koreans use more salt and a lower temperature during the fermentation process than the Germans. Sauerkraut ferments for about 6 weeks, while Kimchi is ready to eat after only 3 weeks.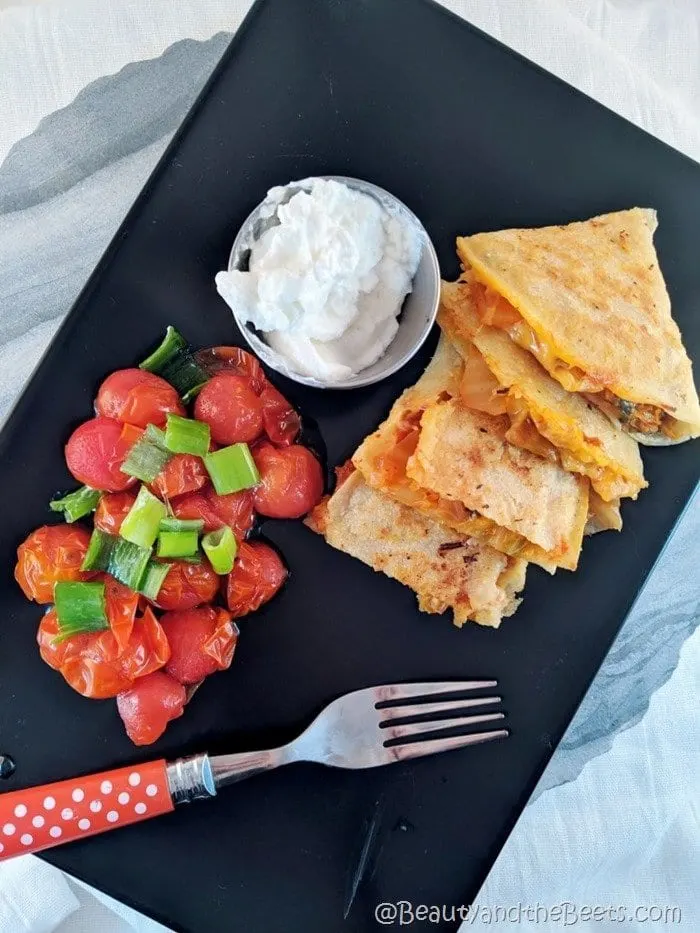 Why a Kimchi Quesadilla?
I love to recreate recipes of foods that I eat while out on the road. I first heard of a kimchi quesadilla while I was researching restaurants for a trip to Juneau, Alaska. The idea of kimchi and melted cheese sounded intriguing. As I started looking up recipes online I learned that kimchi quesadillas really are a thing.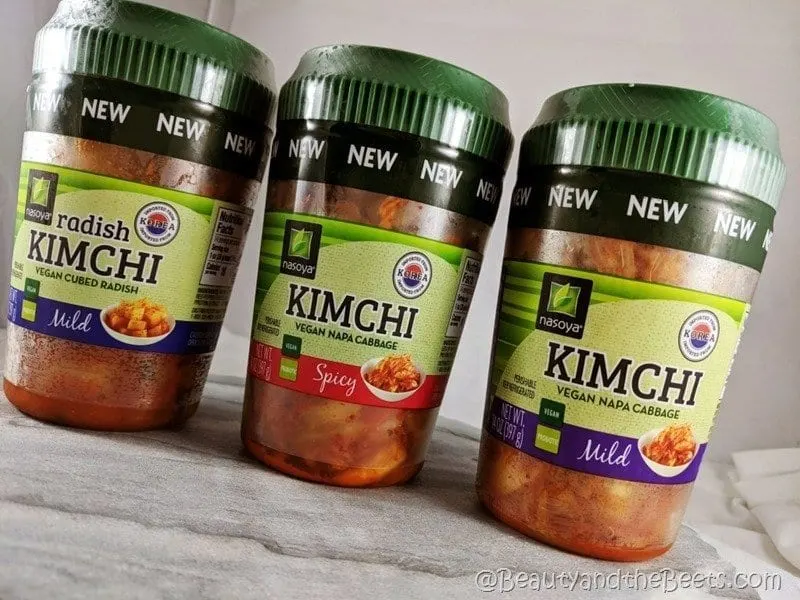 The recipe for Kimchi Quesadilla
So armed with my newly acquired jars of kimchi from Nasoya, I decided to test out the art of making quesadillas with this Korean fermented cabbage. I started with the mild Vegan Napa cabbage kimchi version but there are various versions that would work well in a quesadilla including spicy, radish kimchi, or white cabbage kimchi.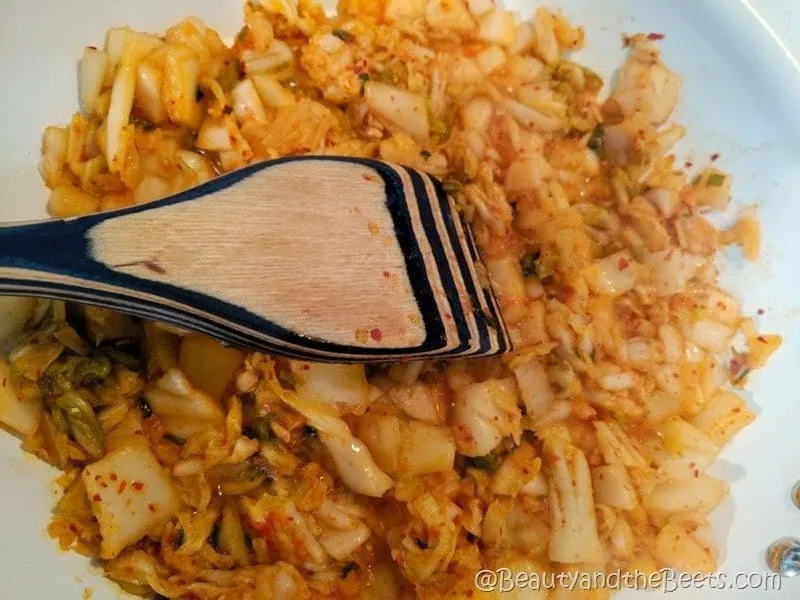 I drained the kimchi and gave it a quick rough chop. Then added the cabbage to a hot pan and sautéed it for about three minutes to crisp the kimchi up.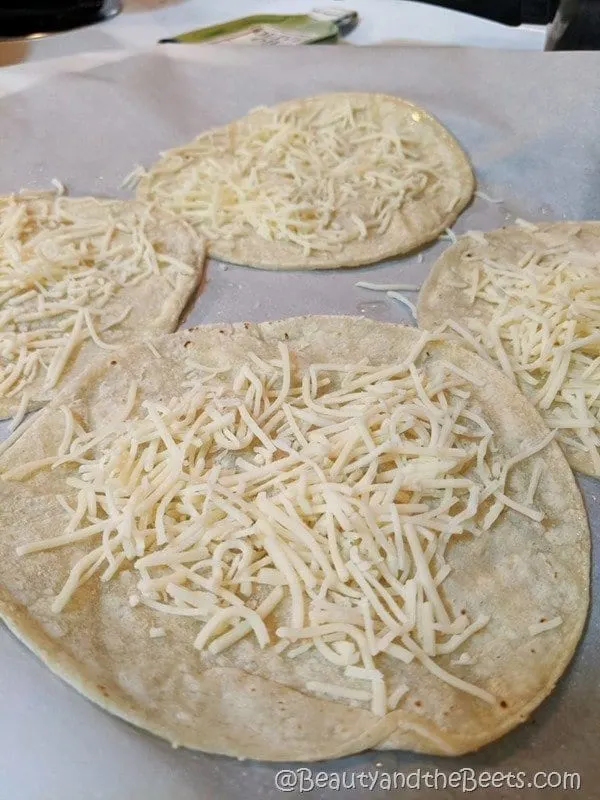 Next, I sprayed both sides of the corn tortillas with grapeseed oil, then built the quesadillas. Monterrey Jack cheese, then the sautéed kimchi, then followed by sharp cheddar cheese.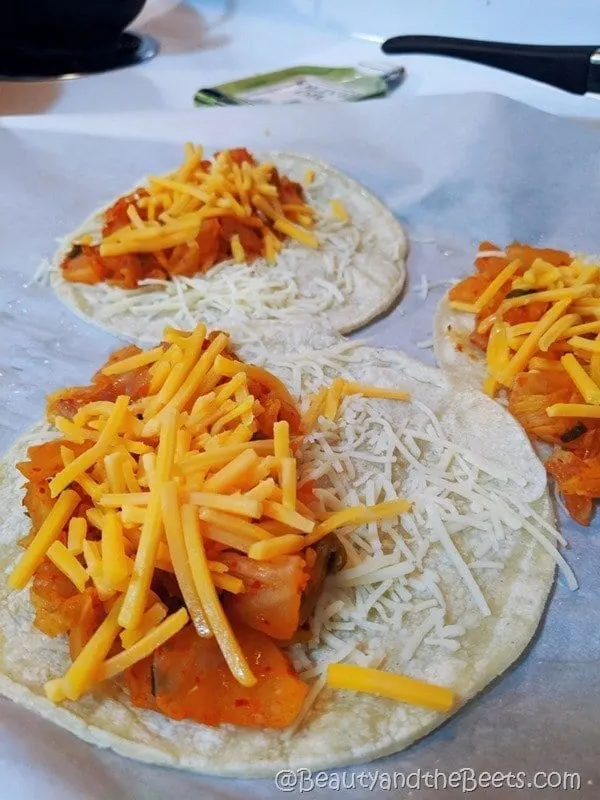 Fold the tortillas in half and cook in a heated pan (I used the same pan that I sautéed the kimchi in) for about 4 minutes per side. Easy, right?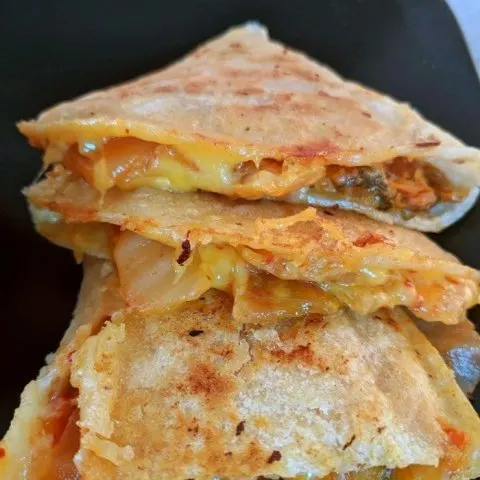 Kimchi Quesadilla
Yield:
4 people, 2 quesadillas each
An easy recipe for Kimchi quesadillas with only 5 ingredients.
Ingredients
8 8" corn or flour tortillas
2 cup shredded Monterrey Jack cheese
2 cup shredded sharp cheddar cheese
spray oil,, grapeseed or olive will have the best high temperature tolerance
Instructions
Preheat a skillet over medium heat.
Drain and roughly chop the kimchi.
Add the kimchi to the preheated skillet, stirring while cooking for about 3 minutes, until the cabbage gets slightly crispy.
Remove the kimchi from the heat and keep in a bowl to cool slightly.
Keep the skillet heated on the stove over medium heat.
On a cutting board or other flat surface, pray one side of the 8 tortillas with the cooking spray, then flip the tortillas over.
On the dry side of the tortilla, divide the Monterrey Jack cheese and sharp cheddar cheese on the tortillas (1/4 cup of each cheese per tortilla).
Divide the kimchi among the tortillas (also about 1/4 cup for each tortilla).
Fold each tortilla in half.
Add the folded quesadillas to heated skillet (you can do this batches).
Cook the tortillas 4 minutes, then carefully flip and cook another 4 minutes (you can spray the tortillas again with the spray oil if you find they are sticking to the pan).
Remove the quesadillas from the pan and let cool slightly. Cut them in half and serve immediately (2 quesadillas per person if using the smaller 8" tortillas).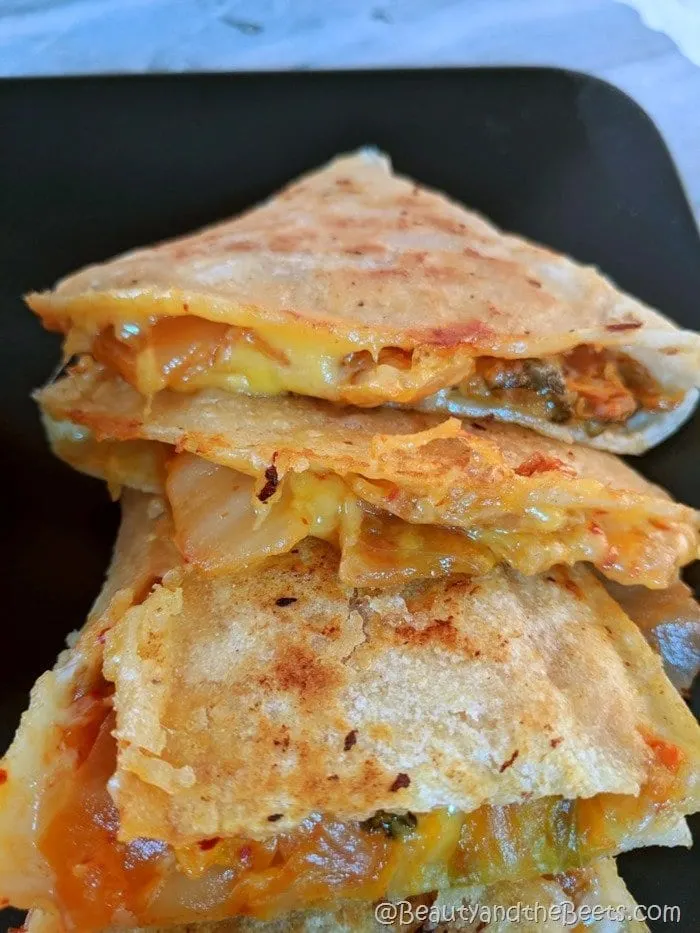 The verdict
I love my quesadillas served with a side of sour cream and these Kimchi Quesadillas were no exception. I think both Mr. Beet and I agreed the quesadillas were delicious with a small dollop of plain full fat Greek yogurt (which is my low calorie go to instead of full fat sour cream). I loved the combination of the tangy sharp cheddar cheese with the acidic and pungent kimchi. The sour cream lent a creaminess the quesadilla was missing.
I will say that Mr. Beet is not a fan of sauerkraut but he really liked the kimchi, even in a quesadilla.
If you aren't sure about using kimchi in a quesadilla, you can start small by topping a hot dog with it, or adding it to rice. Or, be bold and use kimchi as a pizza topping!
Pin this graphic below to save this recipe and if you make it, tag me on Instagram (@BeautyandtheBeets)! I would love to hear what you think!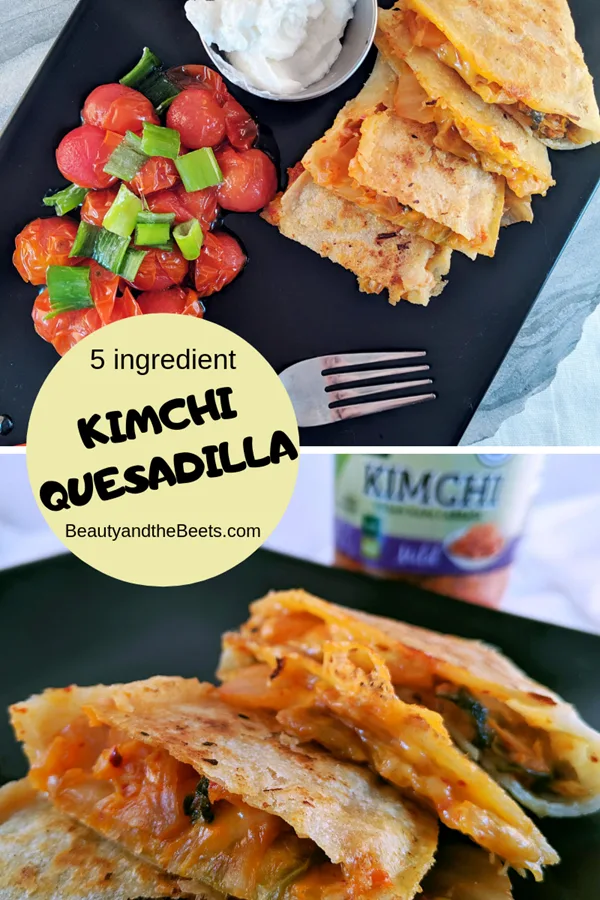 *Disclosure: I have partnered with Nasoya's Vegan Kimchi to create this recipe. I have been compensated for this post though all opinions are my own. For more information on Nasoya and their line of Vegan kimchi, tofu, and other products please visit the Nasoya website here. *