This past weekend I attended an event at Lombardi's Seafood, located in Winter Park, FL. Lombardi's has been a wholesale and retail seafood market since 1961, while founder Tony Lombardi Sr. started his seafood career in 1950, working as a deckhand for a shrimping fleet. Now in its third generation, Lombardi's is known for providing high quality seafood from sustainable sources to the Central Florida community and beyond.
I have always known Lombardi's was a place to find a variety of fish, shrimp, oysters and other seafood, but I learned there is also a cafe within the market. And they are serving up some wonderful dishes like lobster rolls, fish & chips, crab cakes, and a variety of seafood baskets like flounder, clams and oysters. Soups like Maryland crab soup, Lobster bisque and New England clam chowder are available daily. There are also daily fish specials like monkfish, lionfish and Amber Jack. Always something new.
The event I attended was called From Fishin' Line to Kitchen Line: 3-course Interactive Fish Tale. Guest Chef Bob Aungst, known as Orlando's Gluten-free Chef, and Chef Chris of Lombardi's threw quite a culinary bash. We were first presented with a variety of ceviche dishes, from Corvina to Swordfish to Yellowtail Snapper. The ceviche was amazing. (If you are wondering about the Canadian and United States flags in the picture it is because the day of the event was Canada Day and three days before our own Independence Day here in the U.S.A.)
Next up was our first course- the Moules Frites. French for mussels (moules) and fries (frites), this was my favorite of the entire event. But I adore mussels. These were steamed mussels with a garlic, white wine, and butter sauce served with a side of French fries. This is a popular but secret Lombardi's family recipe. And the fries were thin, crispy and lightly seasoned. Perfect.
I only needed some crusty bread for dipping into the broth and I will have the perfect lunch next visit.
Course number two was a variety of seafood tacos. We were served three a piece, with each plate being different. Mr. Beet had a cod, salmon, and mahi mahi taco plate; while my plate had a shrimp, grouper and tuna taco.
I loved the shrimp taco the best as the shrimp were super plump and topped with matchstick apples. The mahi mahi taco was also delicious topped with a trinity salsa of tomatoes, onions and peppers. And the tuna was ahi style in a crispy wonton shell with avocado.
All the tacos were amazing.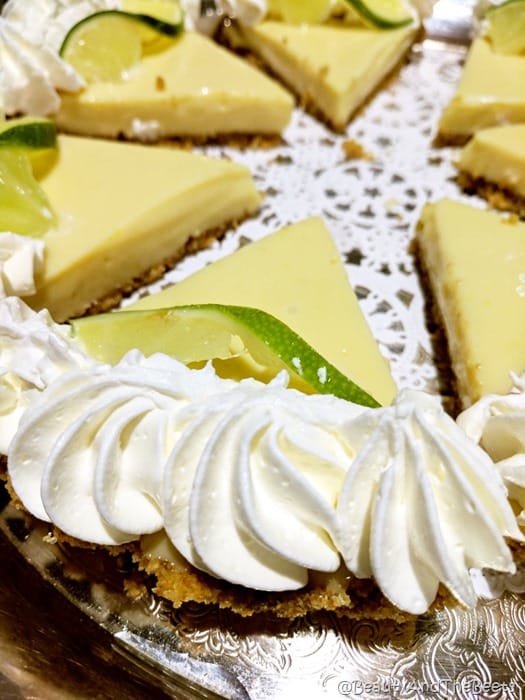 Our meal ended with our third and final course – dessert. One our menu stated "prepared as originally intended", we enjoyed Key Lime Pie. Super tart and familiarly sweet, just as delicious as anything you would find in Key West, a place famous for its Key Lime Pie. We may or may not have taken some of that pie home with us as Mr. Beet loved it.
We also had the opportunity to enjoy gluten-free beer from Omission Beer, of Portland, Oregon. The Vintage Dish, a local company in Orlando provided us with fancy dishes, like those awesome clam shell dishes in the ceviche pictures.
[bctt tweet="Have you visited the cafe at @lombardiseafood in Winter Park, FL? Try the Moules Frites or the Lobster Roll #GreatestFishTale" username="BeautyandBeets"]
Lombardi's is now run by the brother and sister duo of Michael and Denise Lombardi. As we enjoyed each course, we were treated to the "fish tales" of the business by Michael Lombardi. From the history and traditions of Lombardi's Seafood, to the art of purchasing and selling high quality seafood, to matter of wild caught versus farm-raised seafood (hint: wild caught is not always the way to go), it was obvious the passion Michael had for the business.
Starting in August, the cafe will have extended hours on Friday and Saturday nights. August will also mark the beginning of regular special events, like crab boils, lobster dinners, and educational seminars.
Get all the information you need regarding location, the full cafe menu and hours of operation here at their website –> Lombardi's Seafood.
For special event announcements follows Lombardi's on Facebook or Twitter.