We have so many fun activities to do in Orlando, things that are not at a theme park. We have an entire city that most of the tourists never see with theatres, beautiful gardens and museums. We even have our own symphony orchestra and award-winning ballet company. Celebrity Chefs flock to Orlando to open restaurants, we are never without a convention in town. In other words, Orlando is a happening and hopping city.
I had the opportunity to spend an afternoon at one of Orlando's newest attractions – Main Event Entertainment at the Pointe Orlando complex on International Drive. This 45,000 square-foot "funhouse" is the 30th installment of the Main Event Entertainment corporation. The first location opened in Dallas, Texas in 1998. The Orlando outlet features over "100 cutting-edge, interactive and virtual games, state-of-the-art bowling, virtual reality experiences, a challenging high ropes adventure course, and billiards." (MainEventEntertainment.com)
[bctt tweet="Visiting Orlando and want something to do other than visit a theme park? Check out Main Event Entertainment at Pointe Orlando #EatBowlPlay" username="BeautyandBeets"]
I was invited to a media event so we were given fun cards to experience any of the games, bowling, ropes course, billiards and the virtual reality arena. But first, we ate. A lot.
We were served a huge selection of items from the chef-inspired menu. We are not talking pizza and wings here- try gourmet items like Skillet Mac and Cheese with smoked chicken and bacon, and the ever popular Chicken and Waffles. Some of my favorite items were the Sunnyside Up Burger, a half pound burger with a fried egg, avocado and bacon; and the Colossal Pretzel with cheddar cheese beer sauce.
Grilled Salmon, Chicken Primavera and Chicken Street Tacos were other popular dishes we tried. Everything was pretty amazing, definitely not something you may expect at a "bowling alley." (Check out the full menu here)
However, only a bowling alley this place is not, though there are two areas of tenpin lanes; one is semi-private, perfect for small groups and parties; and another located closer to all the action.
And by action I mean the hundred or so video and interactive games, from the world's largest Pac Man machine to Simon Says-inspired piano keys to hoops and skeetball. Billiards and air hockey are some of my favorite games. What are your favorites?
One of my favorite adventures was the Gravity Ropes, an obstacle course above all the gaming action.
Perhaps the most popular of all the attractions here is the V Play Reality – a virtual reality arena featuring three different games, each scarier and more exciting than the other. Fight zombies, robots and killer drones while defying gravity with twisty walls. Scary, but so much fun.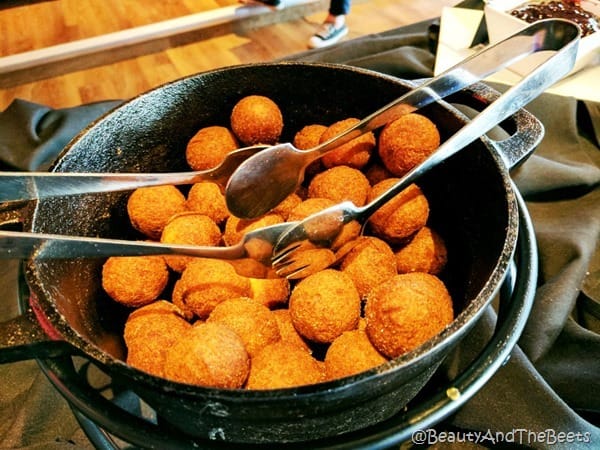 We closed out our afternoon by enjoying dessert – Cinnamon Donut Holes with raspberry and salted caramel sauces.
Main Event Entertainment also offers a full bar with a large selection of beers and specialty cocktails. The Strawberry Mojito is popular, as are the many variations of alcoholic teas. And there are plenty of kiddie cocktails like this Cookies and Cream Shake.
Sign up for a Fun Account and receive a $5 Fun Card to start your Fun adventure. (<– There's a lot a Fun there in that sentence!)
Main Event Entertainment is also a great spot for birthday parties, Bachelor and Bachelorette parties, celebrations, school and team building events.
For more information on Main Event Entertainment and to find a location near you, visit the website –> Main Event Entertainment