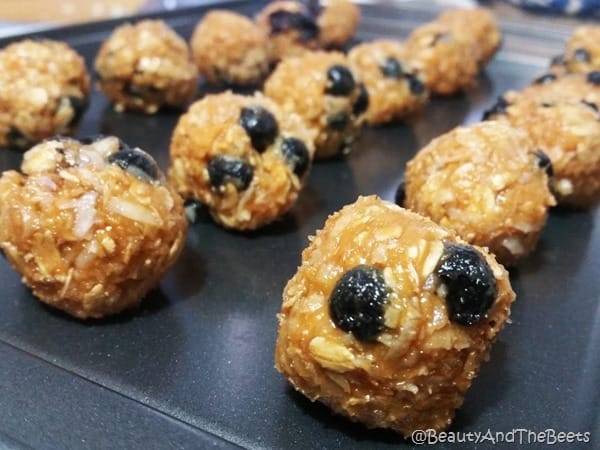 A few months ago I posted a recipe for Almond Butter Energy Bites and they became pretty popular across social media. And since then I have had several requests for a few variations so I came up with these Maple Blueberry Oatmeal Energy Bites – mostly in a haste to use up a few pints of fresh blueberries I had in the house. I find these to be the perfect snack – just grab a few bites and go. Or pack a few in Tupperware and enjoy on your morning commute. They are portable, full of protein you need for energy, and delicious!! And, the best part is – they are as easy to make as they are to eat.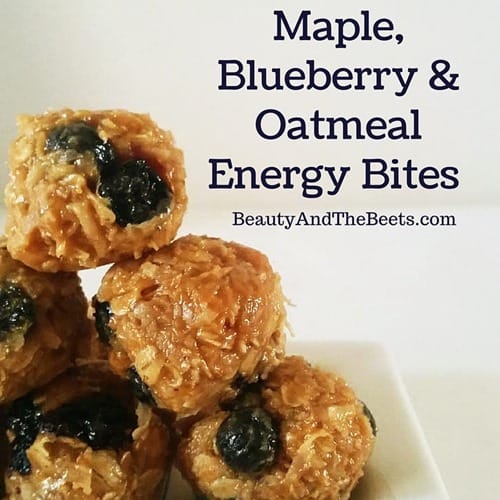 While there are many varieties to this- using hazelnut butter instead of almond butter, honey or agave instead of maple syrup, strawberries or blackberries instead of blueberries….you are really only limited to your own imagination of ingredients. Peanut Butter would turn these into Peanut Butter and Jelly balls and surely all kids like peanut butter and jelly, no?
Stored in an airtight container, they will keep for a week in the fridge. However, I have yet to actaully keep a batch in the house that long. Usually, two days is aabout as long as these little bites last here in Beetsland.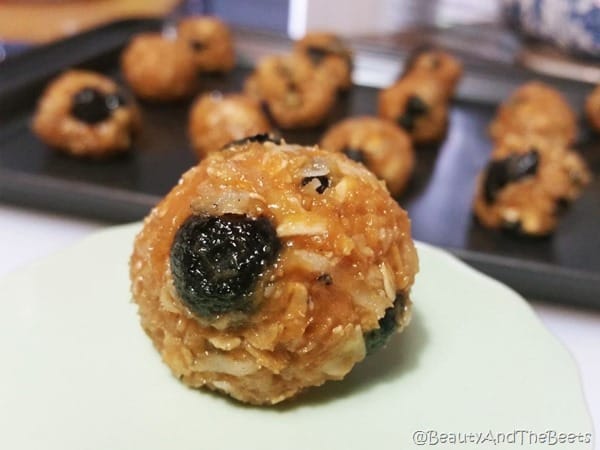 Enjoy these Maple Bluerry Oatmeal Energy Bites and I would love if you would share your variations in the comments below. What would you add or leave out? How would you change up the flavor?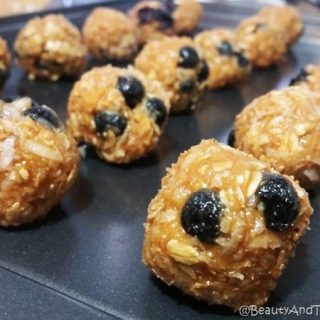 Maple, Blueberry & Oatmeal Energy Bites
Yield:
20 -25 bite sized balls
The perfect breakfast treat for on the go.
Ingredients
3/4 cup sweetened coconut flakes
1 cup fresh blueberries
Instructions
Mix all the ingredients together in a large mixing bowl, careful not to smush the blueberries too much. Cover bowl with plastic wrap and keep in the fridge for about 30 minutes.
Roll the chilled dough into bite-sized balls.
Store in an airtight container in the fridge. They will keep up to a week.
Pin this recipe for later: