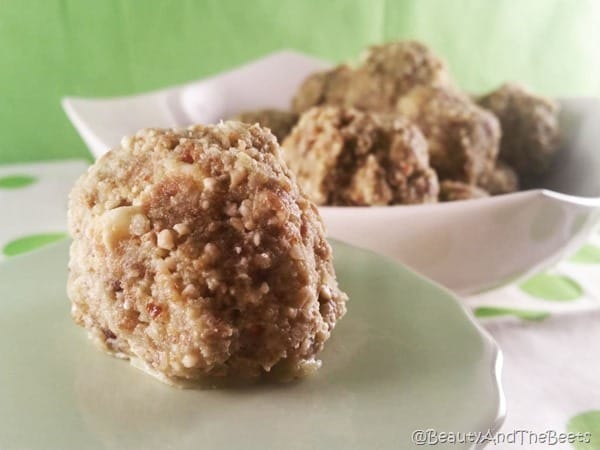 So I am totally in this phase of making little bite sized snacks. Snacks you can pop into your mouth on the go. Snacks you can whip up in just a few minutes with minimal cleanup. Snacks that are healthy and filled with ingredients to give you energy. I made Almond Butter Energy Bites, followed by Maple Blueberry Oatmeal Energy Bites, and now I give you Matcha Green Tea and White Chocolate Protein Bites.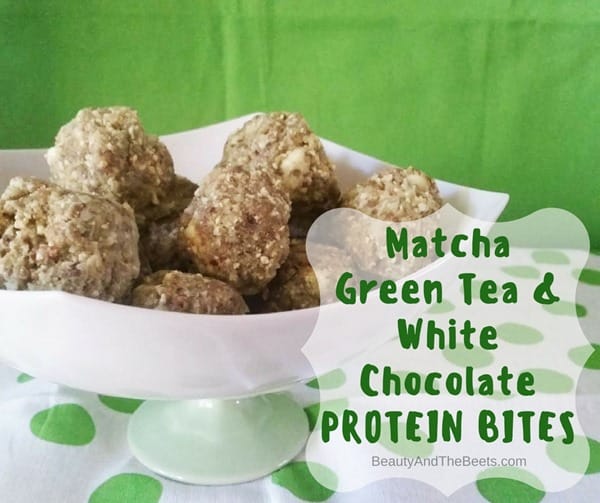 I keep these in the fridge and grab them as a quick pick-me-up mid afternoon or as I am running out the door in the morning. They are packed with energy-inducing ingredients such as powdered Matcha Green Tea and vanilla protein powder. There are plenty of healthy ingredients as well including almonds, coconut flakes and medjool dates. I added white chocolate morsels as well just to sweeten the bites up a bit more, though really the dates and the sweetened coconut flakes do a fine job on their own.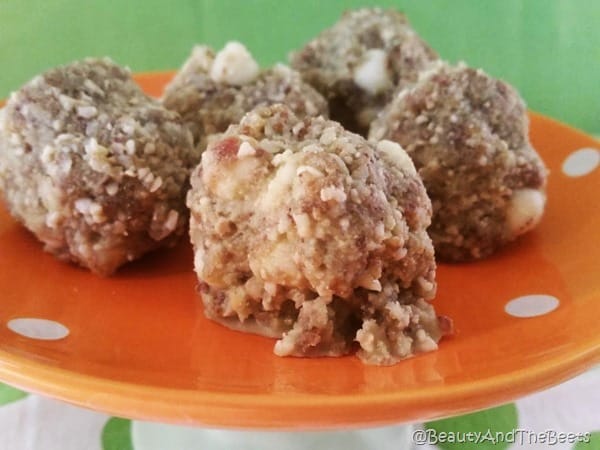 I am a big fan of snacks I can make quickly and easily. These Matcha Green Tea and White Chocolate Protein Bites I whipped up in less than 5 minutes and stashed them in the fridge until we were ready to enjoy them. Often times Mr. Beet and I find ourselves running out the door, racing against the clock and trying to beat traffic. Or I am working from home and hit that 3 o'clock slump and need something quick. I have become obsessed with protein bites.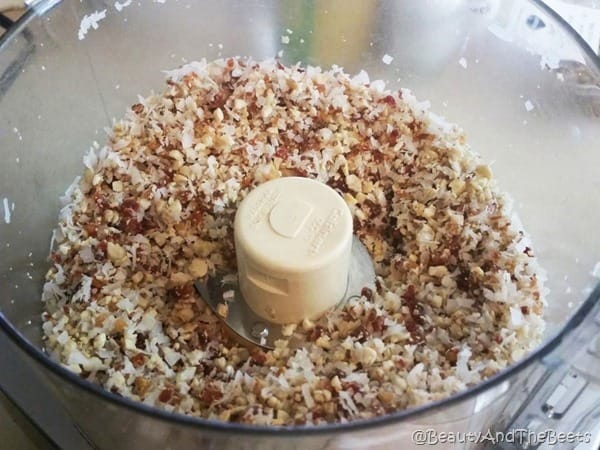 I use my food processor to crumble the almonds, coconut flakes and dates, then add the coconut oil, vanilla protein powder and the Matcha powder. I throw the white chocolate morsels in before I roll the balls so they stay intact. It's just so easy and fun to make.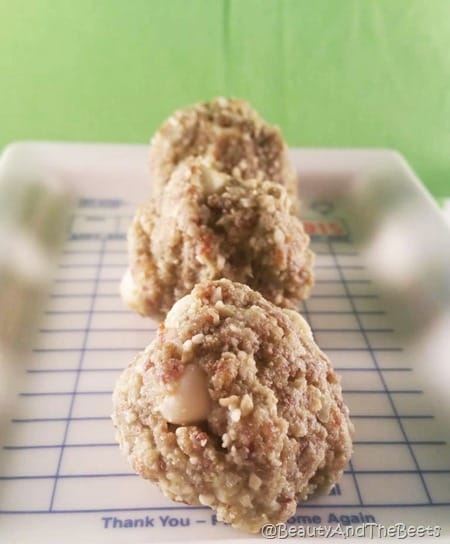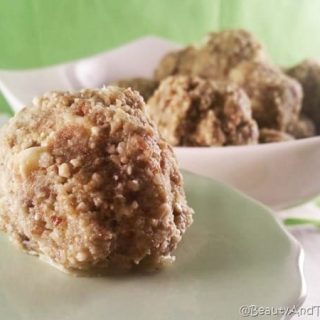 Matcha Green Tea and White Chocolate Protein Bites
Total Time:
1 hour
5 minutes
Ingredients
1 cup raw almonds
1/2 cup sweetened coconut flakes
8 oz. approximately 12 medjool dates, pitted and halved
6 tbsp. melted virgin coconut oil
1/4 cup vanilla protein powder
1/2 cup white chocolate morsels
Instructions
In the food processor bowl, add the almonds, coconut flakes and medjool dates. Pulse until ingredients are finely chopped.
Add the melted coconut oil, Matcha Green Tea powder and vanilla protein powder. Pulse until well blended.
Scoop the mixture into a medium sized mixing bowl and fold in the white chocolate morsels.
Form the matcha mixture into bite sized balls with your fingers and place on a plate or baking sheet.
Chill the bites in the fridge for at least an hour until the coconut oil solidifies.
Pin this recipe for later:

*This post contains affiliate inks- your support is greatly appreciated*