Some people ask the secret to a good marriage. I tell people we take time to go to a restaurant two times a week. He goes Tuesdays, I go Wednesdays.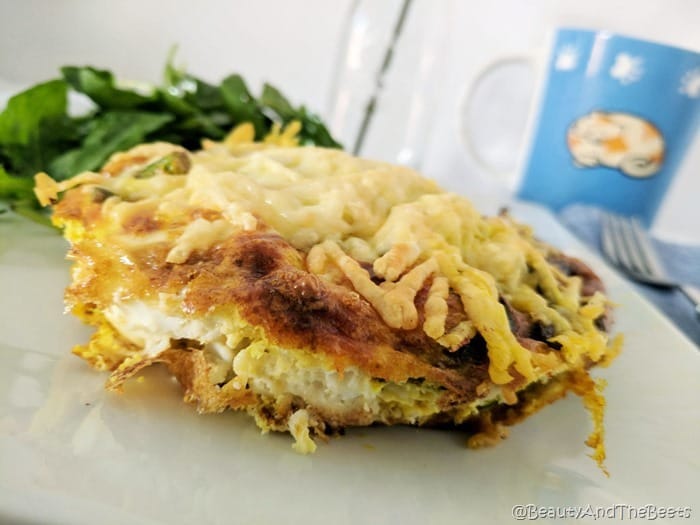 When the cat is away the mice will play. Mr. Beet has been working out of town this past week so I have been having fun making all my favorite dishes that he doesn't like. Basically, he doesn't like anything that has mushrooms in it. So, I made this 10-minute Spinach Artichoke Mushroom Cap one day for lunch. But I think mushrooms should be eaten with eggs. Like in an omelet, or in an egg tart. And by egg tart, it really is just a fancy name for quiche. So I made this mushroom asparagus parmesan egg tart.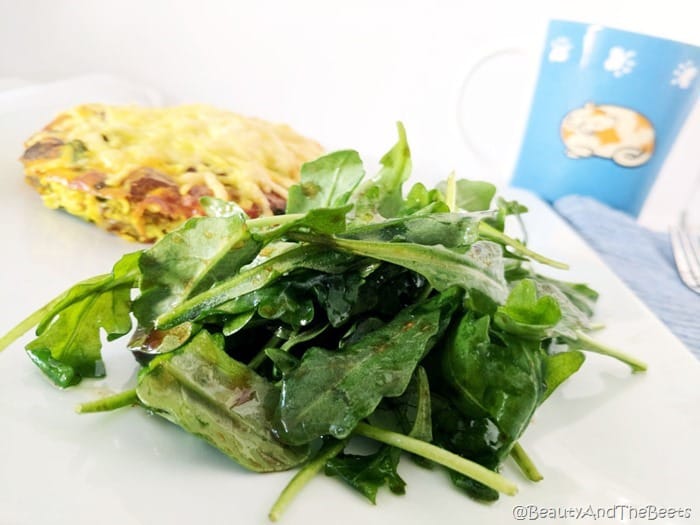 And a quiche with a side of arugula tossed in a light balsamic vinaigrette is so very French. At least that's what they serve in all the French bakeries I go to. Do they eat a lot of quiche and greens in France?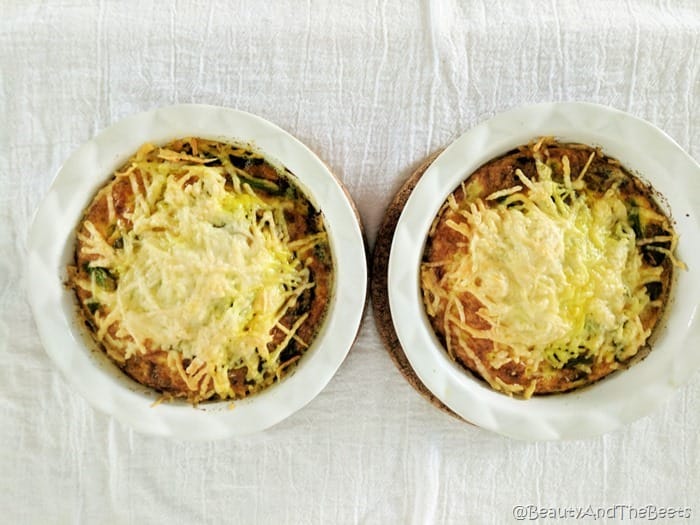 So being that I was on my own for breakfast a couple of days, I decided to make my favorite egg tart with mushrooms, asparagus and parmesan cheese. I also added turmeric as a spice instead of salt. I always try to make my recipes with as little salt as possible and I love the bold flavor of turmeric. Plus it's an anti-inflammatory spice so it is also good for your body. Leave it out if you want, just go easy on the salt.
I also add the parmesan on at the last minute and blast the egg tart under the broiler for a few minutes, just to create a crispy parmesan crust. Who doesn't like a crispy cheesy crust? Well, besides Mr. Beet….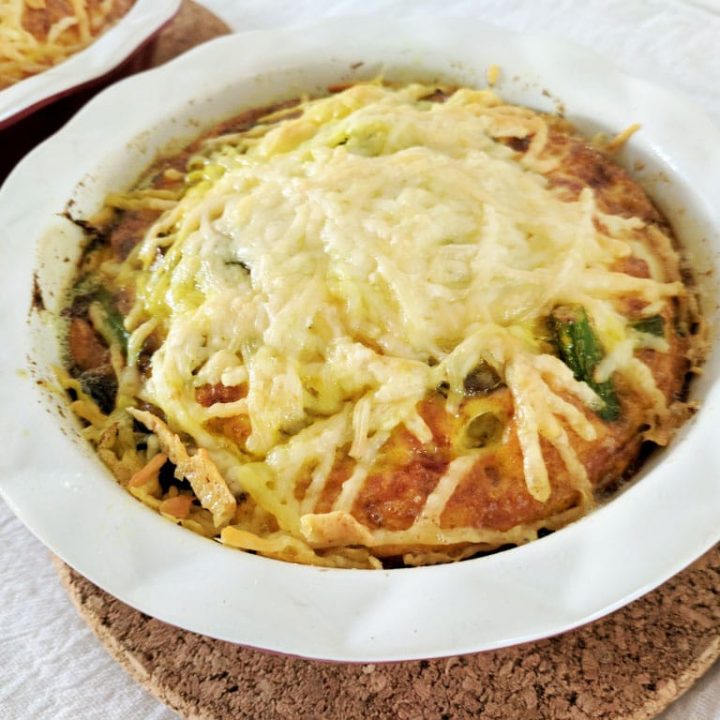 Mushroom, Asparagus & Parmesan Egg Tart
Ingredients
For the egg tart:
8 stalks asparagus,, trimmed and chopped into 1/2 inch pieces
2 cups sliced mushrooms
2 tbsp. olive oil
4 eggs
2 tbsp. almond milk
1/4 cup shredded mozzarella cheese
1 tsp. ground turmeric
1/2 cup grated parmesan cheese
For the arugula salad:
2 cups arugula
3 tbsp. balsamic vinegar
9 tbsp. extra virgin olive oil
pinch salt
1 tsp. dijon mustard
1/2 tsp. minced garlic
1 shallot,, minced
Instructions
Preheat oven to 375°
Heat olive oil over medium high heat in a shallow pan on the stovetop.
Add the chopped asparagus and sliced mushrooms. Sautee about 5 minutes, until the mushrooms begin the shrink and the asparagus starts to brown.
Remove the vegetables from the heat.
In a large bowl, whisk the eggs with the milk, mozzarella cheese, and the turmeric.
Add the asparagus and mushrooms.
Pour the egg mixture into two 6" pie pans*.
Bake in the oven for 15 minutes, until the eggs begin to set.
As the eggs cook, combine the balsamic vinegar, olive oil, salt, dijon mustard, garlic and shallot in a jar with a tightly fitted lid.
Place the lid on the jar and shake the jar to mix together the salad dressing.
In a medium bowl, add the arugula. Pour the vinaigrette over the arugula and lightly toss.
Switch the heat in the oven to broil and add the grated parmesan over top the egg tarts.
Broil an additional 3-5 minutes, until the cheese begins to brown and form a crust.
Serve immediately with a side of dressed arugula.
Notes
*if using a 12-inch pie pan, add about 5 minutes to the cooking time before adding the parmesan cheese.
Pin this recipe for later: