This Mushroom Reuben Sandwich recipe is a delicious Vegetarian twist of a traditional delicatessen favorite.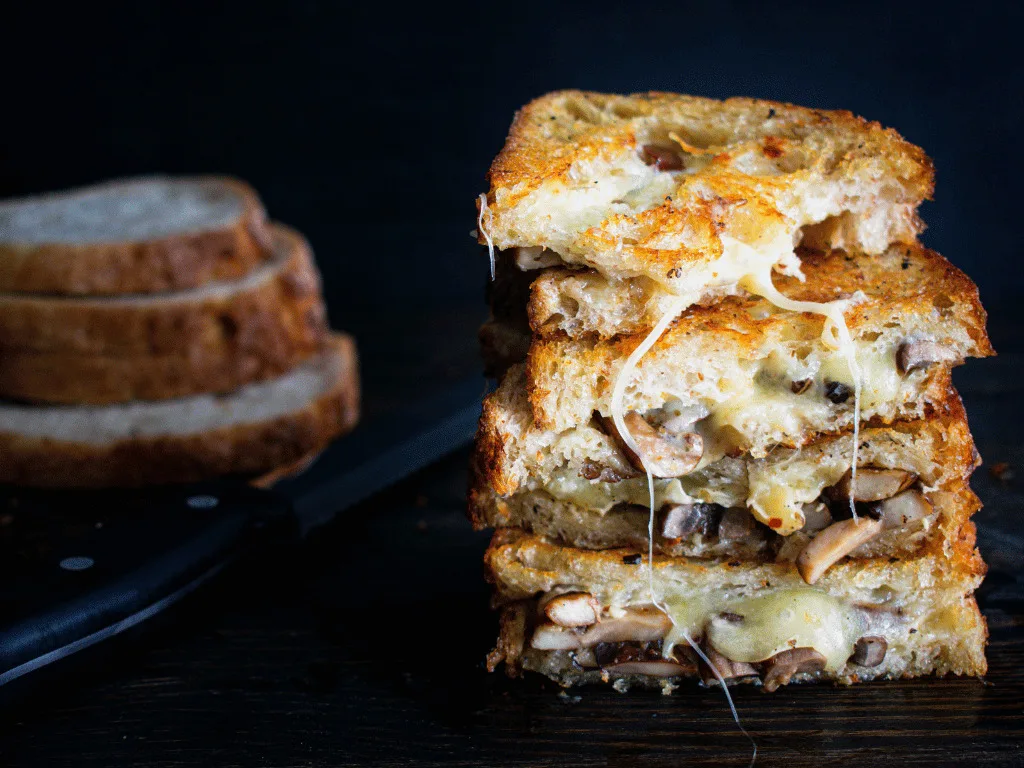 The origin of the Reuben sandwich
The Reuben Sandwich has been a favorite delicatessen staple since its inception in the early 1920's. And though the sandwich is thought to be of Irish descent, the Reuben originated in Omaha, Nebraska by a local grocer who was feeding players at a late night poker game. The sandwich is so popular that March 14th has been declared Reuben Sandwich Day.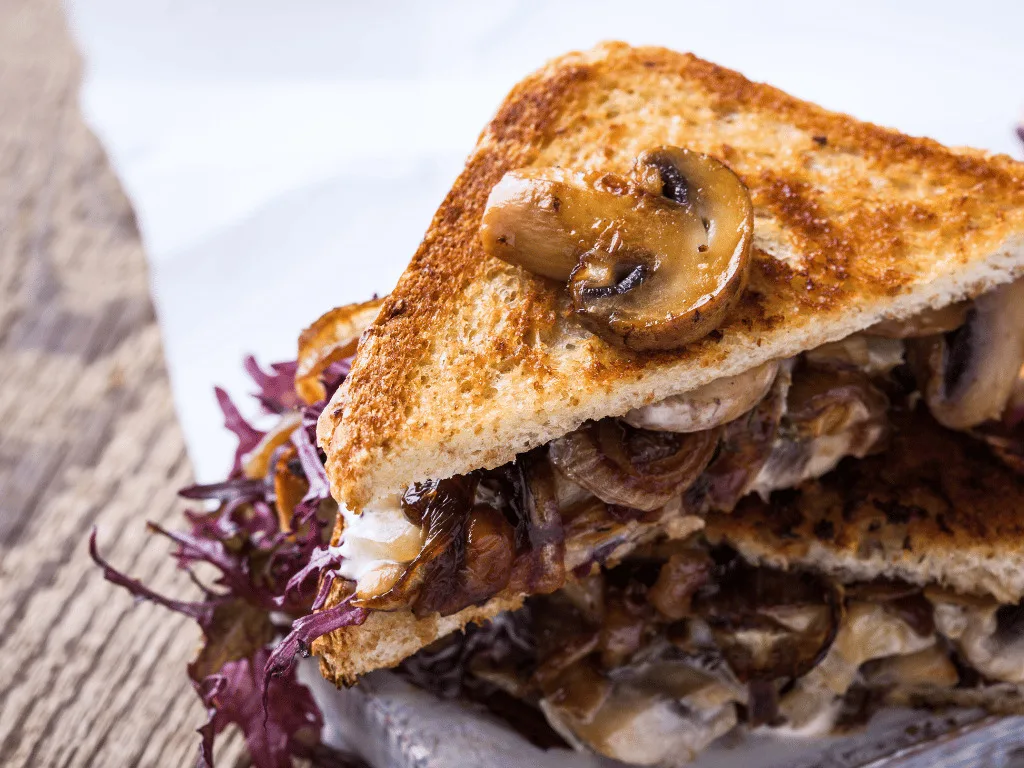 What is a Reuben sandwich?
A Reuben sandwich consists of meat, Thousand Island dressing, Swiss cheese, and sauerkraut on rye bread. While traditionally, the meat is either corned beef or pastrami, I have seen versions with sliced turkey or a white fish. All equally delicious.
10 Best Places for a Reuben Sandwich in Omaha, Nebraska, birthplace of the original Reuben
However, my favortie way to make a Reuben sandwich is to ditch the meat all together and use mushrooms.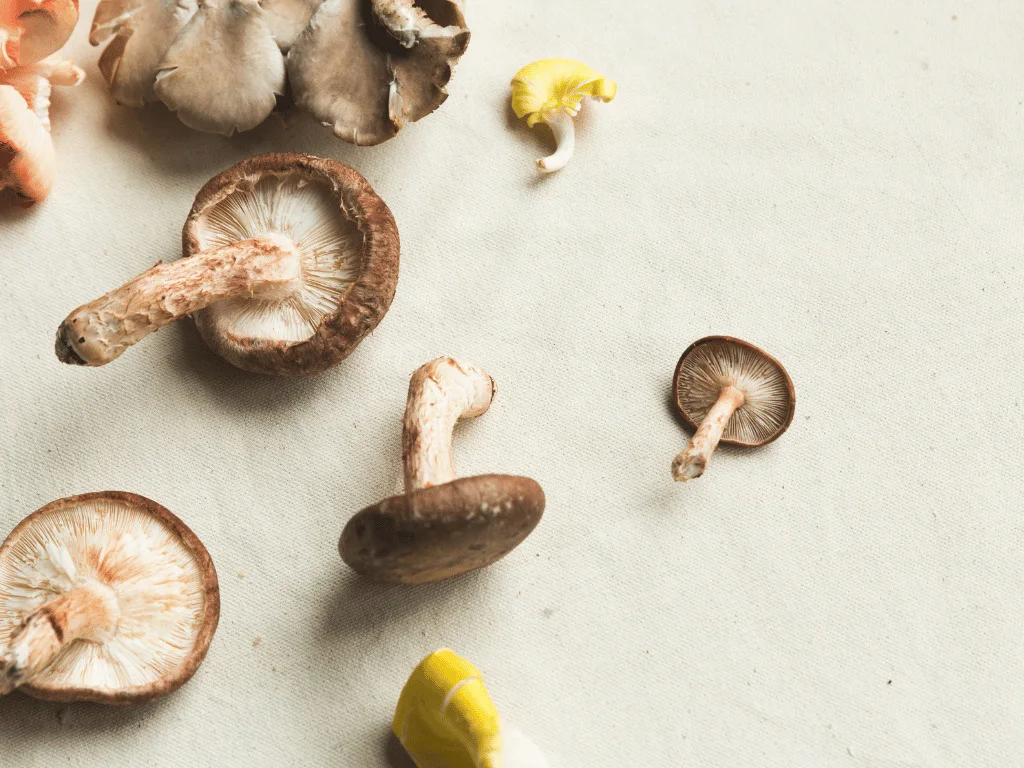 The mushroom Reuben sandwich
This mushroom reuben sandwich is a favorite in my house and super easy to throw together. By using the oven to roast the mushrooms, you are saving yourself 15-20 minutes of hands on time.
Another easy way to cut down on time is to buy store bought Thousand Island dressing. However, I like to whip my own sauce together. I love to add in a little extra horseradish so the dressing is a bit more on the spicy side. For me this really elevates the combination of the mushrooms and sauerkraut.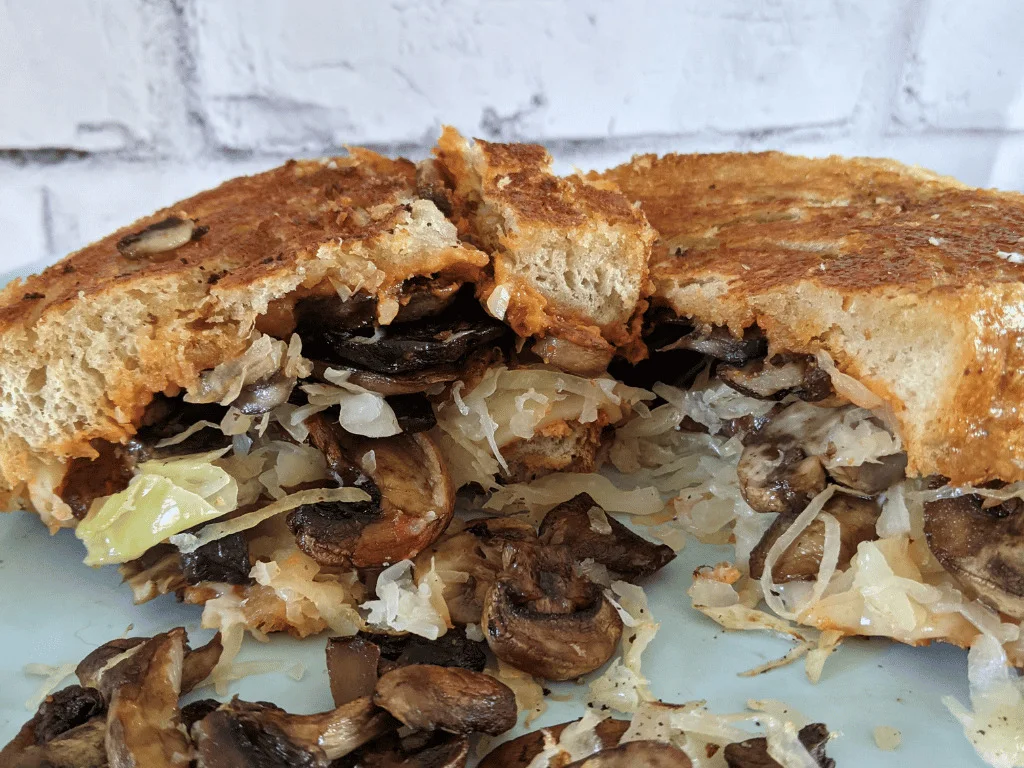 It's MESSY!
However, be forewarned, this Mushroom Reuben Sandwich is messy. Fork and knife needed messy. And isn't that what makes a great sandwich?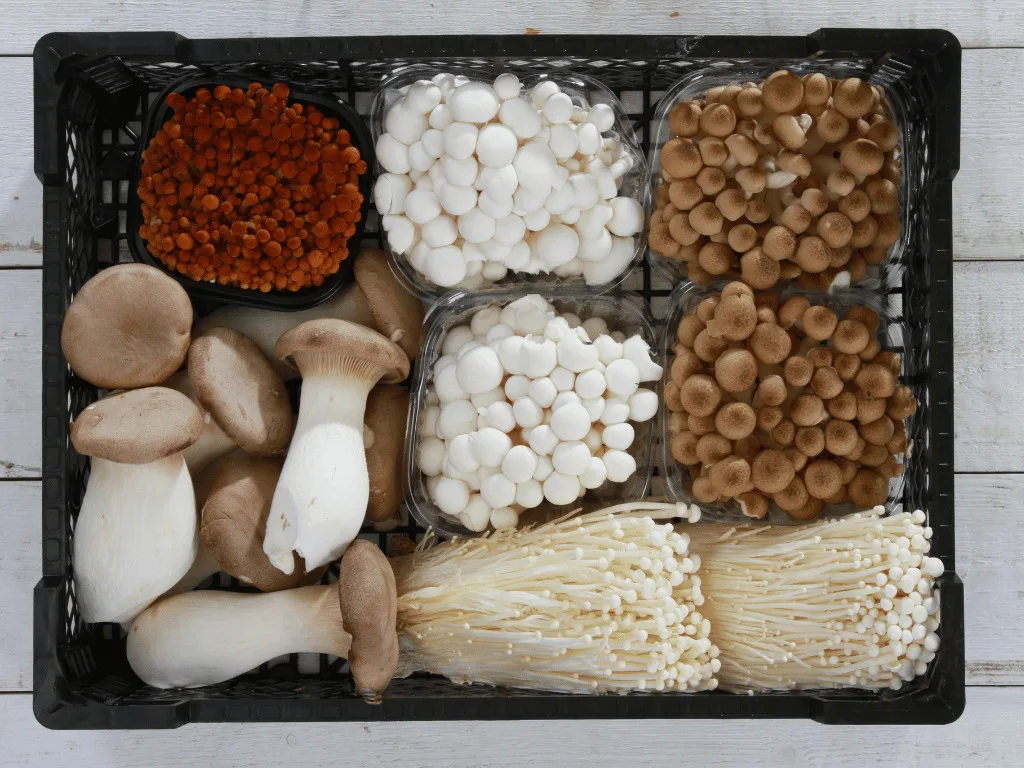 Which mushrooms to use?
The variety and combination of mushrooms are left entirely to you. I have used all types of mushrooms from crimini to button to oyster and each variety works really well in this recipe.
And even the mushrooms are optional. I know people who will not touch mushrooms. Easily replace them zucchini, shredded carrots, or any other hearty vegetable. (Probably best to not use a vegetable like a tomato which will further complicate the mess factor of an already messy sandwich.)
Make it Vegan
This is also easy to turn into a Vegan treat by using eggless mayonnaise and dairy-free cheese. Nowadays there are some really good Vegan cheeses out there on the market or you can make your own if you are so inclined.
Your New Favorite Mushroom Soup Recipe
Simple 15-minute Mushroom Ravioli with Brown Butter Sauce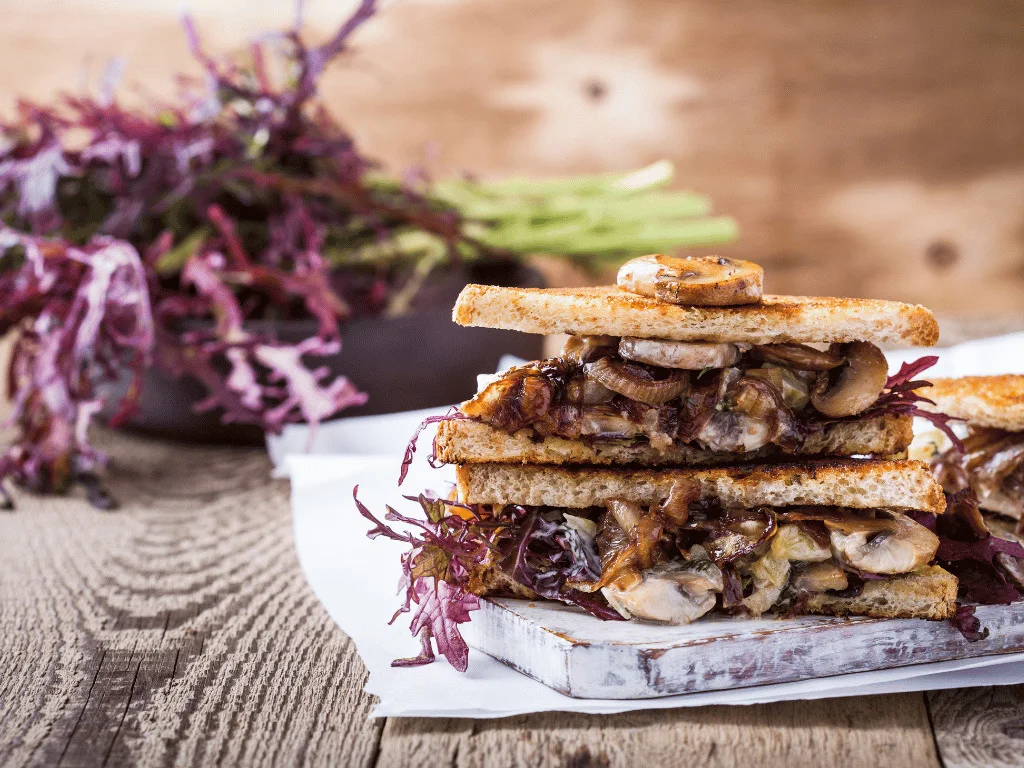 Make the Mushroom Reuben your way!
The beauty of making a sandwich like this at home is that you have all the control to add or takeway ingredients and tailor your sandwich YOUR way. I love to cut some onions and roast them with the mushrooms for this recipe.
I would love to know how you change up a recipe to make it work for you!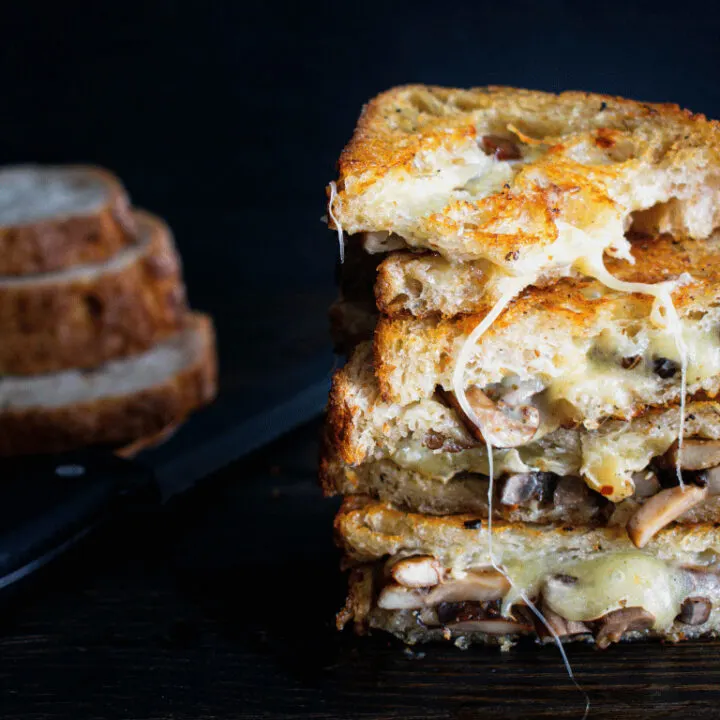 Crispy Mushroom Reuben Sandwich
This Mushroom Reuben Sandwich recipe is a delicious Vegetarian twist of a traditional delicatessen favorite. Recipe adapted from Real Simple Magazine.
Ingredients
7 cups fresh mushrooms, sliced (any combination or variety such as crimini, button, or oysters, for example)
3 tablespoons olive oil, plus more for grilling
1/2 teaspoon salt
8 slices rye bread
8 slices Swiss cheese *
1 cup drained sauekraut
4 tablespoons mayonnaise *
For the Thousand Island dressing
2 tablespoons tomato paste
3 teaspoons prepared horseradish **
1/2 teaspoon soy sauce
1/2 cup mayonnaise
Instructions
Preheat oven to 425° Line two large baking sheets with parchment paper.
Add the mushrooms to both baking sheets and drizzle with 1 1/2 tablespoon olive oil for each sheet.
Sprinkle mushrooms with the salt.
Spread the mushrooms out in an even layer and roast 18-20 minutes, rotating halfway through.
While the mushrooms are baking, in a small bowl combine the tomato paste, horseradish, soy sauce, mayonnaise. Season with salt and pepper.
Divide the 4 tablespoons of mayonnaise among the 8 slices of bread. Spread mayonnaise on one side of each bread.
On the other side of 4 of the bread slices, divide the tomato paste mixture and add one slice of Swiss cheese.
Divide the mushroom mix and sauerkraut among each sanwich.
Add the remaining Swiss cheese slices to each sandwich and top with the remaining bread with the mayonnaise side out.
Heat a drizzle of olive oil into a large skillet over medium high heat. Carefully place assembled sandwich into pan and press gently with a spatula.
Grill each sandwich 2-3 minutes per side.
Notes
* make this recipe Vegan by using eggless mayonnaise and dairy-free cheese