OK. I am having a problem here. I am trying very hard to write this post but I am sitting outside, on the 17th floor of a condo balcony, overlooking the Gulf of Mexico in Orange Beach, Alabama. The sound of the waves (yes, there are waves on the Gulf side) are sooooo distracting and I am trying to write this post- this post about Mushroom Soup. Something hearty and warm for the cold weather. However, it's 72° here and soup is not what I want to be thinking about. Why I am here and what I am doing will have to be told another time. However, I can tell you it's blog and food related. OK- back to soup……because at the end of the day, I still love a good soup.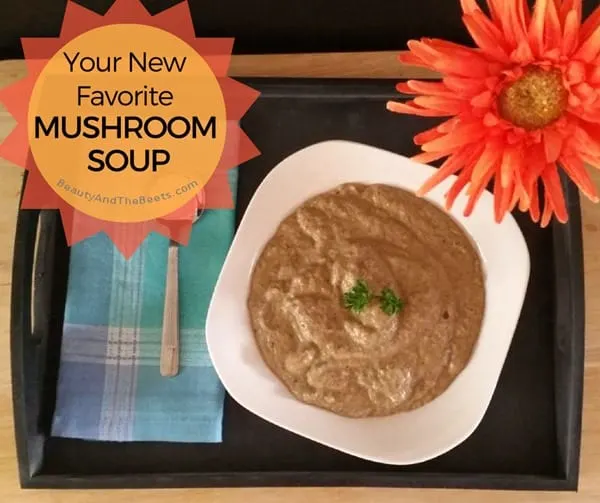 Mushroom soup. Perhaps my most favorite soup ever. But then again, it is hard for me to not love anything with mushrooms in it. And it's sad to me because Mr. Beet isn't a fan of fungus-y things. That means when we split a pizza I usually have to go mushroomless, or go halvesies. (Yes- fungus-y, mushroomless and halvesies are words in Beetsland- ask any Beet.)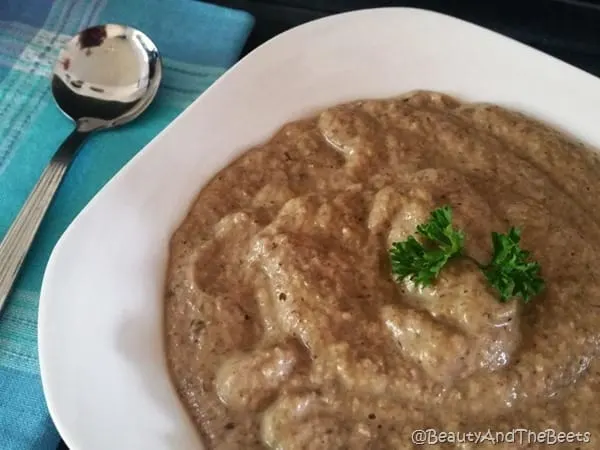 I made this mushroom soup really thick, but it is easy to tweak it a little thinner if you like. In the cold weather I love making soup the main event at a meal. It's easy, filling and requires very little clean up. Soup can be made on a weekend and heated up for supper later in the week. Soup can be frozen and thawed for a quick meal. And you cannot mess soup up. Can you?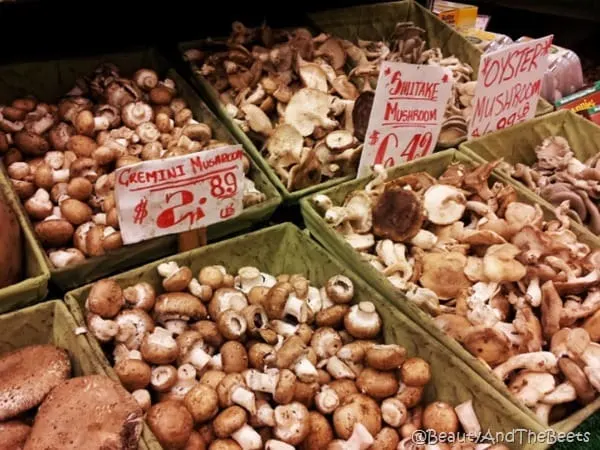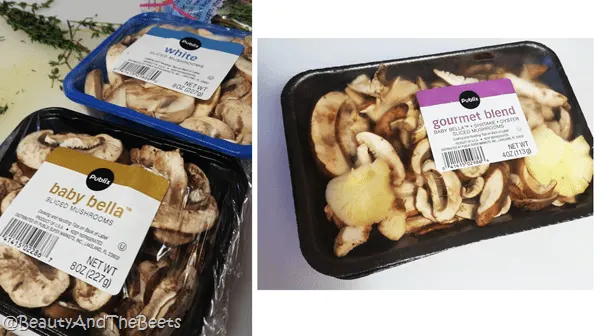 I used a variety of mushrooms- my local Publix grocer always has a nice selection of pre-sliced mushrooms. While I prefer shitake and oyster mushrooms, any variety works well in mushroom soup as you are cooking them down then pureeing them in the end.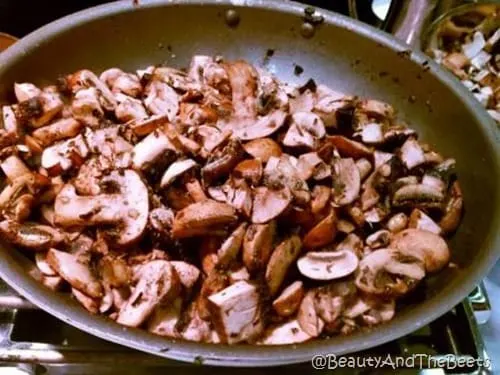 I also make my mushroom soup Vegan. However, if you prefer your soup to be extra thick, use heavy whipping cream in place of the cashew milk. And if thin soup is what you're after, omit the milk altogether and replace it with more veggie broth. I hope you enjoy!!
*One last note, many of you shunned the use of FIVE cloves of garlic. WHO ARE YOU PEOPLE? Please see the meme at the end of this post. Thank you.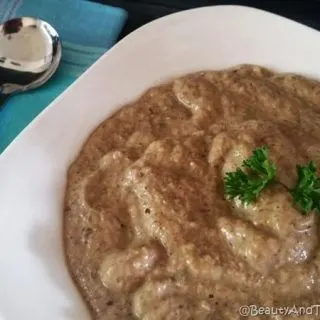 Your New Favorite Mushroom Soup
This is your new favorite mushroom soup.
Ingredients
1 large white onion,, diced
5 cloves garlic
1/2 tsp. salt
1 1/2 cups veggie broth,, divided 1 cup and 1/2 cup
roughly 15-20 oz. mushrooms,, sliced (any variety or combination)
2 tbsp. fresh thyme,, stems removed
2 tbsp. gluten-free flour,, I used rice flour
1 cup unsweetened plain cashew milk
Instructions
In a large saucepan, add the diced onion and cook for two minutes over medium heat, slowly adding 1/2 cup of veggie broth to the pan to deglaze the pan.
Add the garlic and salt and continue to cook the onions until translucent, about 3-5 more minutes. Stir often and use a llittle more veggie broth if needed to prevent the onions from sticking to the pan.
Add the mushrooms and continue to cook another 5 minutes, stirring often.
Add the thyme, flour and cashew milk to the mushroom mixture and stir. Allow to cook for about 15 minutes, stirring occasionally.
Carefully add the mushroom mixture to a blender and pulse slightly. Add the remainder of the veggie broth a little at a time and continue to pulse, until soup is the consistency you prefer.
Serve immediately or save and reheat when ready to enjoy.
Pin this recipe for later: