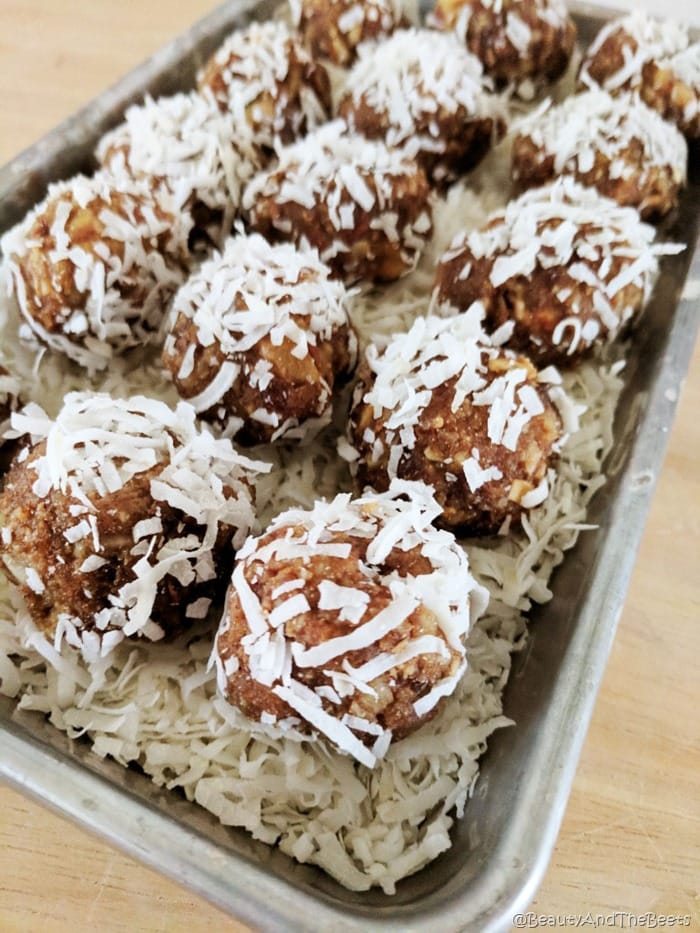 There are so many days when Mr. Beet rushes out the door in the morning, or I rush off to class, and we often forget to eat. And of course it catches up with us. Usually by mid afternoon I am contemplating before a bucket of chicken or a Big Mac. Anything that is fast and filling, right? Of course, since I don't eat chicken buckets or Big Macs, it makes it difficult to find something quick. Mr. Beet can go the entire day without eating anything until ten o'clock at night. And he stays chipper. I think he is insane sometimes, who can go an entire day without eating? Although in his defense he is usually so busy at work that food doesn't really cross his mind.
I am always trying to find easy things to whip up and grab on my way out the door. Or something to keep in the fridge for those days when I am at home, hungry, and feeling too lazy to make anything substantial. You know those days, just the thought of boiling water for some mac and cheese is unappealing. You just want to grab something quick and pop it into your mouth and call it a day, right?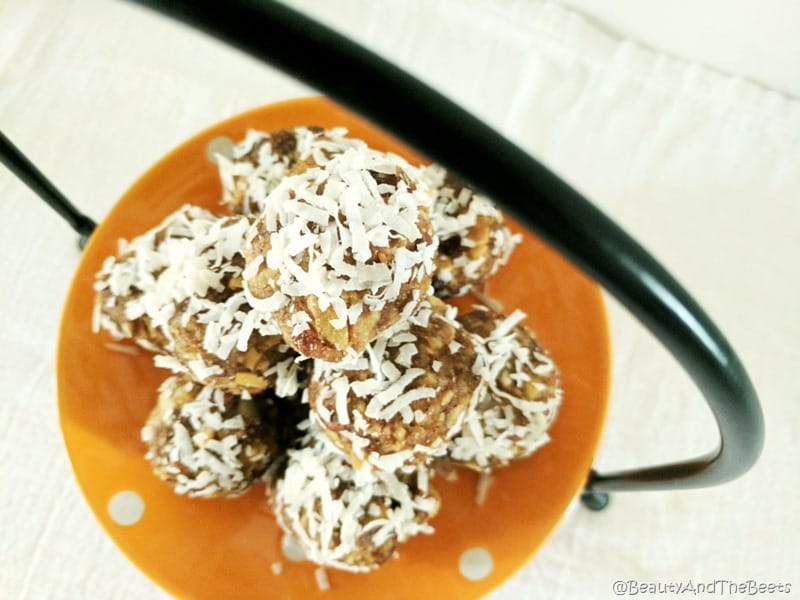 How about cookies? Cookies for breakfast? Cookies for snack? Cookies for dinner? Why not? I have cookies that are easy to make and they are super healthy.
There are only 4 ingredients in these No Bake Date and Nut Cookies, 5 if you count the coconut flakes you can roll these cookies in. There's no sugar and no flour here either. Just dates, nuts, vanilla extract and water. The most time consuming part is soaking the dates and toasting the nuts. I used pecans, walnuts and almonds, though you really can use any mixture of nuts you want.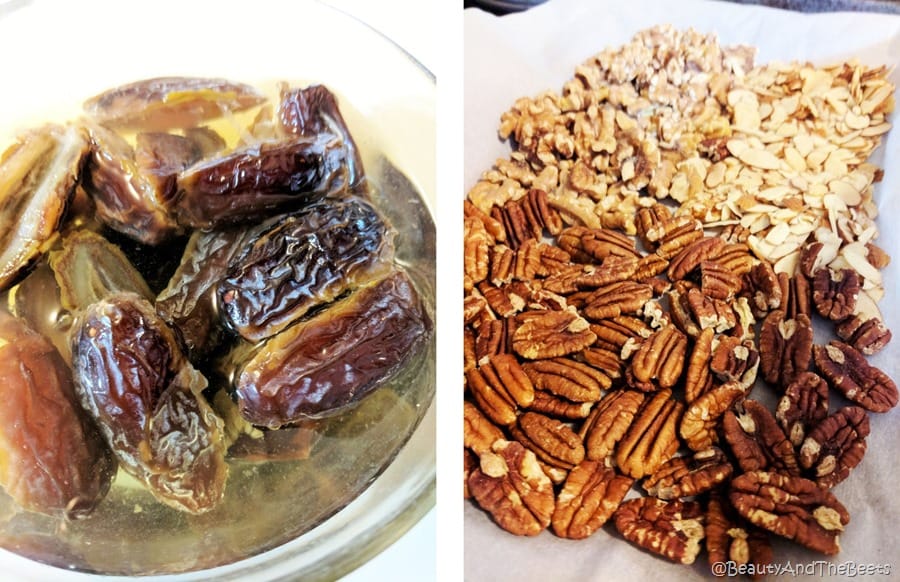 Now I grab these on my way out, and I pack a little baggie for Mr. Beet. And we have cookies for breakfast. Please don't tell Mom. Although, these are Mother -approved. I give you No Bake Date and Nut Cookies. Enjoy.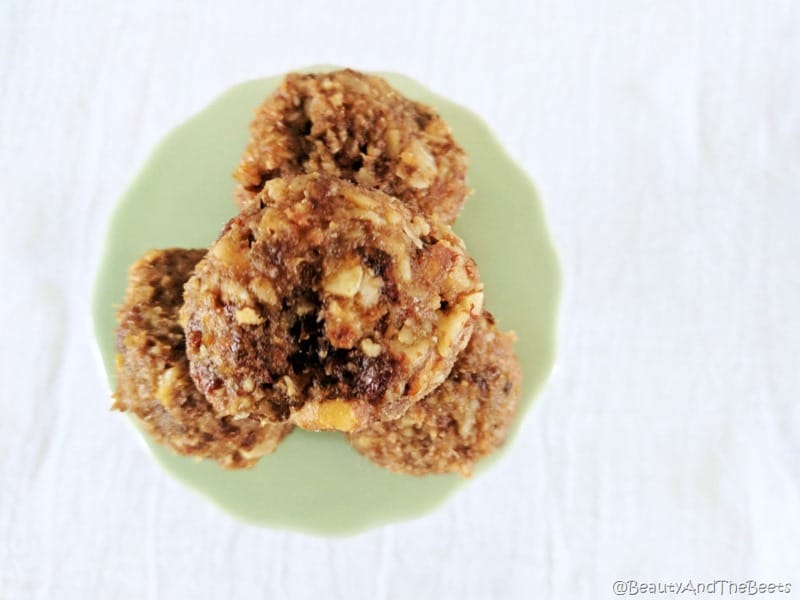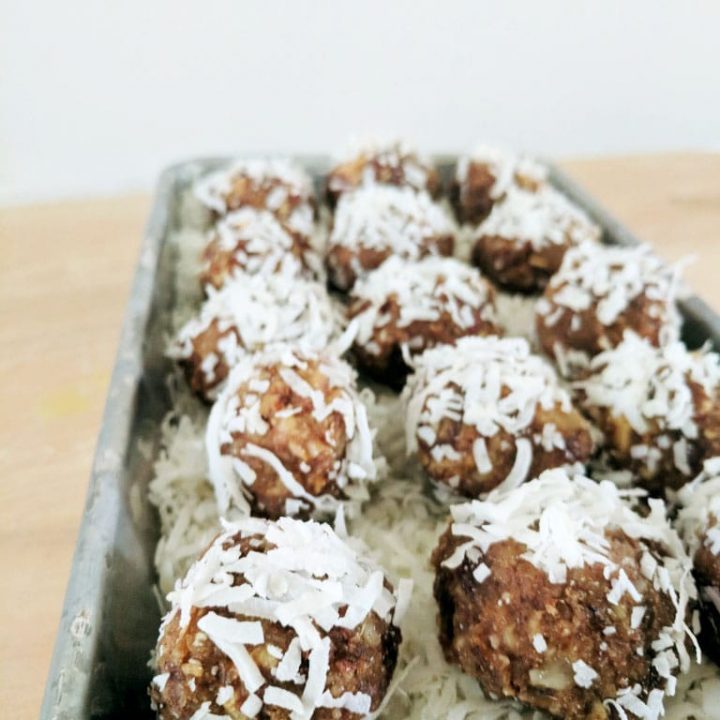 No Bake Date and Nut Cookies
Cook Time:
2 hours
10 minutes
Total Time:
2 hours
15 minutes
These are so easy to make and only 4 ingredients. These are cookies you can eat for breakfast as they are healthy and full of protein. No sugar and no flour.
Ingredients
1 cup dates,, pitted and soaked for 1 hour
2 cups assorted nuts,, pecans, walnuts, almonds, hazelnuts, etc.
4 tablespoons filtered water
Instructions
Preheat the oven to 350°
Cover a baking sheet with parchment paper.
Spread the assorted nuts onto the baking sheet, making as much of a single layer as possible.
Toast the nuts for ten minutes.
Remove the water from the dates and the dates to the bowl of a food processor.
Add one cup of the nuts and pulse a few times.
Add the pure vanilla extract and 2 tablespoons of the water.
Pulse again until the ingredients are pulverized. Use a spatula to mix the ingredients around if large pieces get stuck under the blade.
Add the remaining one cup of nuts and two tablespoons of water.
Pulse again until a thick cookie-like dough forms.
Roll the dough into balls slightly smaller than a golf ball.
Line the balls on a plate and place in the fridge for 2 hours until the cookies set.
Roll in the coconut flakes just before serving, if desired.
Pin this recipe for later: