I tend to be a little bored of breakfast restaurants at times. Often times, the menu is the same with basic pancakes and omelets, the execution is the same, the atmosphere is the same….boring. However, sometimes I find a place that makes breakfast interesting and fun again.
I also rarely order sweet things at breakfast but I just could not resist the huge 14" Red Velvet pancake with the white chocolate cream cheese icing. Oh my.
Mr. Beet got a huge slice of their famous Challah French Toast Casserole. I am fascinated by the concept of any type of a casserole that involves drenching it in maple syrup. And this was delicious.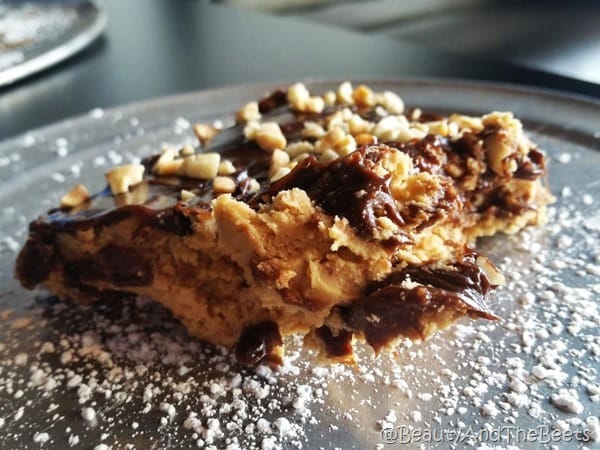 But what really won me over to Oy! was this peanut butter and chocolate square. Thicker than a cookie, rich like a brownie, perfect for starting my day with a smile on my face.
I loved everything about this place, but Oy! must be frequented with care. I imagine the miles I will have to out on the treadmill for that peanut butter square. So worth it!! This is definitely the place to come if you really want to treat yourself to a decadent breakfast.
Oy! also serves lunch and dinner but I am not sure I will ever be able to get past those desserts. Yum.