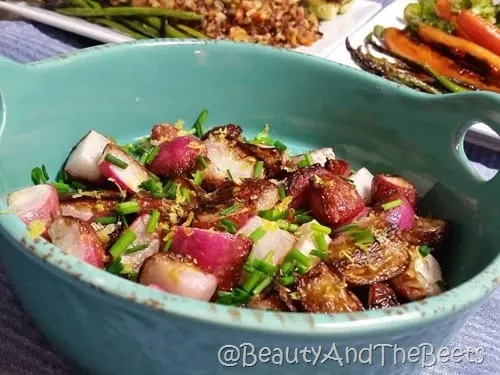 I love going to blogging conferences. Especially Food Blogger Conferences. I get so inspired by the people, the sessions and mostly the food. A few weeks ago I attended the Food and Wine Conference right here in Orlando and I feel like all I did was stuff my face and laugh.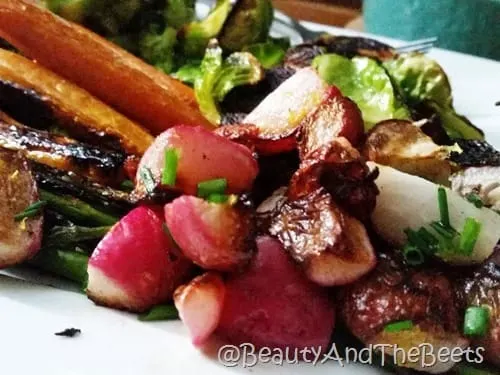 On Sunday morning of the conference, we were treated to an amazing brunch by the fine folks over at Duda Farm Fresh Foods. We enjoyed a huge spread of eggs, veggies and fruits including these skewers with roasted potatoes, roasted celery and roasted radishes. Yes, you read that right- roasted radishes.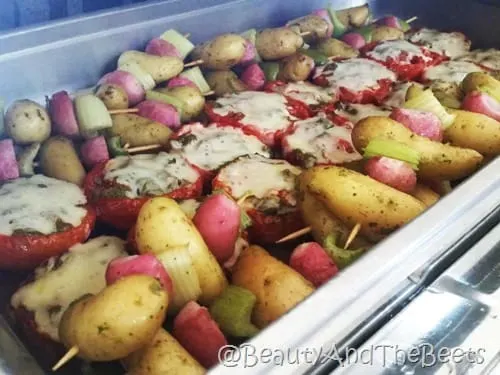 I think it was one of the biggest surprises of the conference food-wise. Not too many of us have ever experienced roasted radishes before. I do know that they were a big hit. I loved them so much I decided to try my hand at roasting my own radishes at home.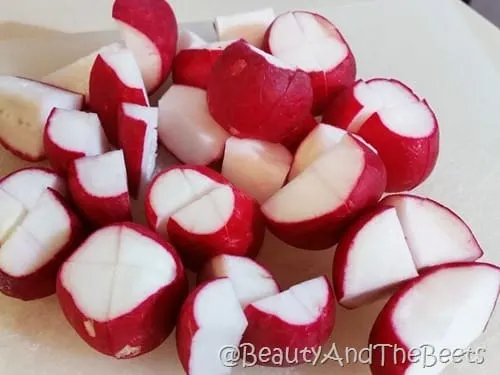 Roasting radishes bring out such a unique flavor to the veggie. While a raw radish is crunchy and spicy, a roasted radish is sweeter and tender. The radish takes on a beautiful pink color, more vibrant than a roasted beet.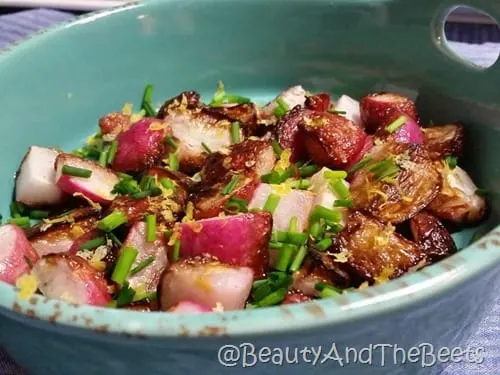 I've used radishes before in my cooking. Following my pan-roasted recipe I've included some other ways I've used radishes on the blog. Who knew that radishes could be so versatile? They make a delicious and super healthy afternoon snack. I think one of my most favorite ways to eat them is raw with a little olive oil and chives or Greek yogurt and chives. Oh my mercy!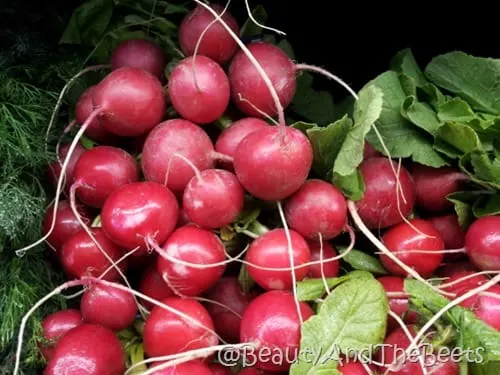 Here is my recipe- I hope you enjoy!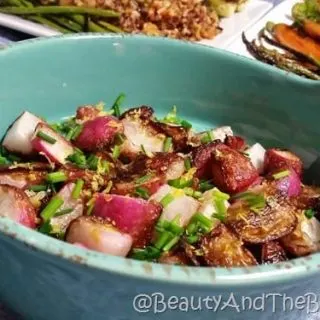 Pan Roasted Radishes with Lemon and Chives
You can use butter or olive oil to pan roast the radishes. I personally prefer butter for a little more flavor.
Ingredients
3 cups radishes,, rinsed, scrubbed and quartered
3 tbsp butter or olive oil,, (I used dairy-free butter)
2 tbsp freshly grated lemon zest
2 tbsp fresh chopped chives
Instructions
Place a saute pan over medium heat and add the butter. Swirl the butter or oil around the pan to coat.
Carefully add the quartered radishes to the pan and mix well with the butter to coat.
Allow to cook for 10-15 minutes, stirring occassionally. When the radishes begin to soften and take on an all pink color, remove the pan from the heat.
Transfer the radishes into a serving dish and sprinkle the lemon zest and chives on top. Serve immediately.