These Parmesan Baked Tomatoes are my most favorite side dish. EVER.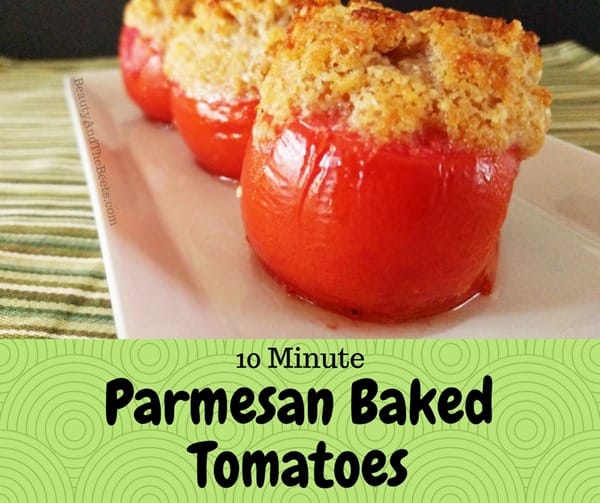 Have you ever had a baked tomato? Or roasted tomatoes? Heating a tomato changes the whole game as they become more flavorful and juicy. Studies have shown that eating a cooked tomato enhances and increases the amount of lycopene that is absorbed by the body. Lycopene is a vital nutrient that aids in lowering cholesterol, fighting heart disease, and fending off cancer.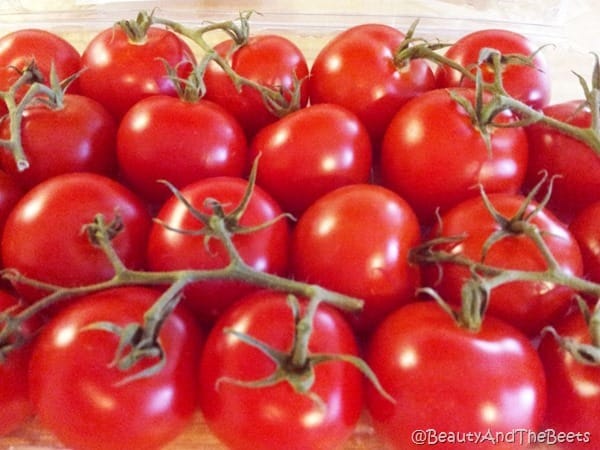 Here is an idea for a very easy side dish – a baked tomato topped with melted butter, grated parmesan and breadcrumbs. This is a recipe that takes 10 minutes to bake. Ten minutes to fight off disease? Yes, please.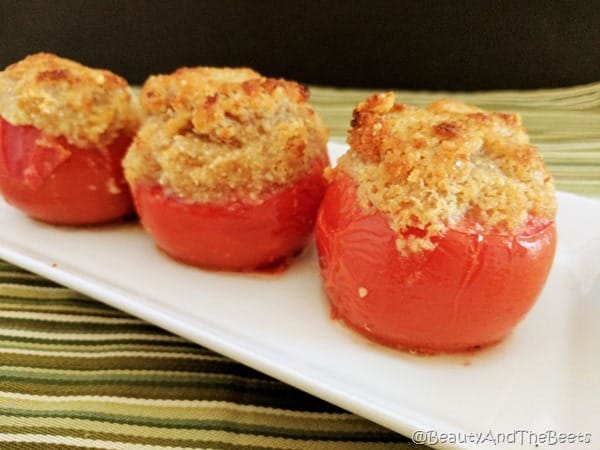 This is so simple! Start with fresh tomatoes, medium to large in size. Cut the stem off the top and then make a very small slice on the bottom of the tomato to anchor and stabilize it.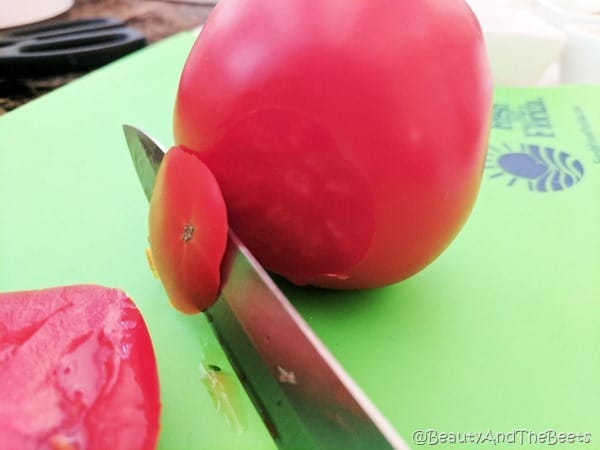 Gently squeeze a little of the pulp out, but don't mush it. Just squeeze enough to rid some of the seeds and juices. Then place the tomatoes in a baking dish.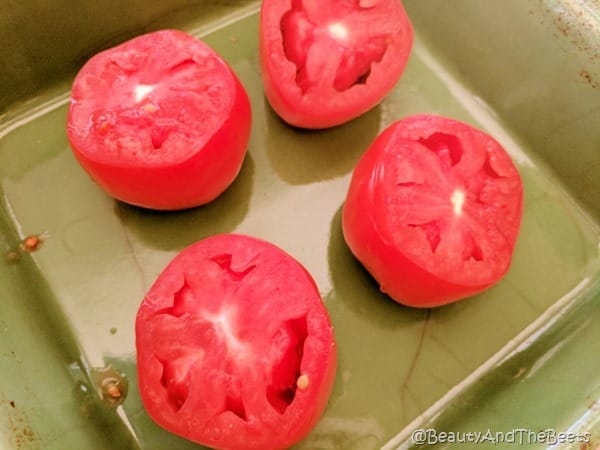 Bake the tomatoes for 6 minutes in a 400° oven. While they are baking, mix together the melted butter, parmesan and breadcrumbs (see recipe below for specifications). Then top the tomatoes with the breadcrumb mixture.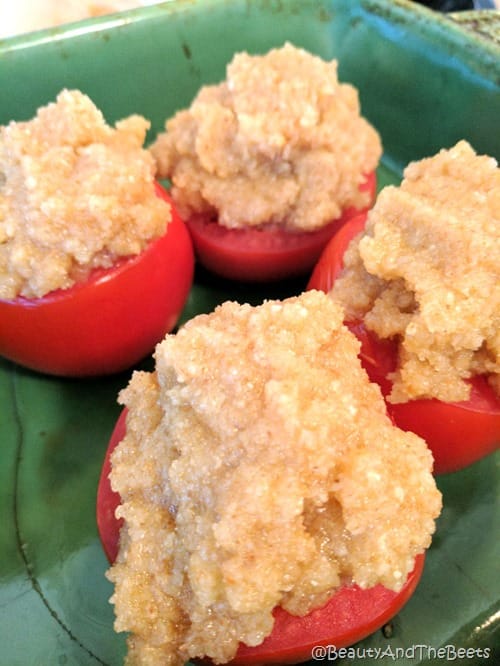 Bake for another 4 minutes, keeping an eye out not to burn the topping.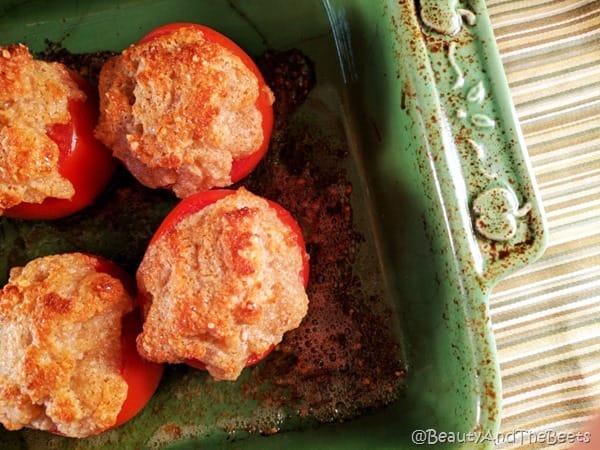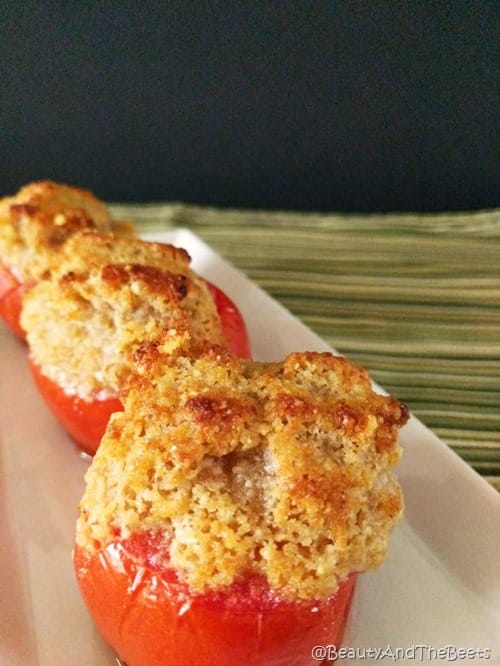 Baked tomatoes are popular in many restaurants as an accompaniment at breakfast and brunch. However, this is an simple and delicious side dish for any meal.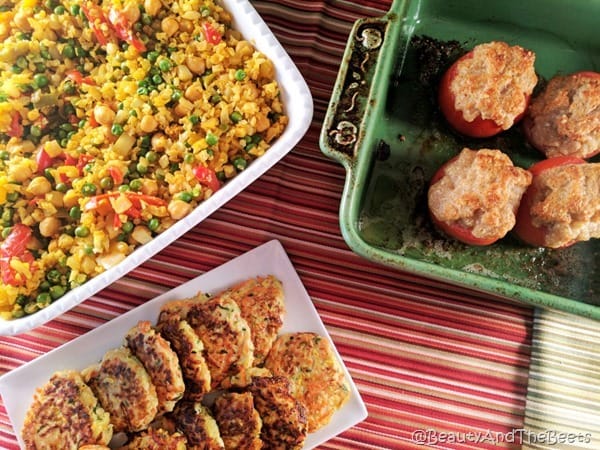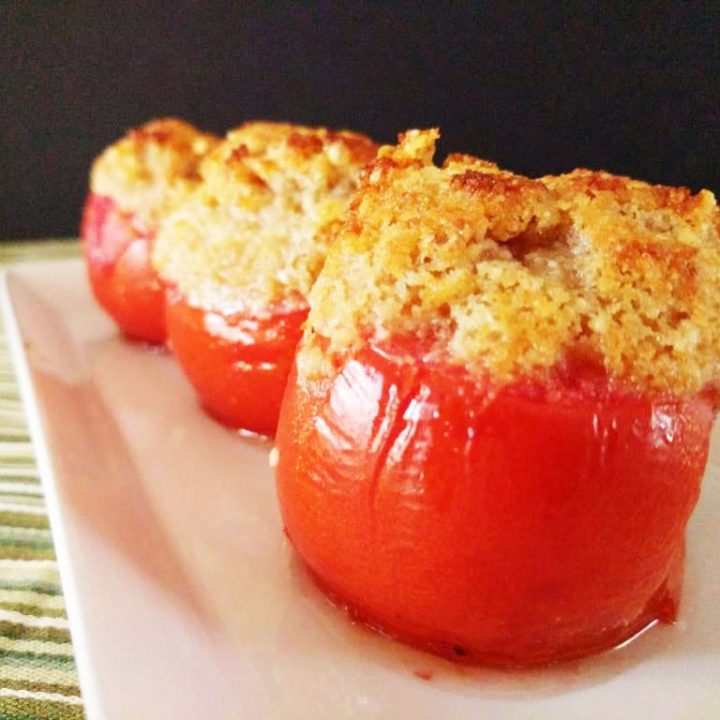 Parmesan Baked Tomatoes
Ten minutes to fight disease with this easy recipe for Parmesan Baked Tomatoes. Another great and simple recipe by the folks at Beauty and the Beets.
Ingredients
4 large red tomatoes,, I prefer the tomatoes on the vine
6 tbsp butter
1/4 cup bread crumbs
1/4 cup grated parmesan cheese
Instructions
Preheat the oven to 400°.
Cut the top (stem) of the tomato. Make a very small slice on the bottom, just enough to stabilize the tomato in a baking dish.
Gently squeeze the tomato over a sink just to release some of the excess pulp and seeds.
Place tomatoes in a small casserole/baking dish. Bake for 6 minutes.
While the tomatoes are baking, place butter in a glass measuring cup and place in microwave. Melt at 10 second increments, until butter is melted.
Mix the breadcrumbs and parmesan cheese together in a medium sized bowl. Add the melted butter and mix well.
Remove the tomatoes from oven. Evenly top each tomato with the breadcrumb mixture, slightly pushing the crumbs into the hollows of the tomato.
Bake an additional 4 minutes in the oven or until the breadcrumb mixtures turn a light golden brown. Don't let the breadcrumbs burn.
Remove from the oven and let cool slightly (2-3 minutes) before serving. Eat with caution as tomatoes will be piping hot.
Pin this recipe to save for later:

Enjoy your Parmesan Baked Tomatoes!!
You may enjoy these other recipes that feature cooked tomatoes: