Tomorrow is Valentine's Day! Anybody have any fun and exciting plans? Mr. Beet and I have none, other than a class at church, and then I am sure we will probably go somewhere for dinner. And by somewhere, I mean a place like McAlister's Deli or Chipotle, somewhere that doesn't require reservations on such a busy night. He and I don't normally celebrate Valentine's Day cause it's Valentine's Day everyday for us. Haha. Just kidding. We will find another night to have a quiet evening at home, us and the furballs, and we will cook ourselves a special meal. And I already know what to make for dessert. Raspberry Chia Seed Pudding.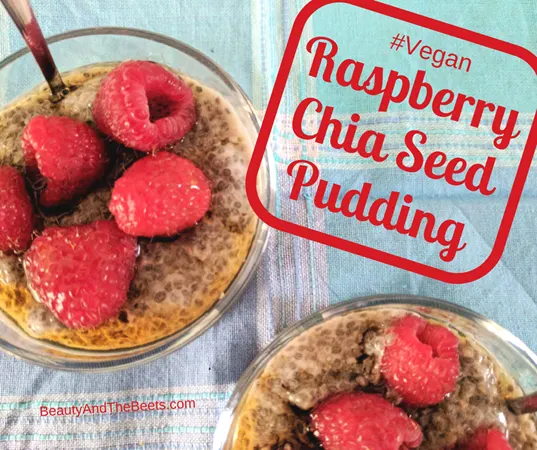 I have maybe had chia seed pudding only a handful times in my life. And I didn't used to be a fan. As a matter of fact, the idea of chia seeds in a pudding was quite a turnoff for me, until….
…until Mr. Beet and I really started to eat healthy. We slowly started to incorporate chia seeds into our regular diet, adding them to salads and into vegetable dishes. The seeds are high in fiber as well as omega-3 fatty acids, and contain enough protein to make them a great source of energy in a morning smoothie. Known as a "superfood", these chia seeds have been proven to promote healthy skin, support the heart and digestive system and build stronger bones and muscles. As a matter of fact, the word chia means "strength" in the Mayan language and has been used for centuries by warriors to sustain endurance during long battles.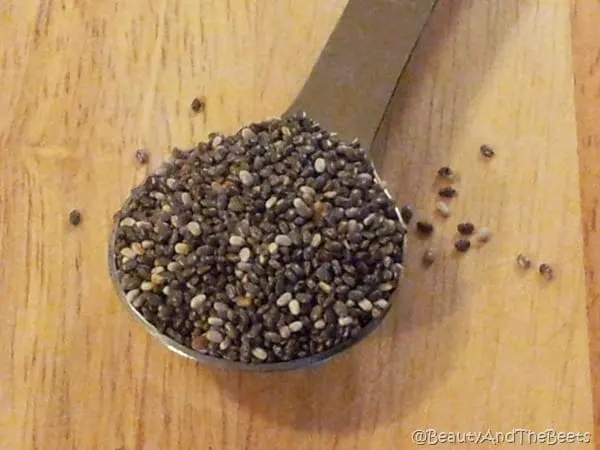 Vegan use chia seeds as a substitute for eggs in baking. Mixing one tablespoon of chia seeds with three tablespoons of water is equivalent to one egg. The chia seeds "sprout" in water, making them easier to digest.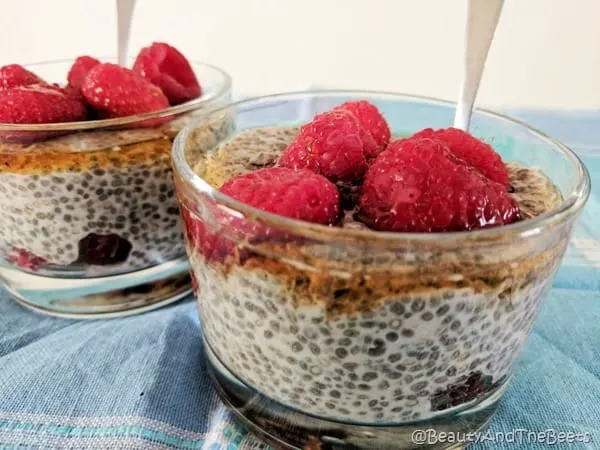 So now that you know that chia seeds are super beneficial for you, how can you not make chia seed pudding for your loved one? We all want to keep our Valentines healthy, right?
However, the absolute best part of whipping up some chia seed pudding is how incredibly easy and versatile it is. Soak chia seeds in almond or coconut milk overnight with some vanilla, then add your chosen fruit, nuts and sweetener just before serving. In keeping with the Valentine's theme I went with fresh raspberries and pure maple syrup.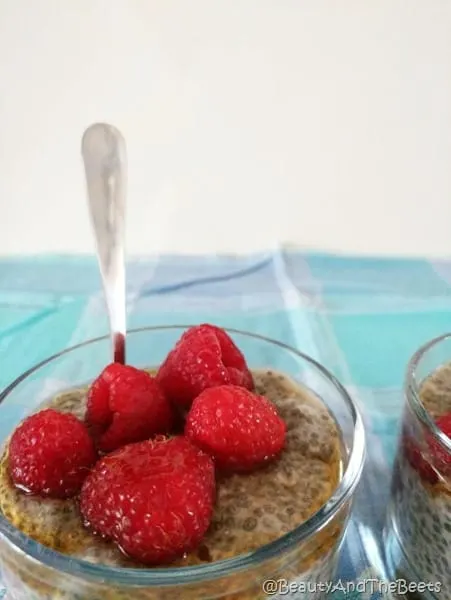 And…..don't think that chia seed pudding can only be served as a dessert. This stuff is really good in the morning for breakfast!! I mean who doesn't want dessert first thing in the morning? Am I right?
Enjoy this recipe for Raspberry Chia Seed Pudding.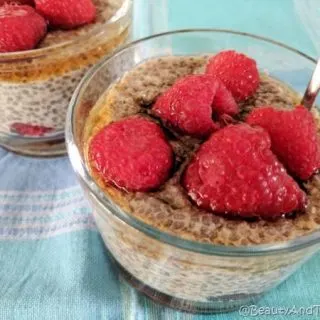 Raspberry Chia Seed Pudding
Chia seed may be the easiest and healthiest of all the desserts to make at home. Add red raspberries or strawberries to keep with the Valentine's Day theme or try with fresh blueberries and maple syrup for a delicious breakfast.
Ingredients
1 cup almond or coconut milk
1/4 cup raspberries
Instructions
In a medium sized bowl, combine the chia seeds, milk and vanilla extract and mix well. Cover and set in the refrigerator s minimum of 4 hours, until pudding is set.
When ready to serve, divide the pudding into two serving glasses. Top each glass with half of the maple syrup and the raspberries.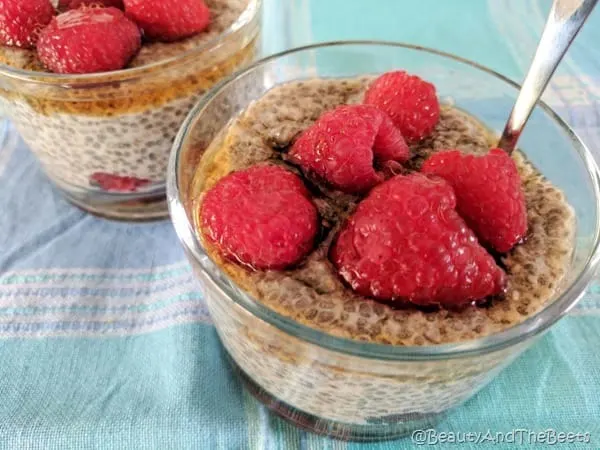 Pin this recipe for later:

*This post contains affiliate links. I only link to products that I use myself and trust. As always, thank you for your support.*